RFEF asks Barcelona-Real Madrid to set new El Clasico date
RFEF asks Barcelona-Real Madrid to set new El Clasico date
Oct 18, 2019, 09:12 pm
2 min read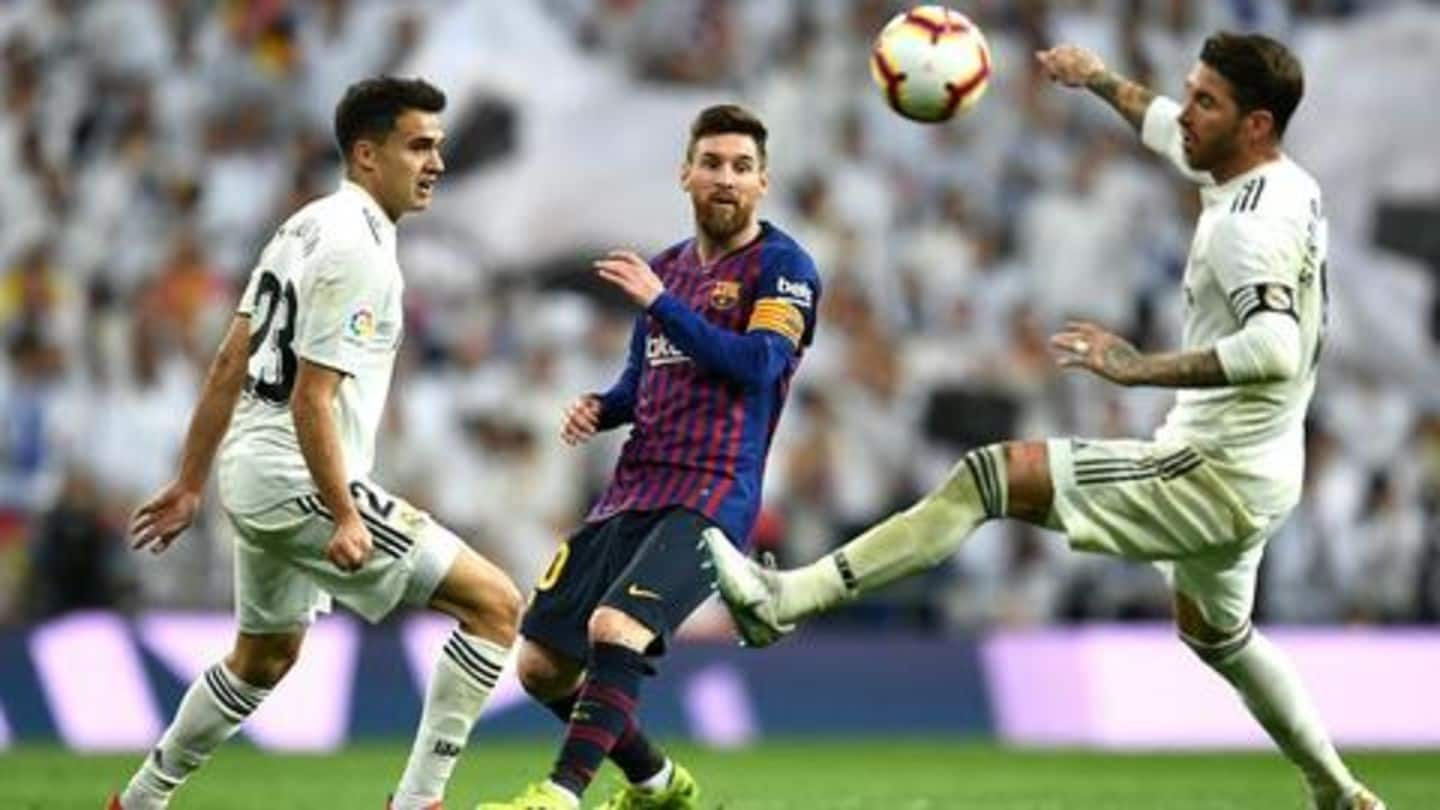 La Liga's greatest clash, El Clasico, played between giants Barcelona and Real Madrid, has been rescheduled from October 26. The decision has been made by the Royal Spanish Football Federation (RFEF) and the La Liga officials, owing to the ongoing conflict in Catalonia, following the prison sentences handed to previous Catalan politicians. Here is more on the development.
Clubs given until October 21 to announce new date
As per a report by CNN, clubs have been given the deadline of October 21 to decide on a new date. Failure to do so would force RFEF to announce the schedule. Earlier this week, La Liga had requested the RFEF to swap the venue of the opening El Clasico of the season, from Camp Nou to Santiago Bernabeu.
Catalonia in chaos following jail term to renowned politicians
As per reports, nine Catalan leaders, who were part of the country's pro-independence movement, have been handed jail terms, ranging from nine to 13 years, after their role in an attempt to split from Spain. Other than them, three other defendants have been found guilty of disobedience. They have been fined, as well as banned from public office for a period of 20 months.
More than 20 roads closed down due to protests
Further on this development, the local cops have said that more than 20 roads, that lead up to the stadium, have been shut down due to the ongoing protests and demonstrations. Meanwhile, the Barcelona City Council has said that the protests, from Tuesday to Friday, have caused damage worth €1,575,000 ($1,753,000).
Barca once played a home game behind closed doors
In case one remembers, it was in 2017 when Barca played a home game against Las Palmas behind closed doors after the independence referendum of Catalonia led to violence across the nation. Back then, Palmas were against the split of Spain as they had embroidered the Spanish flag into their crests, while Barca players wore the colors of Catalonia, before donning their normal jerseys.
Madrid top table, followed by Barca
Real Madrid top the La Liga table with 18 points from eight games. They are followed by defending champions Barcelona, with 16 points from the same number of games. While Barca were off to a shaky start, they have managed to recover well so far.