A look at all-time records scripted by Paris Saint-Germain
A look at all-time records scripted by Paris Saint-Germain
Aug 13, 2019, 06:37 pm
2 min read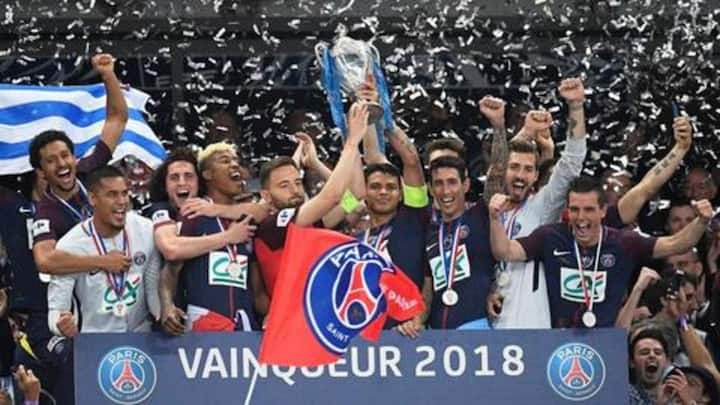 French football team is the reigning world champion, following their 2018 FIFA World Cup victory. And as expected, the country does have some big football clubs. Currently, Paris Saint-Germain (PSG) are the undisputed Ligue 1 title holders. While it might not be the most successful club, it has enjoyed an amazing run this decade. Here we look at the all-time records scripted by PSG.
Fans gather in record numbers to witness PSG's prolific win
A record home crowd always delights the home team and inspires them to perform better. The record for the highest attendance for PSG in Parc des Princes currently stands 49,575, when PSG beat Waterschei 2-0 in the UEFA Cup Winners' Cup quarters on March 13, 1983. The record is likely to remain unbroken for a long time as the stadium's current capacity is 47,929.
Edinson Cavani: PSG's man with the golden feet
Every club has that one player who is their goal-scoring machine and helps them scale greater heights with every match that he plays. In the same light, the club's record goal-scoring man is the Uruguayan sensation Edinson Cavani, who has to date scored 194 goals across competitions. While he continues to dominate the chart, no other current player is even half of his tally.
Jean-Marc Pilorget: Mr. Consistent
Besides goal-scoring, consistent and regular performance is also an important element in the sport of football. The record for the most number of appearances for PSG lies with Jean-Marc Pilorget, who has played a mammoth 435 matches for the club, across competitions. Among the current players, Thiago Silva is next to him, with 281 appearances.
Laurent Blanc: The man with the midas touch
Behind every successful club is the role of a great manager, whose valuable inputs help players implement the best tactic and come out on top. PSG has seen a number of managers to date, but it was Laurent Blanc, who was the most successful of all. Having managed the club for just three seasons, he managed to win 11 honors, including three league titles.
A look at some other PSG records
Biggest win: 10-0 vs Côte Chaude SF (1993-94 Coupe de France) Youngest player: Kingsley Coman (16 years and 8 months) Oldest player: Gianluigi Buffon (41 years) Most points earned in a season: 96 in 38 games (2015-16) Most goals in a single season across competitions: 171 (2017-18) Most valuable arrival: Neymar (€222m from Barcelona) Most valuable departure: Gonçalo Guedes (€57m to Valencia)