I-League 2018-19: Mohun Bagan vs Chennai City: Preview and prediction
I-League 2018-19: Mohun Bagan vs Chennai City: Preview and prediction
Dec 01, 2018, 02:52 pm
3 min read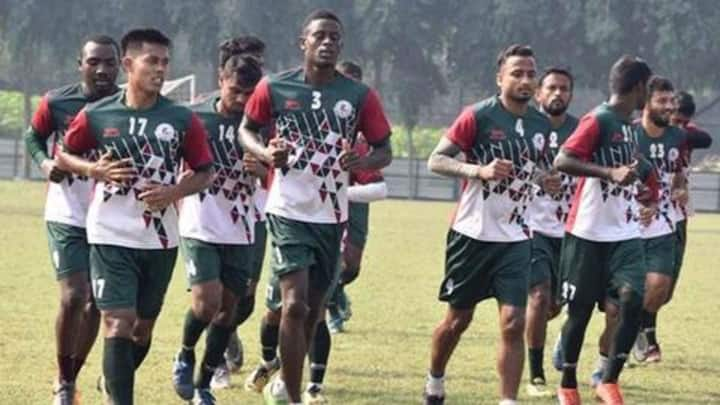 I-League table-toppers Chennai City FC will take on Mohun Bagan in their seventh match of the season at the Vivekananda Yuba Bharati Krirangan this evening. Chennai have been at the top of their game, winning five and drawing one match, and are leading the roost with a six-point margin. Bagan, fourth on the league table, will be wanting to make full use of their home advantage.
How are the two teams shaping up for the encounter?
Mohun Bagan have been in impressive form, and was unbeaten in four consecutive games before losing to Churchill Brothers 3-0 last Sunday. Eze Kingsley, the captain, has to shoulder the responsibility of the poor defense and charge up his team for today's performance. Chennai will be confident, with new Spanish recruits Nestor Gordillo and Sandro Rodriguez performing wonders for them.
Who are the key players for the two squad?
Aser Dipanda, Henry Kisekka, and Sony Norde are the pillars of Mohun Bagan, with Norde having a phenomenal time at Bagan since last season. Yuta Kinowaki and Norde will have to be creative in the midfield. Chennai's Spanish quartet have taken Indian football by storm, and Pedro Manzi is also expected to return from an injury. Jesuraj, Lourdusamy, and Kamaraj have been impressive as well.
Predicted line-up and TV listing
Mohun Bagan: Shilton, Bagui, Kingsley, Lalchhawnkima, Ambekar, Mahata, Das, Kinowaki, Norde, Kisseka, Dipanda. Chennai City: Thaufiq, Vanspaul, Eslava, Bora, Kamaraj, Raju, Lourdusamy, Jesuraj, Manzi, Gordillo, Rodriguez. The match is scheduled to kick-off at 5:00 PM, and can be watched on the Star Sports network or live-streamed on Hotstar.
Can Mohun Bagan work up some magic?
Chennai have been markedly better than the other teams this term, and have been dominating the league since the season kicked off. Mohun Bagan, on the other hand, have been wasteful even in matches where they were the dominant side. Other than the home advantage, the conditions do not look favorable for Bagan, and it seems only a miracle can save them from the southern onslaught.
How has the league shaped up till now?
Chennai have been the strongest team so far this season, and have remained unbeaten in their all of their six matches. Churchill, though are second on the league table, having won just two matches, and drawn four. Kolkata giants Mohun Bagan and East Bengal find themselves in some difficulties, but EB still have two games in hand to bounce back among the top three.