I-League 2018-19: Mohun Bagan vs NEROCA: Match preview and predictions
I-League 2018-19: Mohun Bagan vs NEROCA: Match preview and predictions
Jan 11, 2019, 06:11 pm
3 min read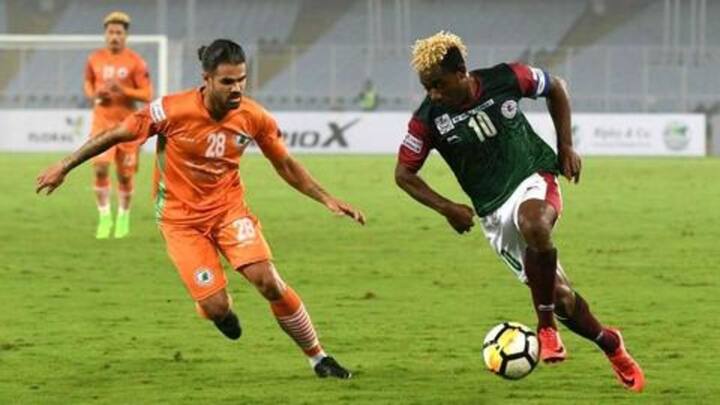 After their 2-0 win at home against Minerva Punjab, Mohun Bagan will be high on confidence as they take on NEROCA tomorrow once again at home. Presently, the Mariners are sixth on the I-League table, and are trailing by six points to table-toppers Chennai City. NEROCA are positioned better, with 21 points and are fourth on the league table. Here's our detailed match preview.
Bagan under new manager, how confident will they be?
After firing former manager Shankar Lal Chakraborty, Bagan have appointed Khalid Jamil as their new gaffer. Mohun Bagan looked a rejuvenated side under Jamil, and though the new coach managed to win his first match in charge, his tactic of playing long balls has been called into question. Further, Minerva were a weaker side, and it remains to be seen what the Mariners will produce against NEROCA.
NEROCA will be confident after return of key players
NEROCA defeated Shillong Lajong in their last game, winning with a scoreline of 3-2, and with the return of key players like Katsumi Yusa, Singham Subhash Singh and Lalit Thapa, the team looked pretty confident. Further, NEROCA are on a six-game unbeaten run. However, NEROCA's defense can be breached, as the goals by Shillong revealed. Will Bagan be able to do the same?
Katsumi has a history with Mohun Bagan
Katsumi Yusa and Mohun Bagan have had a working relationship in the past, with the Japanese midfield maestro having played with the Kolkata giants from 2013 to 2017. He helped Bagan to I-League glory in 2014-15 and also won the Federation Cup with them the following season. He will be bringing his experience to NEROCA's benefit this time around.
How can the match turn out to be?
Bagan are looking quite poor this time both in attack and defense, and though Jamil's appointment might strengthen their defensive unit gradually, the match against NEROCA will be a steep uphill climb for the Mariners. Things look positive for NEROCA, and they will be wanting to take a huge advantage before facing second-placed Churchill Brothers next. A win can take them level with Chennai.
Who will be the key players in the encounter?
On the visitors' front, Katsumi Yusa will surely be playing an important role in building their attack against Bagan, as will players like Subhash Singh, Aryn Williams, and Eduardo Ferreira. On the Mariner's front, their captain Sony Norde will be their talisman once again, and if Aser Dipanda Dicka is in form, anything can happen. However, the balance hangs towards the visitors' side now.