Here is what Ramos said about Salah's shoulder injury
Here is what Ramos said about Salah's shoulder injury
Sep 08, 2018, 12:18 pm
2 min read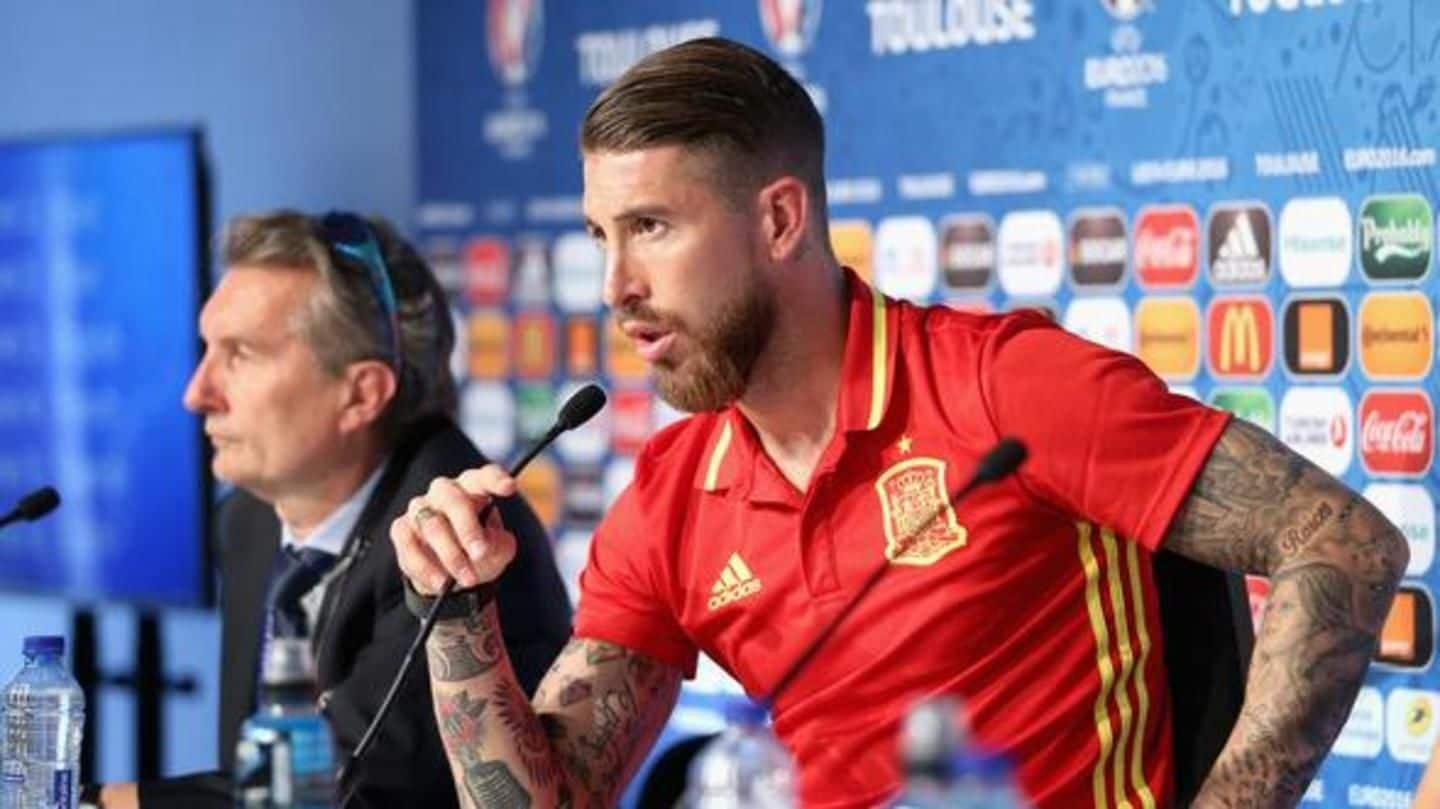 Sergio Ramos, recently, spoke at a press conference before Spain's UEFA Nations League match against England. Ramos was asked about his thoughts on the kind of reception England fans might give him, at Wembley, after his challenge on Salah during the UCL final. He was also questioned regarding Luis Enrique, ex-Barcelona coach's appointment as Spain's manager. Here's how he responded to these tough questions.
Ramos says he never has intentions of hurting a colleague
Sergio Ramos, on being asked what kind of a reception he was expecting in England, said that he was sure the nation's fans will treat him right. The captain also made it clear that he never goes to the field wanting to hurt a fellow professional. He added he has a clear conscience regarding the incident, which unfolded that night in Kiev.
Ramos and Salah: How are things between them?
In the 2017-18 Champions League final, a foul on Salah by Ramos saw the Liverpool star leave the field with a shoulder injury. Reportedly, Salah's shoulder was dislocated, and Ramos was subject to severe criticism by the media and fans. These two recently met at an event where Salah completely ignored Ramos, when he was tapped on his shoulder by the Real Madrid captain.
Ramos in the league of Keane and Gattuso?
It is, without a shadow of a doubt, that Sergio Ramos is a once-in-a-lifetime defender and captain. However, he has always been infamous for his conduct on the football field, being the record-holder for the highest number of La Liga red cards (19). He can be said to fall in the league of Roy Keane and Gennaro Gattuso: talented, leader, fearless and reckless.
What did Ramos say regarding Luis Enrique?
Ramos was also asked about his thoughts on former Barcelona coach Luis Enrique being appointed as Spain's new manager. The World Cup winner said that the team is trying to soak up all the knowledge that someone like Luis Enrique brings. He spoke about Enrique's successes as a manager and that they did not know each other personally before, only having met as rivals.