It's National Sports Day, the birth anniversary of Dhyan Chand
It's National Sports Day, the birth anniversary of Dhyan Chand
Aug 29, 2017, 01:57 pm
2 min read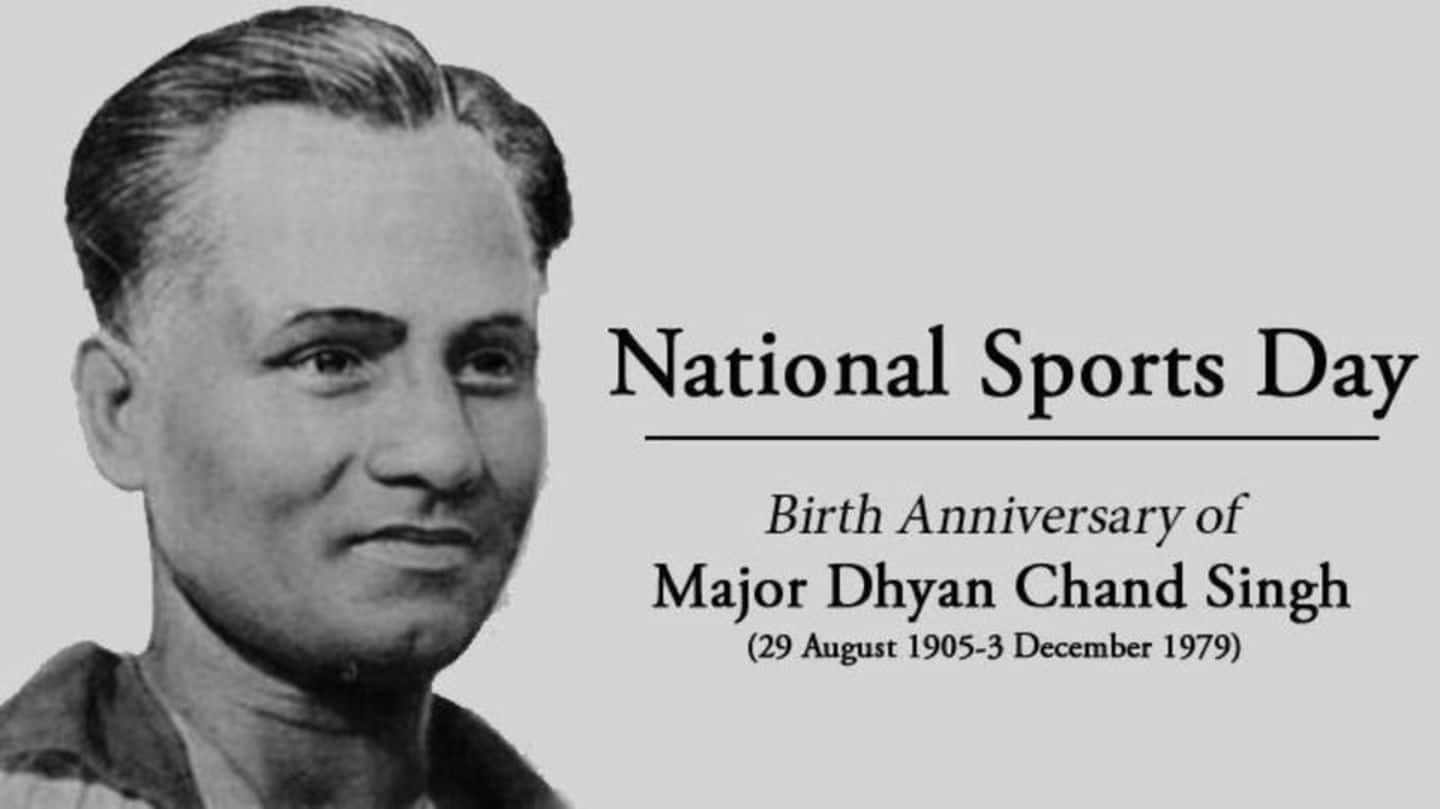 To commemorate the birth anniversary of field hockey legend Major Dhyan Chand, Indian government, in 2012, designated the 29th of August as "National Sports Day." On this day, sports-related awards like Arjuna Award, Rajiv Gandhi Khel Ratna Award, and Dronacharya Award are conferred upon outstanding athletes and coaches. Let's cherish and know more about our national hockey hero and his achievements.
Dhyan Chand was born on 29 Aug, 1905, in Allahabad, Uttar Pradesh. He took to hockey after enrolling in Indian army at 16 years of age. Chand rose to prominence when he toured New Zealand in 1926 with the army team. He played in 1928 and 1932 Olympics, guiding India win a debut gold at Amsterdam and retain it later at Los Angeles.
Born as Dhyan Singh, the greatest Indian hockey player of all time, he was nicknamed 'Chand (moon)' as he used to practice at night in the moonlight.
Captaincy and Berlin Olympics gold
Chand was chosen as the captain for 1936 Olympic games in Berlin, where he went on to score 3 goals in the 8-1 final victory against Germany. Legend has it that the German dictator Adolf Hitler was so enthralled by the hockey wizard that he offered Dhyan Chand German citizenship, and a colonel's rank, which the Indian refused to accept.
Dhyan Chand's brother was his teammate
Dhyan Chand's younger brother Roop Singh played alongside Dhyan Chand during 1932 Olympics. Roop outscored Chand in the 24-1 final victory against the USA, netting 10 goals against Chand's 8.
Apart from the three Olympic golds, Chand's goal scoring feats include over 400 international goals in his career. At the 1928 Olympics, Chand finished as the leading goal-scorer, having netted 14 goals. During India's victorious world tour in 1932, Chand scored 133 out of India's 338 goals. Later during 1936 world tour, he scored 59 of India's 175 goals. He retired in 1949.
Major Dhyan Chand was felicitated with Padma Bhushan, the third highest civilian award, in 1956. Since 2002, Dhyan Chand Award for Lifetime Achievement in Sports and Games is presented annually.