Here are some of the craziest rules in different sports
Here are some of the craziest rules in different sports
Aug 12, 2019, 12:31 am
3 min read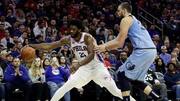 The world of sports is filled with a number of sporting events and tournaments. While these events and tournaments represent a particular sport, every sport has its own charm. Moreover, these sports are played under certain rules. However, there are certain rules in every sport which hardly make any sense. On the same note, we take a look at the weird sport's rules.
Basketball: Staying in the game despite committing fouls
In a sport, when a player is found guilty of a foul, he is penalized initially by a warning or being sent off. Same is the case in basketball as well. However, in case a team does not have five able-bodied players in a match, due to injury or being sent off, the next player who commits a foul can stay in the game.
Tennis: Unintentional hindrance could lead to replay of the point
The game of tennis too is no stranger to weird rules. In one of such rules, in case of an unintentional distraction by a player, the opponent can ask for the point to be replayed. This mostly happens in case of hat falling off or the spare ball falling off server's pocket. However, a deliberate hindrance could lead to the opponent earning the point.
Golf: No talking about the game between opponents
Now, this is another gentlemen's game, which again has a weird rule. Two competing golfers cannot talk to each other about the rules, shot distance, potential hazards and other gaming stuff which could influence the outcome of the game. While they can ask for information related to their game, that too would result in a two-stroke penalty. So, it's better to not talk.
Football: Goal-keepers cannot hold the ball for more than 6secs
Now, this is a rule which all might not know, but as per the FIFA rules, a goal-keeper is not allowed to hold the ball for more than six seconds. Although usually, referees are not very strict about the rule, Liverpool goalkeeper Simon Mignolet once held the ball for 22 seconds, in 2015. Now that's too much and he was fouled for it.
Cricket: It is mandatory to appeal for a dismissal
Dismissals happen when following the dismissal procedure, the on-field umpires or the third umpire give their verdict on the same. However, there is a weird rule that the fielding team has to appeal in order to make the umpire give his decision. In case the appeal is not made, the umpire is entitled not to raise his finger right away.