Another award for CR7: Wins UEFA Goal of the Season
Another award for CR7: Wins UEFA Goal of the Season
Aug 28, 2018, 07:08 pm
2 min read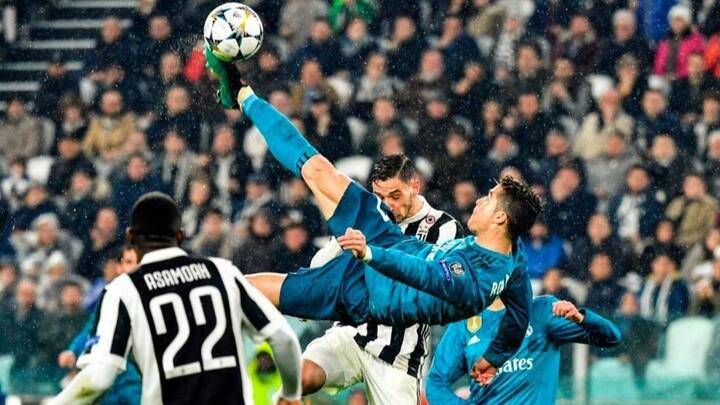 Cristiano Ronaldo's overhead kick against Juventus in the 2017-18 Champions League quarter-finals has been voted the UEFA 'Goal of The Season'. The Portuguese forward left the crowd enthralled at Turin as they applauded his masterpiece. Even an experienced and talented custodian like Buffon was left dumbstruck. Here we delve into more details about the award and the man.
Champions League 2017-18: How did it go for Ronaldo?
Cristiano Ronaldo has been rightly called the greatest marksman in the history of the Champions League. He has conquered the tournament like no one else and is the only active player to lift the trophy on 5 different occasions. UCL 2017-18 saw him netting in 15 goals and becoming the highest scorer thrice in a row. He is UCL's highest assist provider ever (34).
Did applause from fans inspire him to join Juventus?
Ronaldo has always invited polarizing opinions, while some consider him a legend, others say that he scores only tap-ins. He has been vocal about his status in football history, proclaiming he is the best ever. Applause from Juventus fans touched his heart as he bowed before them. This gesture could have had a role to play in Ronaldo choosing Juventus as his next destination.
Who were the past winners of the award?
Messi bagged the award in 2015 and 2016 for his goals against Bayern and Roma respectively. Mario Mandzukic won the 2017 edition of the award for his wonderful strike against Real Madrid in the Champions League finals.
Ronaldo has numerous Champions League records to his name
Ronaldo is the only player to score in three Champions League finals. He is also the only one who has been on the score-sheet for 11 consecutive matches. He is the highest goal-scorer in Champions League with 120 strikes. Ronaldo is the only player to net in 10 goals (the most) against a single club (Juventus). He has won 4 European Golden Shoes.