WWE: Do you know these amazing facts about The Undertaker?
WWE: Do you know these amazing facts about The Undertaker?
Jun 04, 2019, 01:05 pm
3 min read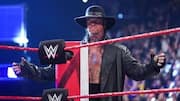 The Undertaker is one such legend who never gives up. Having been wrestling with the promotion for over 25 years, his time is well nearing the end, but he still chooses to continue in order to entertain his fans. This Friday, he is set to take on Goldberg at the Super Showdown pay-per-view event, as we present some amazing facts about him.
He has had eight different ring names
It is common for WWE superstars to change their ring name often. However, for The Undertaker, he went through a change for a record eight times. He made his debut as The Master of Pain, followed by Texas Red, The Punisher, Punisher Dice Morgan, Commando and Mean Mark Callous. His seventh name was unique, Kane The Undertaker, before Kane even arrived in WWE. Weird!
He is an avid fan of motorbikes
In case one remembers, there was a time when The Undertaker used to enter the WWE arena on motorbikes. But, hardly anyone knows that he is an avid fan of motorbikes. He also has a collection of Harley-Davidson and West Coast Choppers motorbikes. Furthermore, he got his first motorbike after beating Hulk Hogan during the 1991 Survivor Series for the WWF Championship.
He was scripted to debut as 'The Eggman'
We have already discussed about his eight ring names, however, there could have been a ninth name for him. It was reported that he was scheduled to make his debut as The Eggman during the 1990 Survivor Series. Weeks prior to it, during a turkey from a giant egg promo, the plan was criticized by the fans, forcing WWE to change it for good.
He also pursued basketball
It is common for WWE superstars to try their hands at multiple things before pursuing pro-wrestling as a full-time career. The Undertaker too had a stint as a basketball player. He played for Fort Worth's Texas Wesleyan University. He was famous for coming up with a left-handed shot, despite being a right-hander. While he could have had a career in basketball, he selected pro-wrestling.
He has never lost via submission
The Undertaker is well known for his never give up attitude. Although he has lost a number of matches in his career, including in WrestleMania, through a number of means, he has never tapped out to a submission move. While he has his own submission maneuver, he has made sure that he doesn't fall prey to others' submissive moves, making his move the best.