Explosion outside chemical plant in northern China kills 22
Explosion outside chemical plant in northern China kills 22
Nov 28, 2018, 12:54 pm
2 min read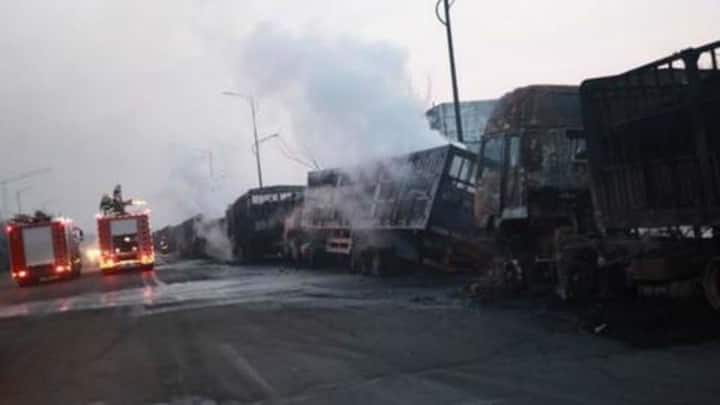 A huge explosion outside a chemical plant in China's northern Hebei province today killed at least 22 people and left as many others injured. The blast occurred outside the Hebei Shenghua Chemical Industry in Zhangjiakou, Qiaodong district around 12:40 am, igniting a fire that engulfed nearby vehicles. It is the second major industrial accident in the country in the last four days. Here's more.
China Daily shared video of the massive explosion
Truck carrying chemicals exploded, triggering a chain reaction
An industrial safety official, identified only as Wu, said that one of the trucks lined up outside the plant to deliver chemicals had exploded, setting off a chain reaction that engulfed other trucks parked nearby. Chinese news reports and images from the scene indicated that a fiery explosion near the plant had set around 50 vehicles ablaze, including dozens of trucks.
Fire now contained, search operation is underway: Authorities
The fire has now been contained, and a search operation is underway, authorities said. The injured have been taken to a nearby hospital. Employees at the Shenghua plant said the operation has been suspended out of safety concern. Shenghua is affiliated with China Haohua Chemical Group, a subsidiary of State-owned ChemChina, which is ranked 167th among Global Fortune 500 enterprises.
Zhangjiakou is set to host 2022 Winter Olympics, alongside Beijing
Fu Jianhua, the Vice-Minister of Emergency Management, has led a team to the site to guide relief work. Zhangjiakou, a prefecture-level city about 156 km northwest of capital city Beijing, is set to host the 2022 Winter Olympics alongside Beijing.
Storage, transportation of chemical products, a major concern in China
Industrial safety is a major concern in China, where requirements for storage and transport of chemicals and other dangerous products are often weakly enforced. Earlier on November 24, two were killed and 57 injured in a warehouse explosion in Jilin Province. A total of 370 houses were damaged, with 15 having collapsed. In 2015, a massive explosion killed at least 173 people in Tianjin.