Here's what you need to know about WEF summit 2020
Here's what you need to know about WEF summit 2020
Written by
Siddhant Pandey
Jan 20, 2020, 08:21 pm
3 min read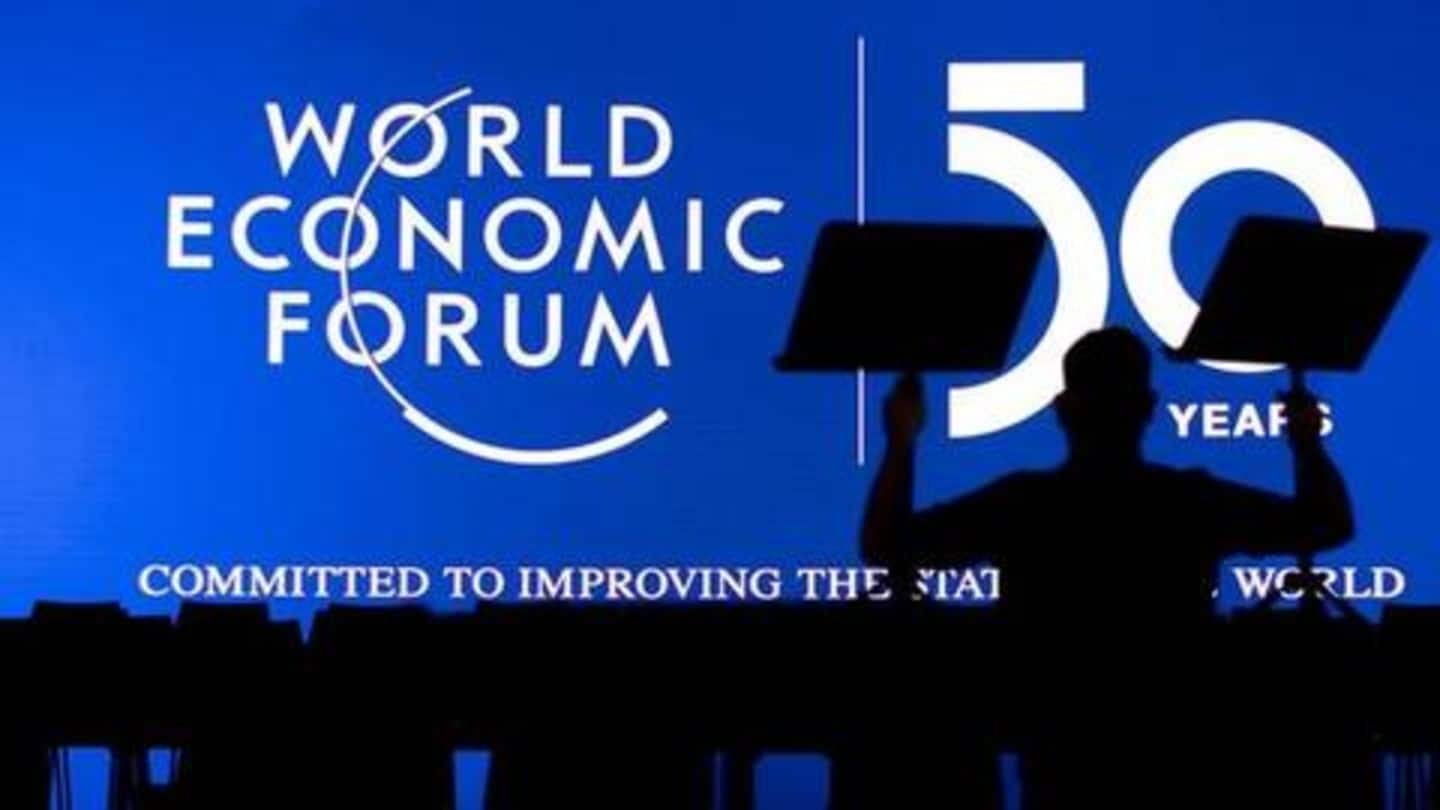 On Tuesday, the world's top political leaders, academicians, business persons and others, will assemble in Davos, Switzerland for the 50th World Economic Forum. The annual meeting, which will continue till Friday, aims to provide a platform to the world's most pressing issues. This year, the climate crisis is expected to take center stage at WEF. Here's what else you can expect from the summit.
119 billionaires to attend WEF 2020; 19 Indians among them
The WEF summit will have 2,821 people participating this year, however, women comprise only 24% of the attendees. According to BBC, 1,052 of all participants are from Western Europe, followed by 740 North American participants. 410 public figures will also be attending the annual meeting. Separately, Bloomberg estimated that 119 billionaires (collectively worth $500 billion) will attend the meeting, including 19 from India.
WEF defends low representation of women at summit
Addressing the lack of women representation, the WEF said it's only reflective of lesser women in world leadership. Irish news portal Raidió Teilifís Éireann noted that 24% is relatively (slightly) better than the 21% ministerial positions women hold worldwide and marginally better than the 6% women CEOs on the Fortune 100 list. Over the next decade, WEF hopes to double the number of women.
Trump to speak at WEF after skipping summit last year
United States President Donald Trump is one of the marquee speakers this year after having skipped the WEF summit last year due to the federal government shutdown. Although it's unclear what he would talk about, he will possibly address world trade issues and adopt a softer tone given that the US has just signed the first phase of a trade deal with China.
Deepika Padukone among speakers at WEF 2020
Deepika Padukone is also among the speakers and will talk on mental health. Other speakers at the event include German Chancellor Angela Merkel, teen climate activist Greta Thunberg, European Central Bank President Christine Lagarde, and United Nations Undersecretary-General and UNAIDS Executive Director Winnie Byanyima.
UK, Canadian PMs, French President to skip WEF 2020
Notably, French President Emmanuel Macron, Canadian Prime Minister Justin Trudeau, and United Kingdom PM Boris Johnson will skip Davos 2020. Iranian Foreign Minister Mohammad Javad Zarif also canceled his attendance because the organizers "abruptly changed the agenda." From the Indian government, only Commerce and Railways Minister Piyush Goyal and Minister of State for Shipping and Chemicals and Fertiliser Mansukh Mandaviya will attend the event.
WEF 2020 to focus on climate change, sustainability
According to Bloomberg, of all sessions at the WEF summit, 89 are dedicated to social issues, 82 for industry, 65 for technology, 51 for ecology, 50 for geopolitics, 27 for economic issues. Overall, the theme for WEF 2020 is "Stakeholders for a Cohesive and Sustainable World" and it will focus extensively on climate change and sustainable development, apart from economic inclusion.
Participants encouraged to reduce carbon footprint
For years, the WEF meetings have been mocked for delegates flying in on private jets which have huge carbon footprints. This year, the WEF has encouraged participants to opt for alternative travel options, e.g., participants taking trains will be given a 50% travel refund. Participants will also be offered shoe grips to encourage them to walk on snowy paths between meetings instead of taking cars.
Not just participants, WEF events to reduce carbon footprint too
Separately, the WEF also plans to launch an initiative to plant 1 trillion trees in the next decade at an event. The events themselves will host locally-sourced food suppliers, use 100% renewable electricity, have seaweed-based paint and carpets from "end-of-life fishing nets," etc.