ASEAN leaders diplomatic visit: India's "Act East" policy on display
ASEAN leaders diplomatic visit: India's "Act East" policy on display
Jan 24, 2018, 12:18 pm
2 min read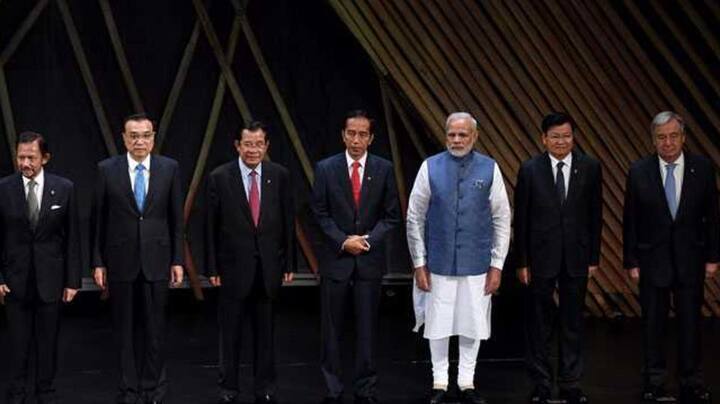 In a bid to promote India's "Act East" policy, PM Narendra Modi is set to break another tradition. In an unprecedented event, all leaders and heads of state of 10 ASEAN countries will be chief guests at the Republic Day parade. Moreover, PM Modi will also hold nine bilateral meetings with the leaders on the sidelines of the India-ASEAN Commemorative Summit. Here's more.
What is India's "Act East" policy?
India's "Look East" policy was born of the need to pursue better economic relations with Asia-Pacific nations. This was initiated during the PV Narasimha Rao's prime-ministership in the 1990s. Subsequent PMs AB Vajpayee and Manmohan Singh also pursued this policy leading to India-ASEAN's better engagement. Under PM Modi, to strengthen India's resolve of engaging with ASEAN, it was tweaked to "Act East" policy.
Did the "Look-East" to "Act-East" policy shift have any impact?
However, the "Look East" - "Act East" policy shift hasn't had any novel effects. The focus remains on greater infrastructural connectivity, but projects like Kaladan Multi-Modal Transit Transport and India-Myanmar-Thailand are moving slow. Notably, current economic dividends are a result of sustained efforts by previous governments. But, the political symbolism and the diplomatic outreach that India accords to ASEAN countries is a major change.
So, what's on the agenda?
So, as ten ASEAN countries' leaders arrive, PM Modi will hold bilateral meetings with all except Cambodian PM Hun Sen. Further, the leaders and their spouses will also be received by President Ram Nath Kovind at the Rashtrapati Bhavan for a grand luncheon, followed by other events. The leaders will also release commemorative stamps and attend a photo exhibition and cultural show.
What is the significance of better India-ASEAN relations?
The ASEAN region is "economically vibrant." So, when PM Modi holds bilateral meetings with the leaders, trade will be the major focus area. Despite having a free trade agreement in place, India-ASEAN trade for 2016-17 was only $71bn, compared to China-ASEAN which was $470bn. Through this outreach, India presents itself as a powerful ASEAN ally considering China's economic and military assertiveness in the region.