Japan: Massive blast rocks Sapporo leaving 42 injured
Japan: Massive blast rocks Sapporo leaving 42 injured
Dec 17, 2018, 02:14 pm
2 min read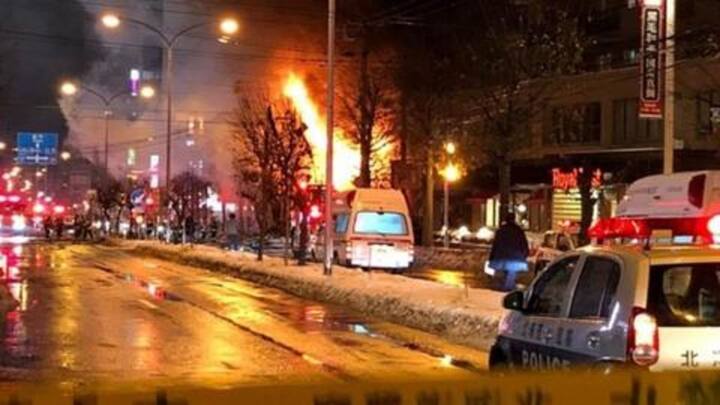 Residents of the northern Japanese city of Sapporo were preparing for a quiet Sunday night, when a massive explosion rocked their city. The powerful blast, which ripped through a restaurant in Sapporo, left 42 injured and heavily damaged adjacent buildings. Some residents were even forced into shelters as a result of the blast which, it is suspected, was triggered by a gas leak.
The blast was so powerful that neighboring buildings collapsed
The blast took place in Sapporo's Toyohira district, and although the exact cause is not known, it is widely suspected to have resulted from a gas leak. The explosion destroyed wooden buildings housing a restaurant and a real estate office, and was so powerful that it caused the partial collapse of surrounding buildings. Large flames and plumes of smoke lit up the night air.
WATCH: Flames from the explosion light up the night sky
The resulting fire burned for nearly six hours
Windows in adjacent buildings were shattered and cars parked outside got covered with debris that the blast had produced. Eyewitnesses reported hearing a sky-shattering bang at the time of the blast. Despite dozens of fire engines being deployed, the resulting fire from the blast burned for nearly six hours before fire fighters could douse the flames.
A terrifying 'bang' resonated throughout the city
"There was an enormous sound, 'bang', then when I looked up at the sky it was filled with plumes of smoke," and elderly woman told public broadcaster NHK
Most injuries were mild, and dozens have been displaced
Police officials for the Hokkaido region, whose capital is Sapporo, said that despite the large number of injuries, no fatalities had been reported. Further, most of the injuries were mild and did not require hospitalization. However, several children were injured. To house those who had been displaced by the blasts, the city government opened a shelter that is currently housing dozens.