How was the world's richest man, Amazon CEO blackmailed
How was the world's richest man, Amazon CEO blackmailed
Written by
Shiladitya Ray
Edited by
Shikha Chaudhry
Feb 08, 2019, 01:45 pm
3 min read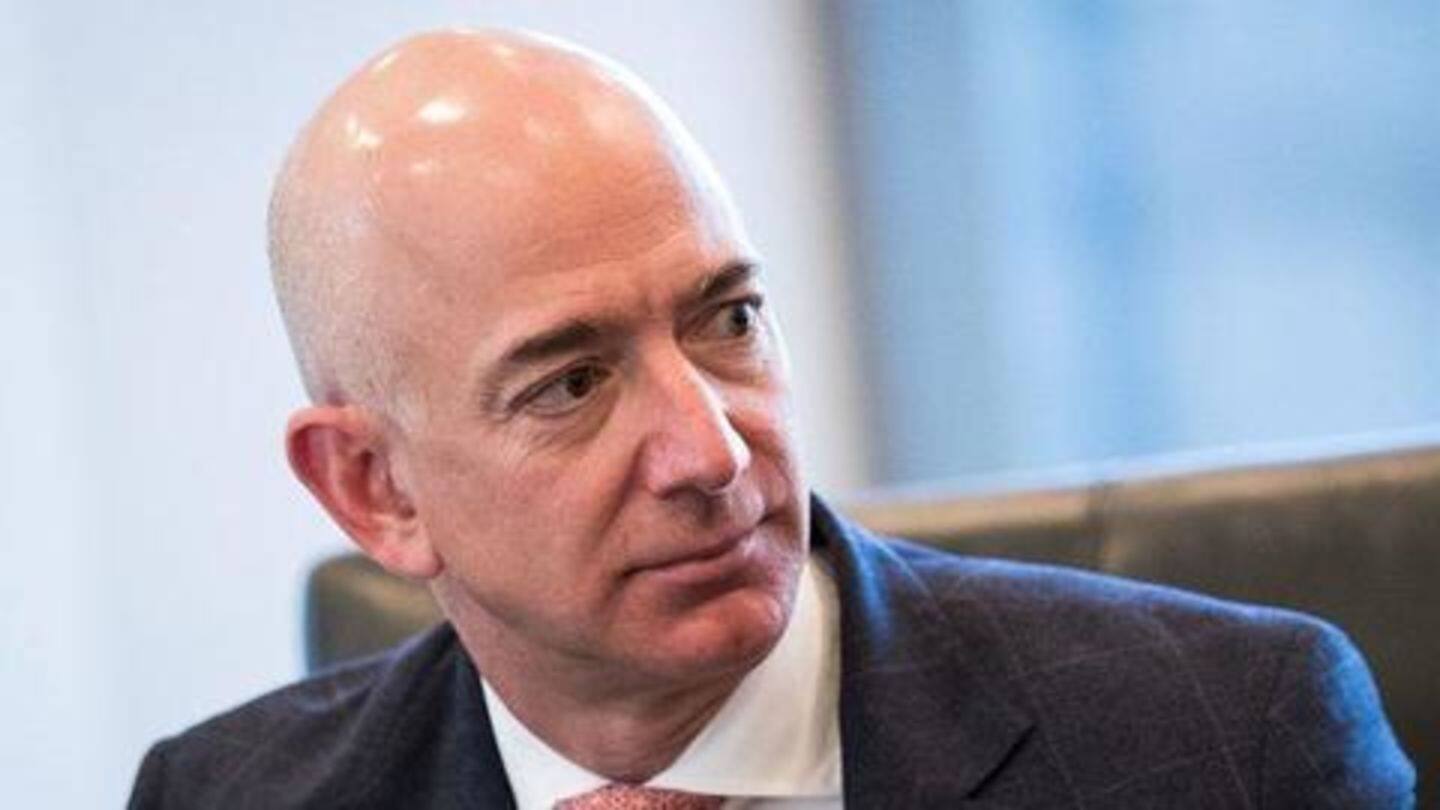 Amazon CEO Jeff Bezos has accused the owner of the National Enquirer, David Pecker, of blackmail, alleging that Pecker's lawyers threatened him that his tabloid would publish Bezos's intimate photos. Bezos, world's richest man and the owner of Washington Post, said they wanted him to make a "false public statement that the National Enquirer's coverage of him and his mistress was not politically motivated." Here's what went down.
How Bezos got pulled into this
Notably, last month Bezos announced his divorce with his wife of 25 years, MacKenzie. Shortly after his announcement, "intimate text messages" were leaked by the Enquirer, revealing his relationship with former TV anchor Lauren Sanchez. Subsequently, Bezos appointed private security consultant Gavin de Becker to investigate the motive behind the leak, and how the texts were obtained.
Following the start of investigations, Bezos was threatened by AMI
It then came to Bezos' attention that AMI CEO Pecker was "apoplectic" about the investigations into his company. Now, the Amazon CEO has put out a lengthy blog post on Medium, titled "No thank you, Mr. Pecker", alleging that Pecker's lawyers have threatened him with publishing more pictures and messages if the investigation into AMI and the National Enquirer is not halted.
What Bezos had to say about political factors
"My ownership of the Washington Post is a complexifier for me. It's unavoidable that certain powerful people who experience Washington Post news coverage will wrongly conclude I am their enemy. President Trump is one of those people, obvious by his many tweets," Bezos explained.
Interestingly, AMI recently admitted it had co-ordinated with the Trump presidential campaign to pay hush money amounting to $150,000 to a model to keep quiet about her alleged affair with Trump. Bezos, in his blog post wrote, "AMI entered into an immunity deal with the Department of Justice related to their role in the so-called "Catch and Kill" process on behalf of President Trump."
Details about the threats mailed to Bezos
In the blog post, the Amazon CEO revealed that AMI's chief content officer, Dylan Howard, had emailed threats to his lawyer about publishing lewd photos. The email, which Bezos published in full, described a "below the belt selfie - otherwise colloquially known as a 'd*ck pick'", along with descriptions of nine other potentially embarrassing photos of Bezos that Howard threatened to publish.
Bezos explains his decision to stand up to blackmail
"Any personal embarrassment AMI could cause me takes a back seat because there's a much more important matter involved here. If in my position I can't stand up to this kind of extortion, how many people can," wrote Bezos in his post.
Bezos, however, isn't taking the threats lying down
However, despite the threats, it appears that Bezos isn't willing to take blackmail lying down. At the cost of damage to his personal image, he has hit back at AMI and the Enquirer, and has published threat emails sent to him in a bid to demonstrate AMI's "extortionate proposal". He has also claimed that many others have contacted him about similar blackmail and extortion experiences with AMI.
Won't take blackmail lying down, no matter the cost: Bezos
"Of course I don't want personal photos published, but I also won't participate in their [AMI's] well-known practice of blackmail, political favors, political attacks, and corruption. I prefer to stand up, roll this log over, and see what crawls out," concluded Bezos.