US's Jim Mattis to meet Chinese counterpart amid US-China tensions
US's Jim Mattis to meet Chinese counterpart amid US-China tensions
Oct 18, 2018, 12:29 pm
3 min read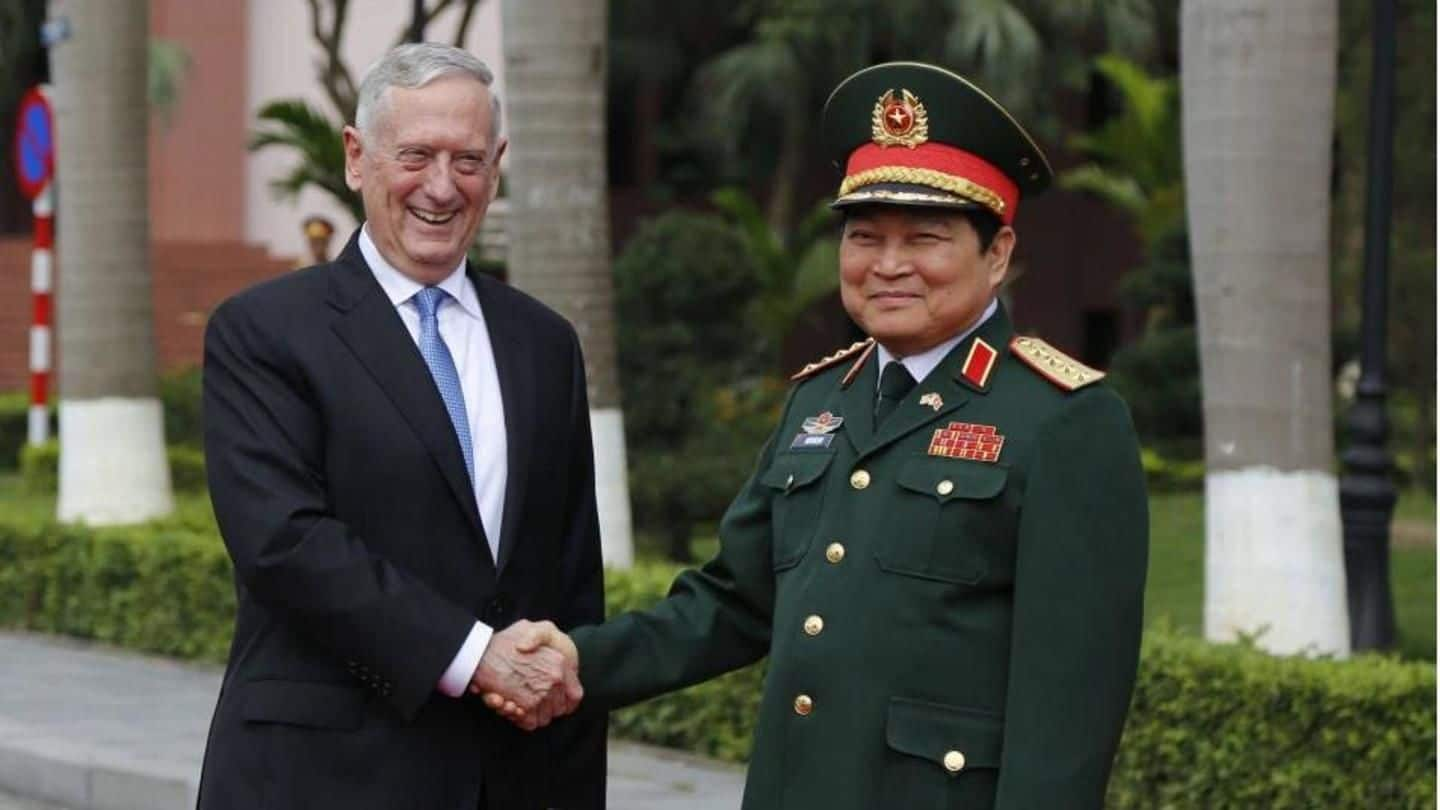 In the wake of escalating tensions between the US and China, US Defense Secretary Jim Mattis plans to meet his Chinese counterpart, Wei Fenghe, today in Singapore. The meeting comes weeks after their talks planned for Beijing fell apart. Shortly after Mattis arrived in Singapore yesterday after a visit to Vietnam, a senior Mattis aide said that the meeting will happen today. Here's more.
Mattis, Wei in Singapore for regional meeting of defense ministers
Mattis and China's Defense Minister Fenghe were in Singapore for a regional meeting of defense ministers. Mattis had visited China in June, but since then a series of events, including military and trade ties, have escalated tensions between the two nations.
US hopeful of flourishing ties as meeting was China's request
The Assistant Secretary of Defense for Asian and Pacific Security Affairs, Randall Schriver, said China had requested the Singapore meeting. In late September, China told the Pentagon that Wei would be unavailable to meet Mattis in Beijing, so that visit was canceled. But looking at China's current request, Schriver said the US sees signs that the military-to-military relationship may be on the upswing.
We believe Chinese military wants to keep things stable: Schriver
"The fact that he's (Mattis is) meeting with Minister Wei is some evidence that the Chinese are interested in keeping things normal and stable, as are we," Schriver said. "Our impression is that the (Chinese) military wants to keep things stable," he added.
Military ties deteriorated after US put sanctions on Chinese military
Talking about military ties, Schriver said the tensions between the Pentagon and the Chinese military were triggered after the Trump administration decided to sanction the Chinese military in September for buying Russian fighter planes and missiles. That action was taken under the Countering America's Adversaries Through Sanctions Act passed by Congress in 2017. To this, China responded with strong criticism, which spiked the tensions.
In its response to US sanctions, China canceled a planned visit to the Pentagon by the head of the Chinese navy. They also made a confrontation in the South China Sea between a Chinese warship and a US Navy destroyer, the USS Decatur.
Trade war also had a key role in ruining relations
Schriver says China's retaliatory move may turn out to be a short bump in the road. He added that Mattis is expected to convey to Wei the US's interest in normal relations with the Chinese military. Also, relations between the two nations have deteriorated as escalating trade disputes and tariff hikes have been exacerbated by a newly announced US military equipment sale to Taiwan.