Nobel Prize in Literature: Olga Tokarczuk, Peter Handke win
Nobel Prize in Literature: Olga Tokarczuk, Peter Handke win
Written by
Siddhant Pandey
Oct 10, 2019, 05:56 pm
2 min read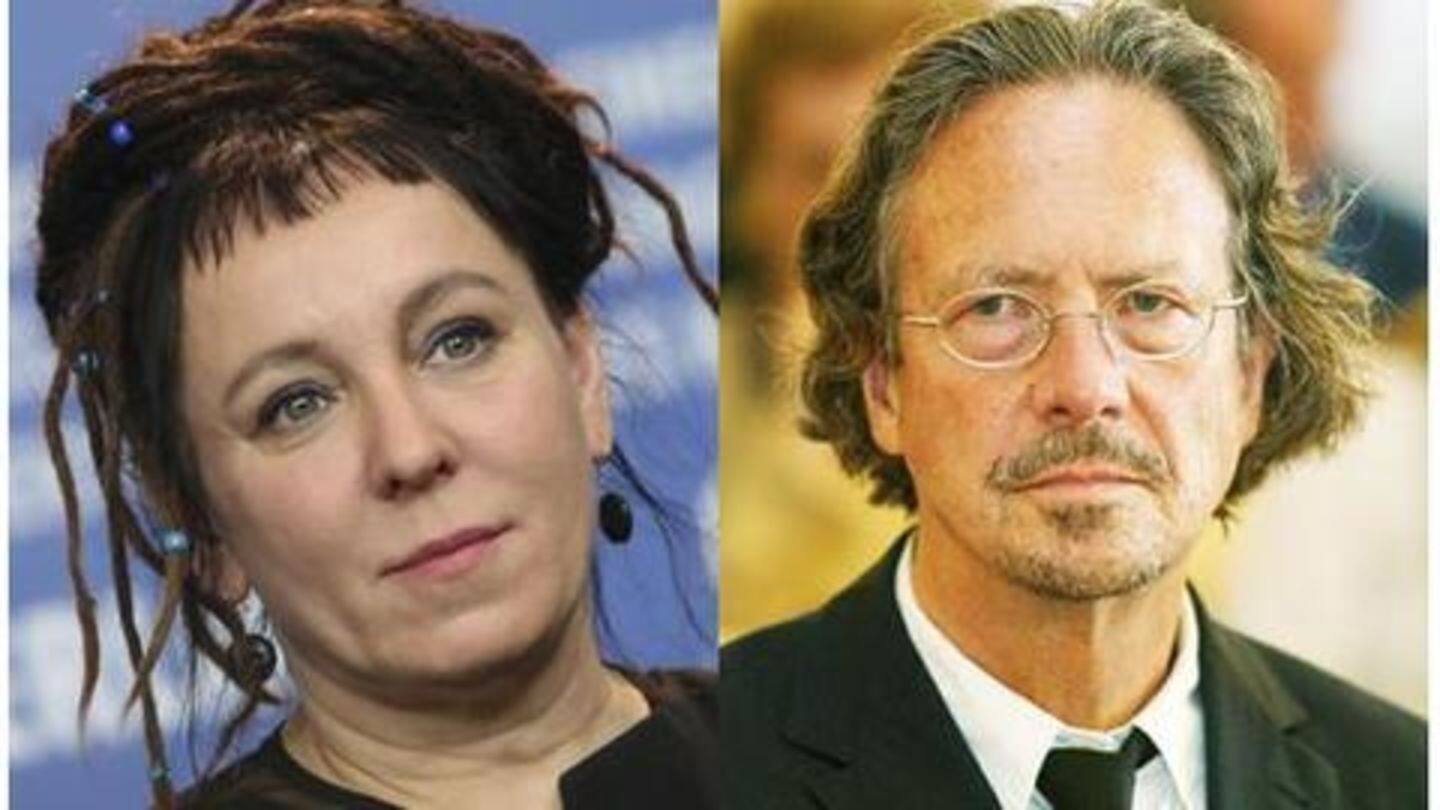 After a sexual harassment scandal caused the Nobel Prize in Literature to be postponed last year, the Swedish Academy on Thursday announced Nobel Prizes to two authors. Polish author Olga Tokarczuk was awarded the Nobel Prize in Literature for 2018 while Austrian author Peter Handke won the Nobel Prize in Literature for 2019. Here are more details.
Tokarczuk awarded for 'narrative imagination'; Handke for 'linguistic ingenuity'
Reportedly, Tokarczuk was awarded the 2018 Nobel "for a narrative imagination that with encyclopedic passion represents the crossing of boundaries as a form of life." Meanwhile, Handke earned the 2019 Nobel "for an influential work that with linguistic ingenuity has explored the periphery and the specificity of human experience." The Nobel committee confirmed that both authors win 9mn Swedish krona (Rs. 6.50cr) each.
Olga Tokarczuk (57) is a Polish writer-activist living in Wrocław. The daughter of two teachers, Tokarczuk took to literature early as her father also functioned as the librarian. After graduating in psychology from Warsaw University, Tokarczuk published her debut novel Podróz ludzi Księgi (The Journey of the Book-People) in 1993. She was awarded the 2018 Man Booker International Prize for her novel Flights.
Born in Griffen village, Peter Handke (76) is an Austrian playwright and author who has lived in Paris since the 1990s. His debut novel Die Hornissen was published in 1966 and after a 50-year-long career, he has published works in different genres. He is best known for his play Über die Dörfer (Walk about the Villages) and the novel Die Wiederholung (Repetition).
Why was the Nobel Prize postponed in 2018?
Handke's Nobel is a bit controversial as the committee had previously decided to break away from the "male-oriented" and "Eurocentric" past of the Nobel Prize in Literature. Importantly, after the MeToo movement erupted, a sexual assault scandal hit the Swedish Academy in November 2017. Swedish poet Katarina Frostenson, among the 18 Academy members, resigned after her husband, Jean-Claude Arnault, was charged with sexual assault.
After Frostenson, six more Academy members resigned
Arnault was sentenced to two years in prison for rape. After Frostenson's resignation, six more Academy members resigned, leaving the Academy crippled as members are elected for life and couldn't have resigned before the scandal. Ever since, the Academy is trying to modify its statutes.