UN says 1 million people fled Ukraine since Russian invasion
UN says 1 million people fled Ukraine since Russian invasion
Written by
Abhishek Sharma
Mar 03, 2022, 11:02 am
3 min read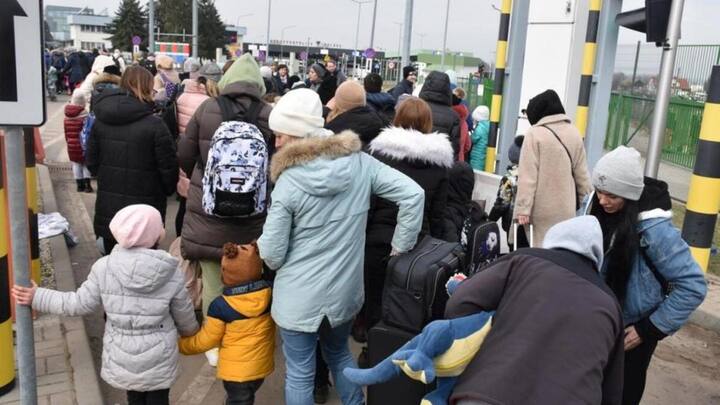 As the war between Russia and Ukraine entered the eighth day on Thursday, the United Nations High Commissioner for Refugees (UNHCR) has said that one million people have fled Ukraine in a week. This number exceeds 2% of the country's total population. The agency further predicted that it could reach as high as four million in the coming days.
Why does this story matter?
As per the UN figures, the exodus from Ukraine could become one of the worst refugee crises in recent decades.
The world's largest country has launched an attack on neighboring Ukraine after weeks of border tensions over the latter's wish to join the international military alliance NATO.
Hundreds have been killed or wounded from both sides in the fighting.
Time for guns to fall silent: UN
"Our data indicates we passed the 1M mark," the Associated Press reported, quoting an email from UNHCR spokesperson Joung-ah Ghedini-Williams. UN's High Commissioner for Refugees Filippo Grandi tweeted, "In just seven days we have witnessed the exodus of one million refugees from Ukraine to neighbouring countries." He also called for the "guns to fall silent" so that humanitarian assistance can be provided.
Ukraine may surpass Syria in refugee outflows
According to UNHCR, Syria has seen the largest refugee outflow so far with over 5.6 million people, who left the country after a civil war broke out in 2011. However, it took at least three months for one million people to flee the country at the swiftest rate. Therefore, the Ukraine situation may become the source of the biggest refugee crisis of this century.
India asks its nationals to leave Kharkiv
Meanwhile, the Indian embassy in Ukraine on Wednesday asked Indian nationals to leave Kharkiv immediately. Kharkiv—Ukraine's second-largest city—was the site of Russian shelling where a 20-year-old Indian student died on Tuesday. Ukrainian officials fear that Russia will target Kharkiv and the national capital Kyiv. Indian officials said all Indian nationals have left Kyiv and 60% of Indians have left the country.
What is the current situation in Ukraine?
Russia has captured the first major Ukrainian city, the strategic port of Kherson. Ukrainian officials confirmed that the city had fallen and Russian forces had stormed into the council building. "There is no Ukrainian army here," said the city's mayor Igor Kolykhaev, "The city is surrounded." Kherson—home to roughly three lakh people—is located in southern Ukraine where the Dnieper River meets the Black Sea.
In the capital city Kyiv, four major explosions were heard on Thursday morning. Kyiv was reportedly among 15 Ukrainian cities where air sirens went off on Thursday. Notably, a 64km-long Russian military convoy continues to advance toward Kyiv.