Pakistan Defence's Twitter account suspended for morphed anti-India photos
Pakistan Defence's Twitter account suspended for morphed anti-India photos
Nov 19, 2017, 11:38 am
2 min read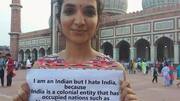 The Twitter account of the Pakistan Defence Forum, a long-running portal dedicated to Pakistan's armed forces, has been suspended shortly after posting fake anti-India news. It had posted a morphed photo of an Indian girl holding a placard saying "I hate India". The account has no links to the government. This isn't the first time it was linked to malicious anti-India propaganda.
The morphed photo was of DU student Kawalpreet Kaur at Delhi's Jama Masjid holding a placard reading: "I am an Indian but I hate India, because India is a colonial entity that has occupied nations (like) Nagas, Kashmiris, Manipuris, Hyderabad, Junagarh, Sikkim, Mizoram, Goa."
What did the placard actually read?
The photo created a controversy as Kawalpreet's placard had originally said: "I'm a citizen of India and I stand with secular values of our constitution. I will write against communal mob lynching of Muslims in our country." She wanted people to change their profile pictures to protest mob lynching, she had said. Pakistan Defence later deleted the tweet after receiving numerous complaints.
The account falsely blamed India for 'rejecting' Pakistan's 'generous offer'
Recently, Pakistan Defence had also tweeted that India had refused Pakistan's "generous offer" of a meeting between Kulbhushan Jadhav, an alleged Indian spy on the death row in Islamabad, and his wife. In reality, India had accepted and had also asked for his mother to be allowed to meet him too. Dr Mohammad Faisal, Pakistan's Foreign Ministry spokesperson, had even acknowledged India's reply.
'The picture's message shouldn't be lost in these dark times'
The account of @defencepk has been suspended by twitter for posting my unverified & morphed pictures. Grateful to all who reported it in large numbers. The message of the picture shouldn't be lost in these dark times. No nation wants lynchings & killings. Only bigots wants hate.

— Kawalpreet Kaur (@kawalpreetdu) November 18, 2017
Pakistan Defence has a history of threatening journalists and activists
Pakistan Defence, which has over 3,00,000 followers on Twitter, has often made news for threatening journalists/activists who question Islamabad's armed forces. In September, it responded to NDTV's Vikram Chandra, who tweeted an article about Pakistan's comments on India in Afghanistan. "Who's Pakistan to accept or not accept?!" Chandra had asked. One of Pakistan Defence's several responses was: "Why don't you try and find out?"