Pablo Escobar's brother to start drug business with Elon Musk?
Pablo Escobar's brother to start drug business with Elon Musk?
Written by
Siddhant Pandey
Jul 23, 2019, 02:59 pm
3 min read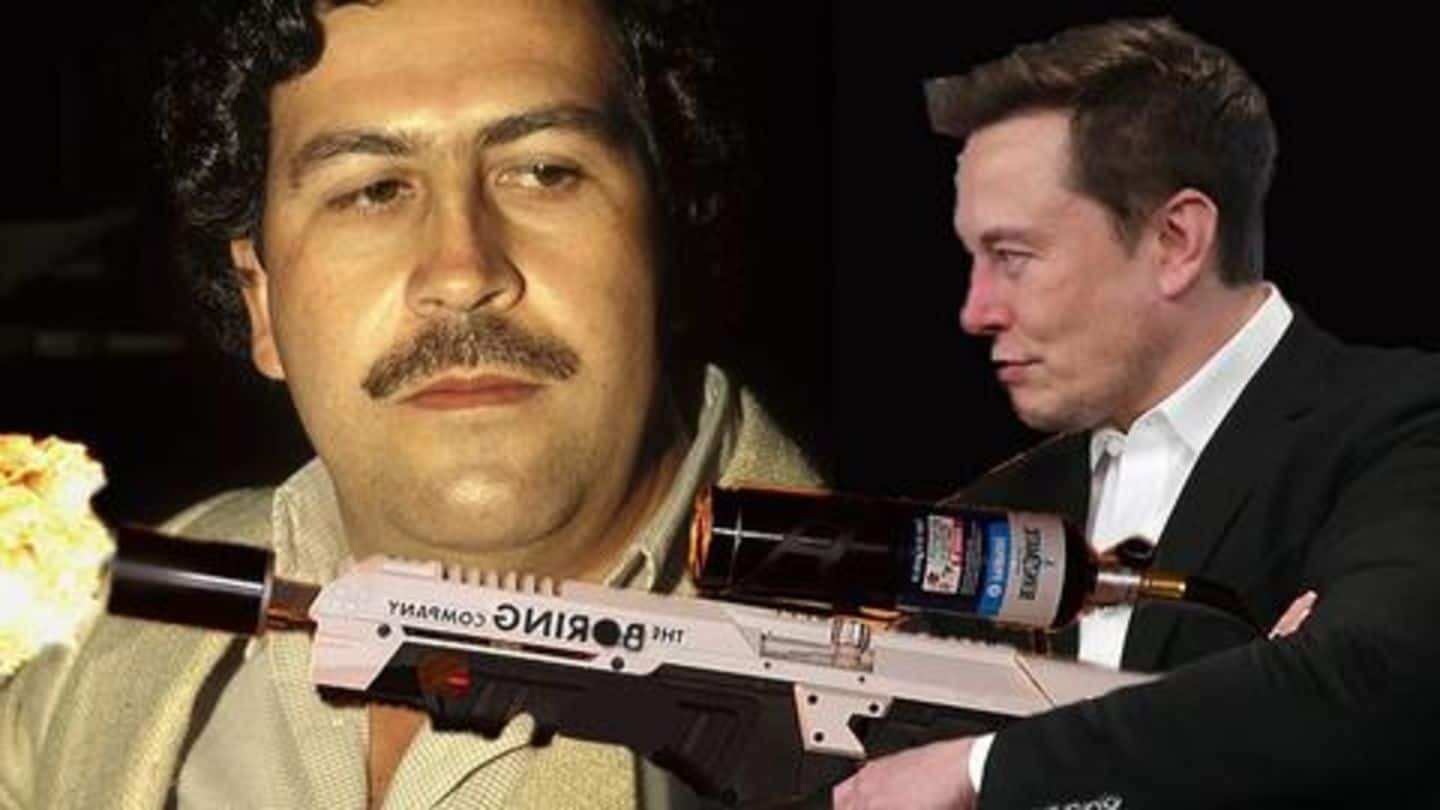 Tech entrepreneur Elon Musk is involved in an intellectual property feud with deceased Colombian drug kingpin Pablo Escobar's brother, Roberto Escobar. Reportedly, Roberto claims that the idea for Musk's "flamethrower," sold as 'Not-A-Flamethrower' by The Boring Company, was stolen from him. However, to settle the feud, he proposed that Musk partner with him for a drug business. Here are more details.
Roberto claimed a Tesla worker stole 'Flamethrower' idea for Musk
Roberto presented the proposal for Musk in a letter on Friday, TMZ reported. Earlier, he had launched his own, much cheaper flamethrower, starting the feud with Musk. He claimed that a worker from Musk's electric automotive company Tesla, that he identified as one Ivan Fuerro, stole the flamethrower idea back in July 2017. But, apparently Roberto is looking to put the feud behind him.
Roberto wants Musk to help with official pardon from Trump
Further, Roberto proposed that Musk should help him get an official pardon from the United States President Donald Trump. "I would like to come there and build a company together, 'Escobar Musk Enterprises' and help you make Tesla profitable, legally," Escobar wrote in the letter, acquired by TMZ. He further added, "This is easy for you. We make big money. You relax."
Musk nicknamed 'La Mosca' (The Fly) by Roberto
Funnily enough, Roberto also nicknamed Musk 'La Mosca' aka The Fly in the letter. He explained that the nickname is derived from the name of the car that Roberto and his brother Pablo used to smuggle drugs from Peru to Colombia.
We can legally sell drugs together: Roberto to Musk
Another item on his deal was starting a medical marijuana company or a legal pharmaceutical company: 'Elon Escobar Drugs Inc.' He wrote, "I know you like to smoke. Me and Pablo smoked before." Presumably, he refers to the time when Musk smoked weed on a live web show. "We can legally sell drugs together nowadays," he wrote, "I know all about it. Easy business."
Roberto asserts, there is no solution three
Roberto added, "Solution Three: There is no solution three. The choice is yours, my friend. Contact me or my CEO Olof K. Gustafsson. Do these two things and we are good, my friend. Easy for you, easy for me. Money for both. I am waiting."
It's Not a Flamethrower, Mr. Roberto, says Musk
Notably, after Roberto had first raised the allegations, Musk had tweeted in response, saying, "It's Not a Flamethrower, Mr. Escobar." He quipped, "Also, I stole the idea from Spaceballs." Escobar Inc.'s CEO had then told The Next Web that "Elon's tweet shows that he is guilty." Roberto had also stated that he is willing to settle for $100 million in cash or Tesla shares.
Earlier, Musk had renamed device 'Not-A-Flamethrower' after controversy
Meanwhile, here's a fun fact: After launching The Boring Company's flamethrower in January 2018, when Musk had faced backlash from the US Home Office over safety issues, the Tesla CEO had defended himself saying the "flamethrower" was basically a propane torch and renamed it 'Not-A-Flamethrower'.