Sri Lanka: President dissolves Parliament, announces snap election in Jan'19
Sri Lanka: President dissolves Parliament, announces snap election in Jan'19
Nov 10, 2018, 05:54 pm
2 min read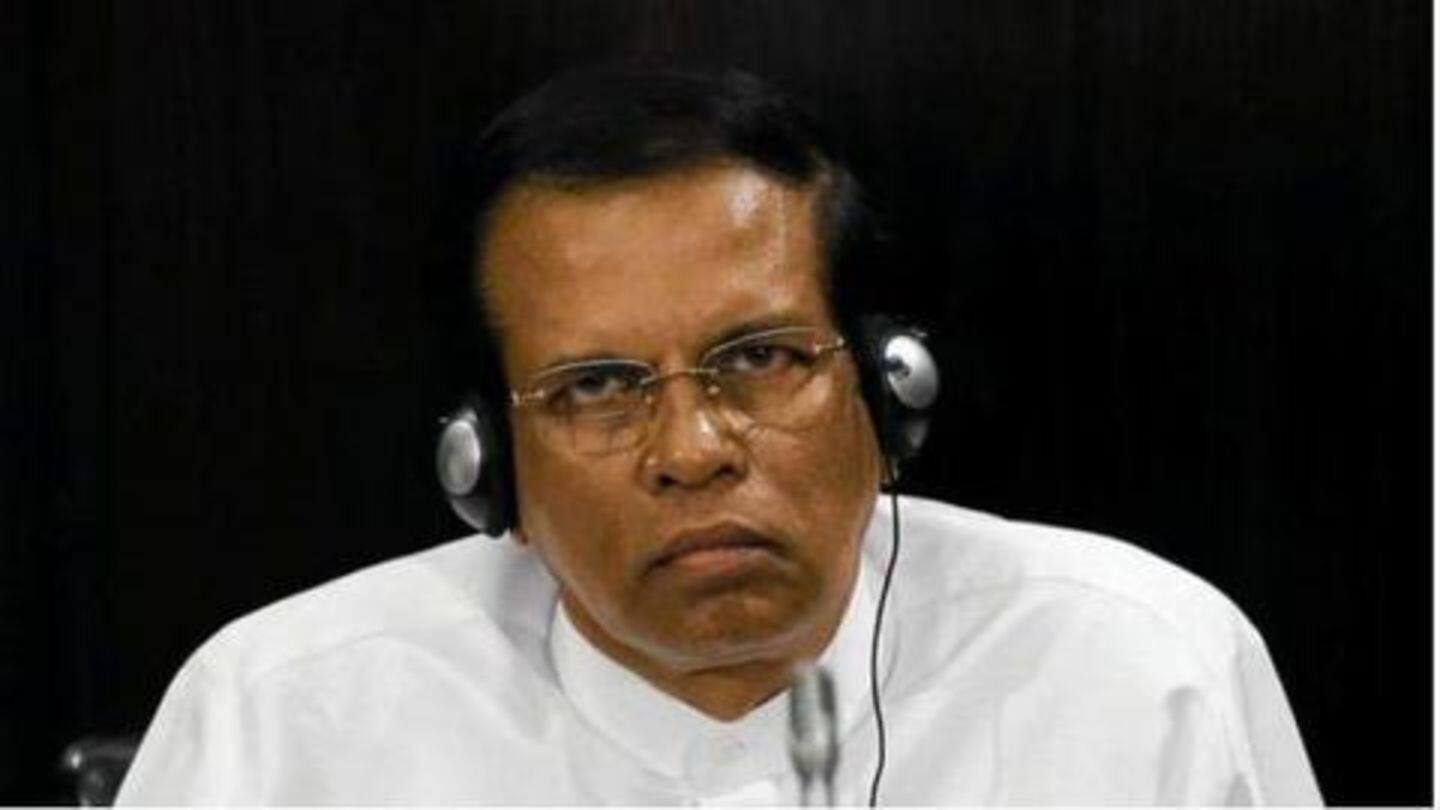 Sri Lanka's political crisis deepened yesterday as President Maithripala Sirisena dissolved the Parliament and announced snap polls on January 5. This makes it evident he doesn't have enough support in the House for Prime Minister Mahinda Rajapaksa, his ex-rival, whom he appointed under controversial circumstances, after sacking Ranil Wickremesinghe. Sirisena signed a gazette notification to dissolve the nation's Parliament with effect from Friday midnight.
Snap poll: Nominations between November 19-26, elections on January 5
According to the gazette, nominations to contest the snap election would be taken between November 19 and 26. The election will be held on January 5, and the new Parliament would be convened on January 17. Sirisena issued a gazette noticing that Parliament stands dissolved some 21 months ahead of its schedule in August 2020, amid a worsening constitutional crisis triggered by Wickremesinghe's sacking.
Despite getting sacked, Wickremesinghe says he's the lawful PM
The dissolution comes hours after Sirisena's close aide said the President had decided that there will be no snap elections or national referendum to end the political crisis. Meanwhile, Wickremesinghe dubbed Sirisena's move of sacking him as a "constitutional coup" and has refused to vacate his official residence, saying he's the lawful Prime Minister. His request for a floor test has also been rejected.
Sirisena suspended Parliament until Nov-16 for Rajapaksa to prove majority
Wickremesinghe cited the 19th amendment of the Constitution, in which the President has been barred from sacking a Prime Minister or dissolving parliament before the expiry of its 4.5 years term, something that even analysts have said. After Wickremesinghe's sacking, Sirisena suspended Parliament until November 16. It was to allow Rajapaksa to muster the 113 seats required to prove his majority.
Sirisena claimed 113 parliamentarians supported him, was proven wrong later
Sirisena had earlier claimed that he has the support of 113 parliamentarians in the House to prove the premiership of Rajapaksa, who, however, remains short of the 'magic number' 113 required to prove his majority in Parliament, his spokesman acknowledged yesterday.
Parliament Speaker slams Sirisena's move, insists on floor test
Parliament Speaker Karu Jayasuriya on Monday slammed the President's "unconstitutional and undemocratic" actions to sack Wickremesinghe, as he was critical of the PM's policies on economy and security, and suspend the Parliament, saying he'll not recognize Sri Lankan strongman Rajapaksa as the new premier unless he wins a floor test. Jayasuriya insisted on the floor test to take place on November 14 this year.