Trump says 'mission accomplished', Syrians celebrate 'victory on streets'
Trump says 'mission accomplished', Syrians celebrate 'victory on streets'
Apr 14, 2018, 07:50 pm
2 min read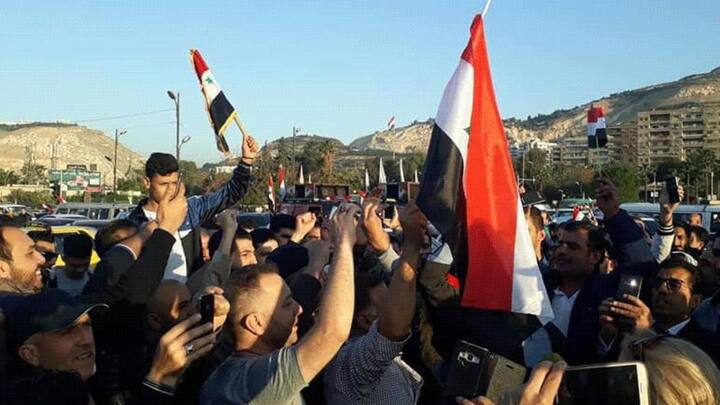 Hours after the US, France and Britain launched unprecedented joint air-strikes on Damascus early Saturday morning, thousands of Syrians assembled at landmark squares in an act of defiance. The Syrians waved theirs, Russian and Iranian flags, danced, clapped, honked cars horns and sang nationalist songs. US President Donald Trump, however, lauded the military for perfectly executing air-strikes, and thanked allies too.
'Mission accomplished' tweets Donald Trump after airstrikes
A perfectly executed strike last night. Thank you to France and the United Kingdom for their wisdom and the power of their fine Military. Could not have had a better result. Mission Accomplished!

— Donald J. Trump (@realDonaldTrump) April 14, 2018
After Trump's 'cowardly' act, Syrians celebrate military win on streets
According to a statement of Syrian Military, 110 missiles were fired but most of them were either shot down or derailed. Syrians saw this as army's success and took to Omayyad square, Damascus to rejoice. Holding 'I love Damascus' signs, they shouted, "We are your men, Bashar" and "Oh Trump you are a monkey. Oh, Trump, you are an animal."
In attacks that turned sky orange, three civilians injured
Associated Press reporters saw smoke across East Damascus sky at around 4:00 AM. The sky turned orange after Syrian military fired surface-to-air missiles on incoming missiles. The attack lasted one hour and reportedly injured three civilians. The US denied any losses and maintained missiles were launched at sites helping Assad prepare chemical weapons. Syria has vehemently negated use of any banned weapons.
Syria, Russia, Iran join chorus in condemning airstrikes
Bashar Al-Assad tweeted, 'Good souls will not be humiliated' after the attack. In a statement, Iran's foreign ministry condemned the attack and added, "Undoubtedly, the United States and its allies will assume the responsibility for the regional and trans-regional consequences of this adventurism." Terming it an act of aggression, Vladimir Putin said it had "destructive influence on the entire system of international relations."
US, Britain, France call action necessary
Calling Syria's 'chemical-escalation' a violation of human rights, France's foreign minister said the joint operation was legitimate and proportionate. Britain PM Theresa May said the attacks weren't meant to intervene in civil war or change regime but was done "to not further escalate tensions in the region." Trump said Washington was willing to sustain pressure on Assad till he stops killing his own people.