Brazil: Fire hits Flamengo football club; 10 dead, 3 injured
Brazil: Fire hits Flamengo football club; 10 dead, 3 injured
Written by
Ramya Patelkhana
Feb 08, 2019, 05:26 pm
2 min read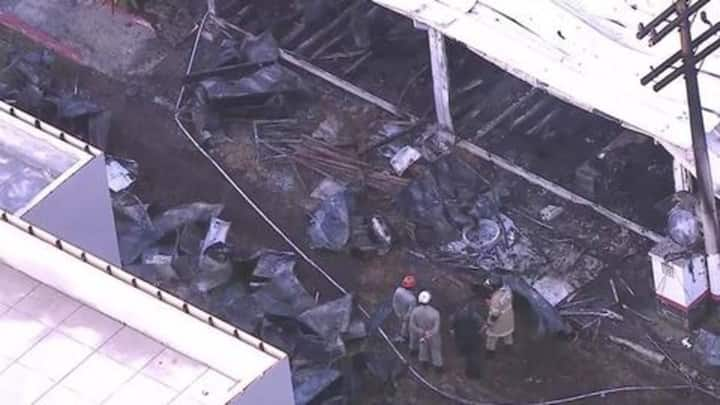 At least 10 people have been killed and three others injured in Brazil's Rio de Janeiro as a massive fire engulfed a training facility of the popular Flamengo football club, one of the biggest in the country. According to reports, the blaze hit a dormitory at the football club's youth team training center for players aged between 14 and 17 years. Here's more.
Blaze erupted as youth team players were sleeping
The pre-dawn blaze erupted at Ninho de Urubu, the Flamengo football club's training ground, according to BBC. The fire broke out in the building that housed youth team players as they were sleeping. The cause of the blaze at one of the best-known clubs of Brazil is yet to be ascertained. Meanwhile, the country's TV Globo reported the fire has been brought under control.
Victims yet to be identified; injured taken to hospital
The deceased are yet to be identified while those injured have been taken to a hospital nearly, according to firefighters. The state-of-the-art Ninho de Urubu training center was expanded and opened only two months ago, according to a Reuters report.
Images of the fire incident shared on social media
The fire at Flamengo football club broke out at around 5:10 am (local time) and was doused by 7:30 am. Images shared on social media showed fire trucks at the site and also the extent of damage caused by the blaze. The football club's main team, which also trains at the facility, was due to practice later in the morning, reported G1 news portal.
Report claims youth team members among the dead
"The kids from the Flamengo youth team were sleeping there at the time," firefighter Douglas Henaut told Globo News. TV Channel Globo also reported that Flamengo's youth team players are among the deceased; however, the same has not yet been confirmed by authorities.
Alma mater of Brazilian superstars like Zico, Junior, Leonardo
Following years of financial struggles, the Flamengo football club had recently, in 2018, spent about $6.2 million for the expansion of Ninho do Urubu. It offers accommodation for young players and various facilities like a gym, medical center, mini stadium, aquatic park, etc. It is the alma mater of several Brazilian superstars like Zico, Junior, and Leonardo; Flamengo is among Brazil's best-supported football clubs.
Images of the incident shared on social media
Very sad reports coming from Brazil of a fire at Flamengo's training centre. 10 people are known to have died, and a further 3 are seriously injured. Globo Esporte say the fire was in 'accommodation for the Flamengo base categories', that would be the youth system. pic.twitter.com/xniYJgOhuw

— Enock Kobina Essel (@kobinaessel39) February 8, 2019