Bullied boy named 'Trump' caught napping during Donald Trump's speech
Bullied boy named 'Trump' caught napping during Donald Trump's speech
Feb 08, 2019, 02:34 pm
2 min read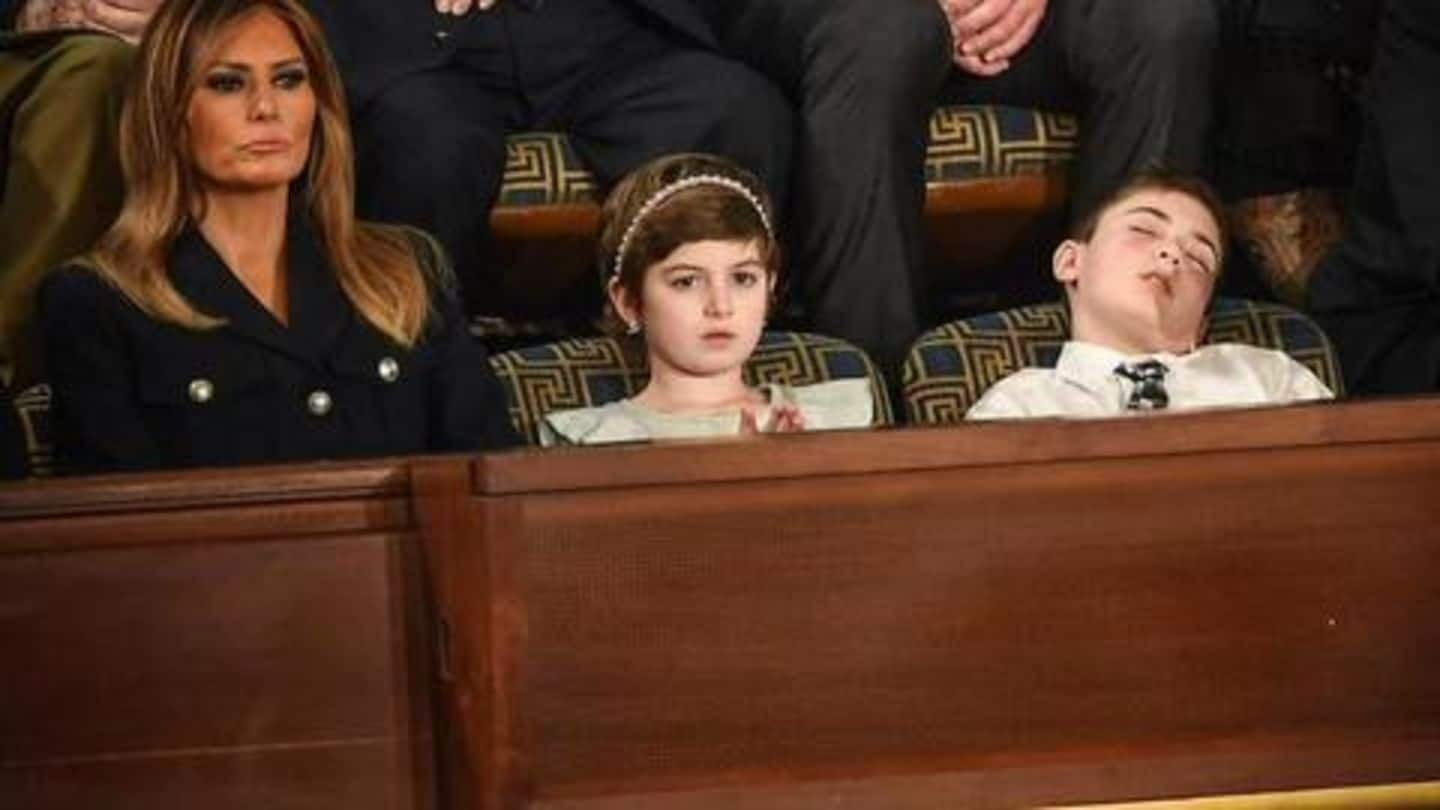 On Tuesday, President Donald Trump had a special guest at his annual State of Union address- Joshua Trump. Joshua isn't related to the President's family, but has been in the news for getting bullied in school and was invited by First Lady Melania Trump for the President's address. However, cameras caught Joshua napping during the President's speech and the Internet is loving it!
While Trump was making political points, little Trump dozed off
On Tuesday, Trump, in his 82-minute speech, reassured that he would build a US-Mexico border wall and declared illegal immigration an urgent national crisis. Meanwhile, Joshua was seated two seats beside Melania. As Trump kept talking about some major political and national issues, 11-year-old Joshua, wearing a formal shirt and tie, succumbed to deep sleep and the cameras were quick to spot him.
Joshua Trump has become everyone's 'favorite' Trump
Netizens loved Joshua, say he's the 'best part of picture'
Needless to say, the 'sleeping' Trump left the netizens in splits. People couldn't stop retweeting the boy's sleeping picture with amusing comments. One netizen wrote, "We are ALL Joshua Trump. Heck, even TRUMP is apparently Joshua Trump, about 7 hours each workday." Another wrote, "#JoshuaTrump you are the best part of this picture! The envy of the crowd. Get your test. School tomorrow."
Joshua used to be bullied in school for his surname
Meanwhile, the sixth-grader from Delaware had been a victim of constant bullying by his peers in school, courtesy his surname 'Trump'. "They say are you related to Donald Trump? And I say, 'Would I be here if I'm related to him?'" Joshua said in an interview. The mockery came to a point that his parents had to pull him out of school in 2017.
Melania, the flag bearer of anti-bullying campaign, had invited Joshua
Joshua was home-schooled for a year following which his mother re-enrolled him in his previous school. She tried changing his school bus to avoid certain teasing students, but on the very first day, the driver asked him about his name. His story reached the ears of Melania, who has made anti-bullying campaign the focus of her legacy, and she invited Joshua for the address.