Not Imran Khan, this 16-year-old has been nominated for Nobel
Not Imran Khan, this 16-year-old has been nominated for Nobel
Mar 16, 2019, 11:43 am
4 min read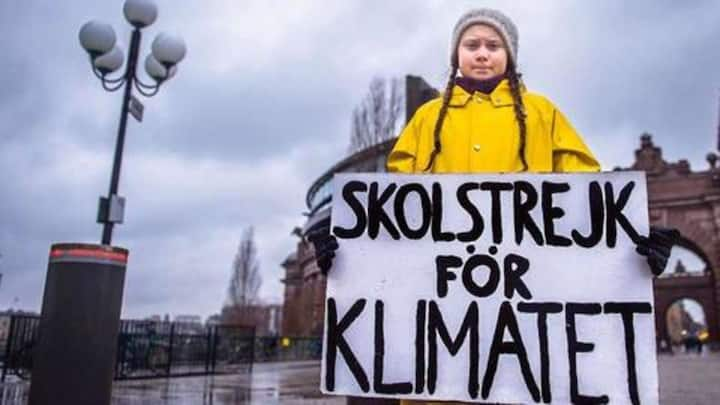 She is just 16 years old and she has no qualms in calling out the world leaders for not doing enough for climate change. In the last couple of months, Greta Thunberg has emerged as a force to reckon with. This Swedish kid has galvanized students across the globe and now she has been nominated for Nobel Peace Prize. Here's all about her.
Fans of Imran Khan wanted Nobel Peace Prize for him
After Pakistan's Prime Minister Imran Khan managed to "thwart" a full-blown war between India and Pakistan, his supporters wanted that he should be given the honor. Earlier this month, Pakistan minister Fawad Chaudhry moved a motion in the Parliament for the same. Some even started an online petition. But Khan, displaying his "humility", said he wasn't deserving and others should be considered.
If Greta wins, she will the youngest winner ever
Well, Khan was right in saying there are people far more deserving than him. And it seems Greta ticks all the right boxes. If Greta wins the Nobel Peace Prize, she will be the youngest winner ever. Malala Yousafzai was 17 when she received the honor in 2014. An activist for education, Malala was shot by the Taliban but she emerged stronger than ever.
Norwegian MP explains why Greta was nominated
"We have proposed Greta Thunberg because if we do nothing to halt climate change it will be the cause of wars, conflict, and refugees. Greta Thunberg has launched a mass movement which I see as a major contribution to peace," said Norwegian Socialist MP Freddy Andre Ovstegard.
Greta started protesting last year
Before August 2018, Greta was just another school student. And then she decided to do something about climate change. Greta got inspiration from Florida teens who went on a strike to condemn the massacre of 14 of their friends in a school shooting. She knew that if she had to garner attention towards climate change, she will have to follow the same path.
Greta was alone when she started but soon got support
So, Greta, 15 years old at the time, stood outside the Swedish Parliament with a placard that read: SCHOOL STRIKE FOR CLIMATE. Her placard was hand made and she also gave away pamphlets to passers-by. Greta continued this for weeks and soon gathered support from others in Sweden. Slowly and steadily her campaign went global and she managed to get the attention she deserved.
Thousands of students came on streets on Friday
The world saw Greta's outreach on Friday when hundreds of thousands of students came on streets demanding action against global warming. Protests were held in 1,500 cities in more than 100 countries. Students held placards like "Denial is not policy", "I want to surf in the ocean, not plastic" and "I want you to panic". They got support from teachers, parents, and adults too.
In January, Greta called out the complacent world leaders
Greta is angry with what's happening and her fiery way of demanding attention shows that. She was invited to deliver a speech at the World Economic Forum in Davos in January this year and Greta roasted world leaders. "Our house is on fire. I am here to say, our house is on fire," she said while beginning her speech and then presented facts.
Greta may have given new meaning to "fearless"
"Some people, some companies, some decision-makers in particular, have known exactly what priceless values they have been sacrificing to continue making unimaginable amounts of money. And I think many of you here today belong to that group of people," Greta said stunning the viewers.
With right intentions, anyone can move mountains
Obviously, Greta has some critics. UK Prime Minister Theresa May felt school strikes increase the workload on teachers. Notably, Greta is demanding action at a time when US President Donald Trump has repeatedly said there is nothing like climate change. But Greta's supporters beat the naysayers by a huge margin. The Swedish girl "with Asperger" has shown one person can actually move mountains.