Donald Trump, Melania meet Bush family ahead of ex-President's funeral
Donald Trump, Melania meet Bush family ahead of ex-President's funeral
Dec 05, 2018, 02:04 pm
2 min read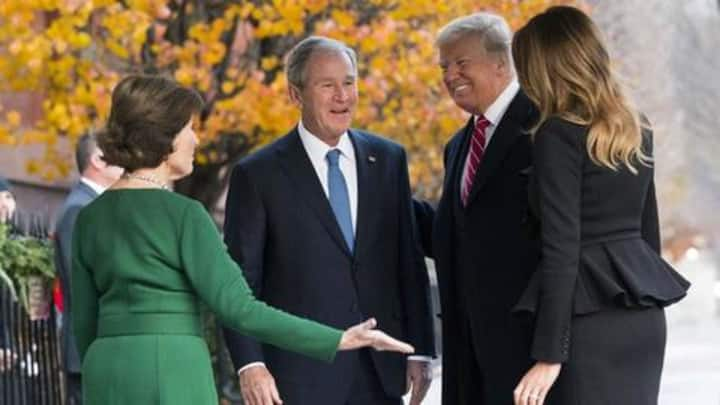 US President Donald Trump went in person yesterday to pay his respects to the grieving Bush family in his latest show of peacemaking with the political clan he once fought bitterly. Trump, whose ascendancy to the head of the Republican Party saw him exchange vitriolic attacks with the Bushes, has taken pains to demonstrate unity since the death of former president George HW Bush.
President, First Lady greeted by Bush Family at Blair House
Trump, Melania pay respects to '41st commander-in-chief'
Trump's relation with Republican establishment wasn't good since 2016 elections
Former President George W Bush greeted Trump and the first lady, Melania, outside Blair House and took them inside for the private visit. Earlier, Laura Bush went over to get a tour with Melania of the White House Christmas decorations. Trump's relations with the Republican establishment have been rocky since his insurgent campaign took him to the party's nomination and then 2016 election victory.
Trump will not deliver a eulogy at the funeral
Ahead of today's state funeral, where Trump will reportedly sit in the front row, but not deliver a eulogy, the President tweeted he would visit the "wonderful Bush family" at the presidential guest residence Blair House across from the White House.