First 2+2 Dialogue was consequential and a strategic milestone: US
First 2+2 Dialogue was consequential and a strategic milestone: US
Sep 11, 2018, 11:42 am
3 min read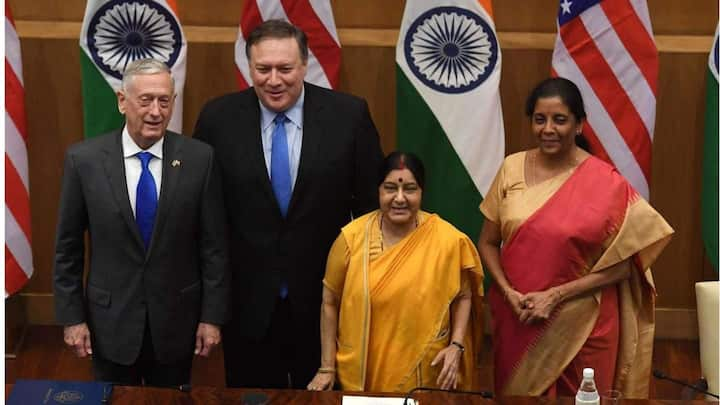 The first India-US 2+2 Dialogue in New Delhi was consequential and a strategic milestone, a Trump administration official said yesterday, asserting the decisions taken during the talks propelled the bilateral relationship to a new level. External Affairs Minister Sushma Swaraj and Defense Minister Nirmala Sitharaman held the crucial talks with US Secretary of State Mike Pompeo and Defense Secretary James Mattis on September 6.
Dialogue was planned when Modi met Trump last year
Alice Wells, the Principal Deputy Assistant Secretary of State for South and Central Asia, said, "It was more than a meeting. It was a long time in the making between the two world powers, the world's two largest democracies to talk about our shared vision for the future." The dialogue was planned when US President Donald Trump met with PM Narendra Modi in Jun'17.
Wells on major milestones US, India achieved since last year
Since last year the two countries have had several major milestones in the relationship from the Global Entrepreneurship Summit in November in Hyderabad, to the revival of dialogue with quadrilateral partners, Japan, and Australia, Wells said. The US government also granted India's Strategic Trade Authorization (STA) Tier-1 status, the same authorization that NATO allies, Japan, South Korea, Australia, enjoy, Wells said.
Wells calls finalization of COMCASA 'a truly historic step forward'
Wells said the finalization of COMCASA, the communications compatibility and security agreement, was truly a historic step forward that will facilitate greater interoperability between the two forces, enhanced intelligence, and information sharing and ensure India has access to top-tier US military technology in the future.
US announced creation of US-India first tri-service military exercise
"We also agreed to begin negotiations on the Industrial Security Annex, which will support a closer, defense industry collaboration and to pursue an agreement to share geospatial information," Wells said. "We announced the creation of the first US India tri-service military exercise as well as the exchanges have officers from our Navies in our respective defense innovation establishment," the US diplomat said.
Military initiatives building India as major US defense partner: Wells
According to Wells, these initiatives really are about building out India's unique status as a major US defense partner. The two governments have dedicated a lot of effort to operationalizing this concept, not only to improve military cooperation in the Indo-Pacific and the Indian Ocean regions but also to strengthen strategic and diplomatic engagement on shared regional priorities, she said.
Wells highlights details of the 2+2 Dialogue
About the 2+2 meeting, Wells said leaders of the two countries had extensive discussions and their shared vision for a free and open Indo-Pacific based on the ideas that Trump and Modi outlined in their respective speeches at the Shangri La Dialogue in Singapore. "We agreed on steps to work together to protect the fundamental liberties and to resolve territorial disputes peacefully," Wells said.
Now, India-US 2+2 Dialogue to be held annually
Wells said both sides acknowledged that expanding fair and reciprocal trade was in their shared interest and would contribute to the prosperity of their peoples. "The 2+2 really allowed us to look even further ahead to the challenges and opportunities facing us in the next decades," Wells said. The India-US 2+2 Dialogue would be held annually, she added.