US Senator and war-hero John McCain dies at 81
US Senator and war-hero John McCain dies at 81
Aug 26, 2018, 09:25 am
3 min read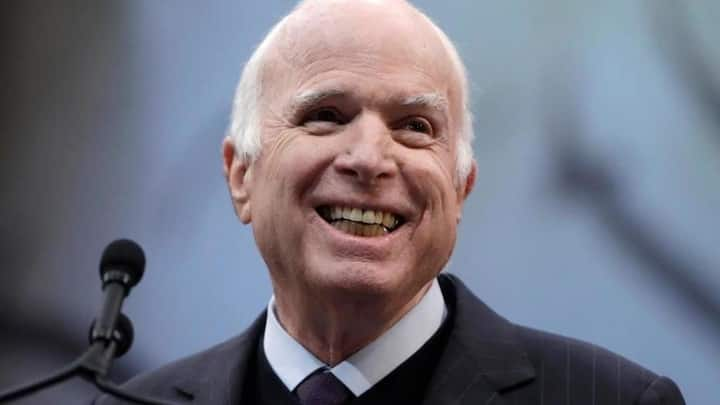 US Senator John McCain breathed his last on Saturday surrounded by his family, an announcement from his office revealed. He was 81. McCain died due to a brain tumor, and his family said he stopped treatment on Friday. A war-hero, McCain spent close to six years as a prisoner of war in the Vietnam war. He took part in the presidential race but lost.
Trump, Obama, mourn loss of the legend
In a statement, McCain's daughter Meghan said days will not be the same without her dad. "But they will be good days, filled with life and love, because of the example he lived for us," she added. Donald Trump, whom McCain sternly criticized, sent his sympathies to the family. So did Barack Obama, who had defeated McCain in 2008 for the office.
Read Obama's note on McCain's demise
McCain backed US troops in foreign lands, criticized CIA's interrogation
Doctors discovered McCain's tumor in 2017 when he underwent surgery to remove clot above his left eye. A six-times senator, McCain supported the US army intervention in foreign lands after 9/11. When Americans got tired of war, he called for more troops to be sent. However, McCain criticized CIA's interrogation techniques on terror suspects and opined it paints a bad picture of the country.
Despite being Obama's political opponent, McCain rose above ugliness
Once when a supporter told McCain he shouldn't trust Obama, because she thought he was Arab, the former cut her off saying "No ma'am, he's a decent family man." He added they warred on fundamental issues, but that's how the campaign was. But on the political battlefield, McCain didn't hold any punches on Obama. He slammed Obama's politics and the decision to call back troops.
McCain was one of the loudest critics of Trump
Republican McCain was extremely critical of Trump, and the current US President wasn't a fan of him either. Trump once said he didn't consider McCain a war hero because he was captured. In one of the recent attacks, McCain dubbed the Helsinki Meet a mistake and blasted Trump's 'cozy summit' with his Russian counterpart Vladimir Putin. He wondered why Trump was concerned about Putin.
Obama, Bush, to give eulogies, Trump not invited to funeral
McCain had been planning his funeral since the last year. His family clarified Trump won't be invited and that stand hasn't changed yet. However, former Presidents Barack Obama and George W. Bush have been asked to give eulogies. In a memoir published in May, McCain said he didn't want to leave the world but had no complaints with the life he lived. RIP hero!