Realme Watch 3 Pro review: Impressive features, not-so-impressive battery backup
Realme Watch 3 Pro review: Impressive features, not-so-impressive battery backup
Oct 17, 2022, 11:26 am
8 min read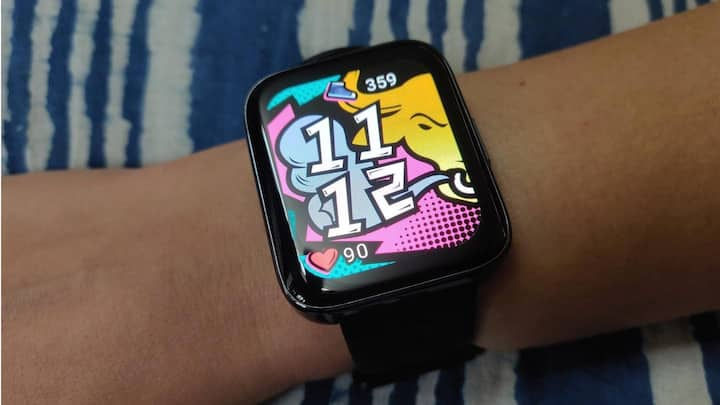 About this time last year we reviewed the Realme Watch 2 Pro which offered some interesting features like built-in GPS and a sizable display, among other things under Rs. 5,000. The company has looked to add more features to its successor while keeping the price constant. The Realme Watch 3 Pro boasts of an AMOLED display, Bluetooth calling feature along with a few more enhancements and additions. Time to check if all the elements come together and make this an irresistible deal.
Standard design, but comfortable to wear for long hours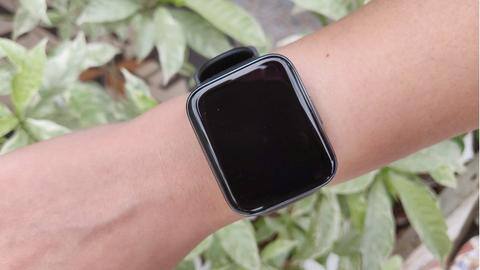 Well, the standard rectangular design is not something that will turn heads, but there is nothing bad about it either. It feels a little less plasticky than its predecessor. The build quality has also improved, and yet it weighs just a feather over 40 grams with straps. The watch feels comfortable around the wrist, and the silicone straps cause no skin irritation even if you wear it all day. The straps have a standard 22mm width, and can be replaced with any third party option with the same width. The watch has an IP68 rating for dust and water resistance. While it can easily survive a jog in heavy rain or a drop in a puddle, it isn't swim-proof. Watches with 5ATM rating can be worn for a swim as they can withstand significantly deeper and longer immersion in water. The watch has just one physical button on the right side that serves as a shortcut to apps as well as a back button. I will talk about it in the next section. The SpO2 and heart rate sensors can be found at the back, along with the charging points. The oximeter provides fairly accurate readings within 30 seconds if you wear the watch tight enough and keep your hand steady. The readings were comparable to an over-the-counter oximeter, but as always, they are meant to serve as a broad guideline and not replace clinical equipment.
Sharp and vibrant AMOLED display, simple user interface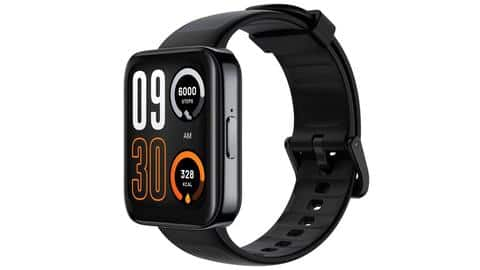 The screen on the Realme Watch 3 Pro is slightly bigger than its predecessor's, and the resolution is higher too. You get a 1.78-inch AMOLED display with a resolution of 368x448 pixels. That translates to 325ppi pixel density, which makes the text and other elements on the screen quite sharp. You get five levels of brightness, of which Level 3 is bright enough when not under the sun. You may need to push it up all the way for better legibility under bright sunlight. You either flick your wrist to turn the screen on or press the physical button. Flick gesture generally works well, and you can also disable it from the quick settings menu when going to sleep. Strangely, flick to wake doesn't switch off automatically when you enable sleep mode, when it's supposed to - one of the few minor bugs that I came across on this watch. The watch UI is quite simple. Swipe down for quick settings, swipe up for notifications and swipe left or right to cycle through the pre-installed widgets like daily activity, heart rate, sleep data etc. Inside a menu, swiping right or pressing the physical button takes you to the previous screen. Pressing the button on the home screen brings up all the functions of the watch that are neatly presented. You cannot install additional apps on this watch, which is standard for all watches in this price bracket or even a little higher. The scrolling and transition effects are smooth and lag free. The companion app gives you a small degree of control over the watch like installing watch faces or enabling and disabling certain features. Wish it could do more. Speaking of watch faces, you get a fairly broad collection for the Watch 3 Pro, but you can only store four faces of your choice on this watch.
Fitness tracking works well, but companion app needs a refresh
The Realme Watch 3 Pro can track different fitness activities ranging from walking, running, cycling, strength training to certain sports like cricket, badminton, football and a few more. The company claims to monitor over 110 different workouts, but that's more like variations of the 16 main workouts available here. It incorporates Cywee professional sports algorithm for smarter tracking of sporting activities. You also get all day heart rate, oxygen level and stress monitoring, with the last two having a major impact on the battery backup. The Watch 3 Pro now has an improved multi-system GPS that does a great job of tracking your outdoor activities. So you don't need to carry your phone along for assisted GPS. The watch gets a GPS lock in less than 30 seconds when outdoors and retains the connection as long as you stay outdoors. The distance tracking was on the money during my walks and jogs. The sleep tracking on this watch seems to work well too. You get a breakdown of your sleep pattern that includes the duration of deep sleep, light sleep, REM and awake time. More details and further breakdown of your activities can be seen in the Realme Link app that you need to download and sync this watch with before you start using it. Realme Link has become an all-in-one app for all Realme AIoT products for syncing, configuring and buying them. As a result, it feels cluttered and finding specific settings can be a task. It needs a refresh on two counts - navigation and data analysis. While the former needs to get simpler, the latter can do with a bit more depth as it feels too elementary as of now.
High on features but low on battery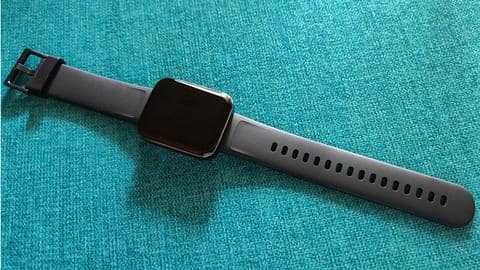 Beyond fitness, you get the usual set of features like music controls, camera controls, notifications from various apps on your phone etc. The messages are clearly legible on the watch's sharp display, but you cannot reply back. In addition, the Realme Watch 3 Pro also supports Bluetooth calling which lets you receive calls directly on the watch. The built-in microphone and speaker do a fair job and provide decent clarity. However, the phone needs to be around to route the calls to the watch. The watch is Bluetooth 5.3 compliant. It also gives you reminders to drink water or get up and move around if you are seated for too long. Couple of useful features like menstrual cycle tracking and stress monitoring that were missing in the Realme Watch 2 Pro are available here. The latter consumes quite a bit of battery though, so it's best to use it judiciously. Speaking of battery, that is one aspect of this watch that disappointed me the most, and is a major dip from its predecessor. The Watch 2 Pro would last a good two weeks on similar workload, whereas the Watch 3 Pro goes as far as five days tops. The workload involved an hour of GPS usage, 90 minutes of indoor workouts, continuous stress monitoring off, heart rate monitoring set to five minutes, two Oximeter readings daily and three nights of sleep tracking. The battery keeps dropping steadily even when you aren't wearing the watch, which hints at the sensors and certain circuitry drawing more power than necessary in standby mode. The company should be able to fix this with a firmware update. But for now, it is what it is. Ironically, the workouts as well as GPS usage do not drain the battery more than they should. Case in point, the GPS consumes about 4% battery for every 30 minutes of use, which is perfectly fine.
Not bad, but can be better after a firmware update
The Realme Watch 3 Pro can be purchased for Rs. 4,999 with a one year warranty on the company's website as well as popular e-commerce platforms. The price is more than fair for what it offers. You get a feature-rich watch with a sizable high-res AMOLED display, reliable health and fitness tracking and improved built-in GPS. It isn't swim-proof and there are a few minor quirks that one can live with, but the battery life should have been better; at least a full week, if not more. As I mentioned earlier, the company should be able to improve the battery backup through a software update. But till (and if) that happens, you will need to charge this watch every four days. If you are fine with that, then there are no other major flaws in this watch for this segment, and it is a pretty good buy under Rs. 5,000. As for alternatives with GPS in this budget, there aren't many, but the Amazfit Bip 3 Pro is a strong contender. Other than built-in GPS, it is swim-proof and the Zepp app is far superior. It sells for around Rs. 4,000. But you will have to trade the AMOLED display for a lower resolution LCD screen. Choose one depending on the features that you value more.
Realme Watch 3 Pro review: At a glance
Review:
The Realme Watch 3 Pro is packed with features like an AMOLED display and built-in GPS that are not very common in this segment, but the battery backup is inexplicably poor.
Good Stuff:
Comfortable to wear for long hours
Bluetooth calling feature
Generally reliable health and fitness tracking
Bad Stuff:
Basic yet cluttered companion app