Realme Buds Q2 Review: Good sound, ANC under Rs. 2,500
Realme Buds Q2 Review: Good sound, ANC under Rs. 2,500
Oct 19, 2021, 07:03 pm
8 min read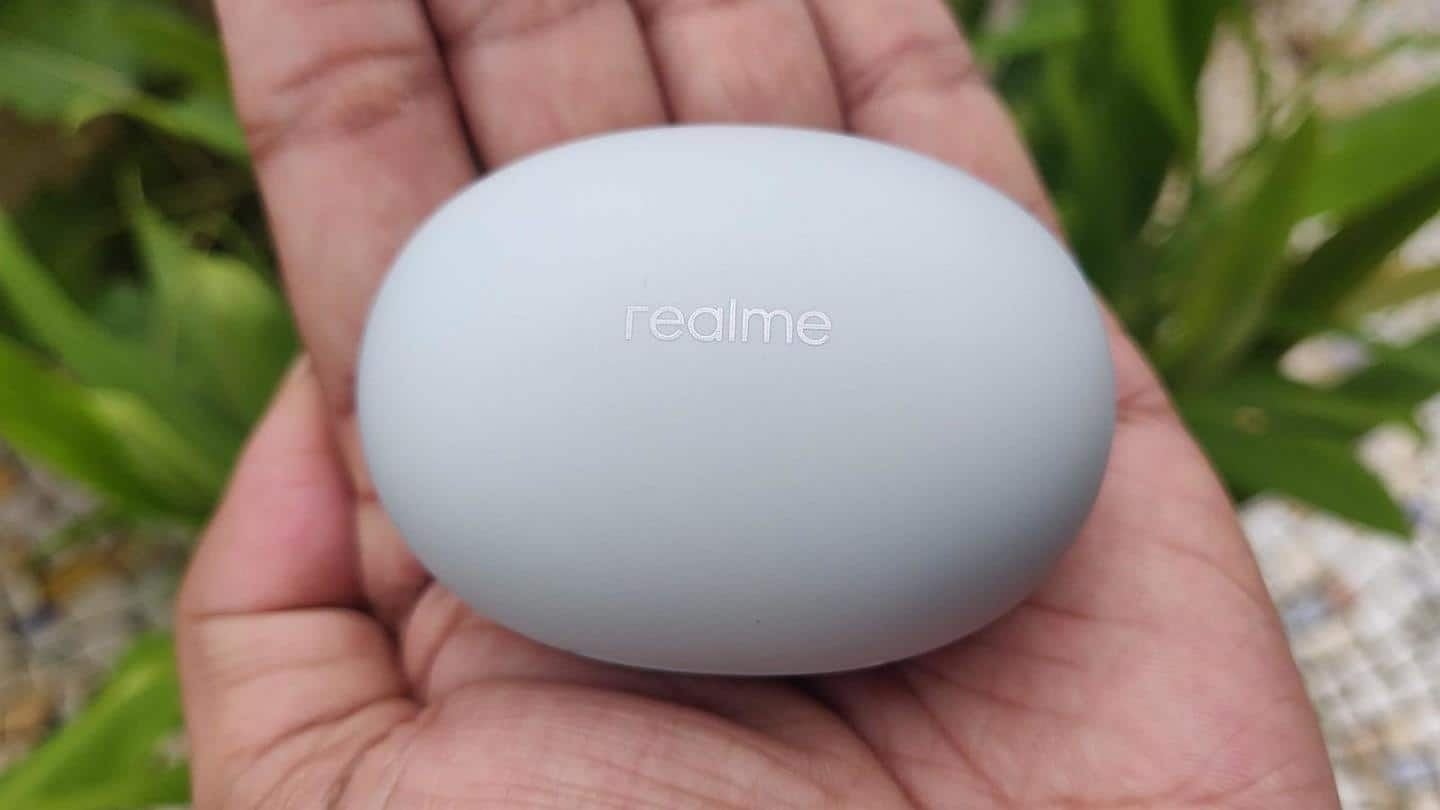 Just recently we reviewed the Redmi Earbuds 3 Pro that boasts of some features unheard of under Rs. 3,000. And, now Realme's new Buds Q2 hopes to do something similar in the sub-Rs. 2,500 category of TWS earbuds. While Xiaomi opted for a more radical approach like a dual driver setup and aptX Adaptive support, Realme has chosen to tread a feature-rich but known path. It would be fair to say that it is a path they have paved themselves. Realme has been striving to bring active noise cancellation (ANC) to budget earphones, and while they breached the Rs. 3,500 barrier with their Buds Air 2, they are now looking to make it available under Rs. 2,500 with the Buds Q2. And that's not it! Thanks to the companion Realme Link app, it offers you customizable controls and sound profiles too. Time to figure out if it can truly cut the noise and silence the competition.
Comfortable to wear but in-ear fit could have been better
These earbuds are shaped just like the Dizo GoPods D that we reviewed in August, but the Calm Grey variant that we received looks a bit more elegant. The light gray shade isn't striking but something different from the usual. What surely catches your eye are the touch sensitive zones at the back of the buds. While the buds have a smooth matte finish, the sizable touch zones are glossy and reflect different color shades from different angles. They also tend to attract smudge marks and need to be wiped frequently. The egg-shaped case of the Realme Buds Q2 is draped in the same gray matte finish, and while it is reasonably compact, it isn't pocketable due to its thickness. It has a charge indicator LED at the front and a USB-C port at the back for charging. Overall, the build quality of the product is satisfactory and the even finish makes it look more premium than it is. The buds are lightweight and sit comfortably in the ear, and offer decent passive noise isolation with the right sized silicone tip. Make sure you spend a couple of minutes choosing the right one from the three bundled pairs as it will go a long way in achieving better background noise suppression. While the buds do not cause any discomfort in the ears even after prolonged use, the fit could have been slightly more snug, especially during jogs or workouts. I found myself pushing them back in occasionally during jogs. On the bright side, these buds are IPX5 rated splash resistant and can be worn during workouts without any worry. They should be able to survive a few walks and jogs in light drizzle too.
Democratization of ANC, more customization options in Realme Link app
One of the good things about Realme earphones is programmable touch controls through the companion app even on their budget products. The Realme Link app is something I have grown to like as it offers flexibility and an extra dimension. Once you sync the Realme Buds Q2 with the app, you can choose to assign play/pause, previous/next tracks, ANC toggle, voice assistant or nothing to double-tap, triple-tap or touch and hold gestures. Option to assign volume control to any of the gestures is still missing. One cannot assign anything to the single tap gesture, which is a good thing as it eliminates unintended actions when trying to adjust the buds in the ear. Touching and holding both buds simultaneously lets you switch to low latency gaming mode. The company claims that the latency can go as low as 88ms on Buds Q2 to make the delay between audio and video unnoticeable. I did not try gaming, but the there was no noticeable delay when watching content on Prime Video. You get three noise reduction modes to toggle between -- ANC on, ANC off (normal mode) and Transparency mode that lets ambient noise in when you need to be aware of your surroundings or talk to someone without taking the buds off. The Realme Buds Q2 are Bluetooth 5.2 compliant and have support for AAC and SBC codec. Unlike the Redmi Earbuds 3 Pro, there is no support for Qualcomm's aptX, which is acceptable in this segment. There is nothing to complain about the wireless range here. It is pretty standard, with the buds maintaining a stable connection at 10 meter with clear line of sight, and a little over half of that with a concrete wall in between them and the source device. Pairing these earbuds with a phone or tablet is also a straightforward process.
Good sound output for the segment, ANC works surprisingly well
Each earbud is fitted with a 10mm dynamic driver with a Liquid Crystal Polymer diaphragm. The buds are perfectly audible at 50% loudness, and I never had to push the volume beyond 70% even in a noisy outdoor environment. The Realme Link app also lets you select a sound profile from Bass Boost+, Dynamic and Bright. As always, the Dynamic preset provides the most balanced output. If you need extra bass, you may try the former, but it's best to avoid the Bright profile here. Another advantage of having a companion app is you can update the firmware of the product, and that occasionally brings forth improvements to the sound quality too like in this case. Mind you, it doesn't turn things on its head but the buds do sound a little better after the latest firmware update. The default sound profile of the Realme Buds Q2 is on the warmer side. While low-end frequencies are boosted, the bass isn't excessive and doesn't overpower the mids like in the case of several budget earphones. The vocal clarity is good, but certain sounds toward the lower end of the midrange spectrum feel recessed. The highs are well tempered and offer ample sparkle without sounding sibilant at normal loudness. But beyond 80% volume, these earbuds do sound a bit harsh on the ear. The instrument separation is acceptable, with surprisingly good detail in audio for the segment. The soundstage feels a little narrow though. At Rs. 2,500, the overall sound quality is impressive. Realme states that the Buds Q2 can cut ambient noise by 25 decibels. While I had no means to measure that, there was a noticeable reduction in background chatter when I turned ANC on in a local train. It understandably cannot eliminate the noise in entirety, but the reduction was significant enough to earn an appreciative pat, and more so given its price-tag.
Good battery backup, fast charging support, average call quality
The call quality isn't a strong suite of these earbuds. It is fine indoors or in areas with less noise and people on either end of the call are audible to each other with reasonable clarity. However, the voice quality isn't as sharp as some of its peers. When outdoors, the microphones pick up a lot of ambient noise, enough to impact the conversation and have people complaining about it. This, despite the company boasting of dual mic noise cancellation and ENC algorithm. Guess that's what they need to fix in the next firmware update. The battery backup on the Realme Buds Q2 is more than decent. The company advertises 28 hours of playback time with ANC off and 20 hours with ANC on for buds and case combined. Though I couldn't match those figures in real world testing, the numbers weren't too off either. The earbuds managed to last a little over 4 and a half hours with ANC on and a shade over 6 hours with ANC off with 60% loudness. The charging case can recharge them thrice more, thus clocking between 18 to 24 hours for the buds and case combined depending on your use of ANC. Those are perfectly fine numbers. The case has a USB-C port and one can use any Type-C charger with it. These Realme buds also support quick charging, and 10 minutes of charge can give you a little under 3 hours of play time with ANC off. It takes about 90 minutes to charge the case and buds fully from zero.
A good all-round package for a great price
The Realme Buds Q2 is priced at Rs. 2,499 with a one year warranty, and can even be bagged for as low as Rs. 1,999 during the online sales. These earbuds sound surprisingly good for the price and also offer functional ANC and decent battery backup. Call quality is serviceable at best and if that is your top priority, avoid this pair. For everything else, it's a great option under Rs. 2,500. Obviously, the competition is quite stiff in this segment and I can think of three options straight away. The more affordable OPPO Enco W11 is a good option at Rs. 1,999 but misses out on ANC, customizable controls and its relatively bright sound may not appeal to a broad audience. Next is OnePlus Buds Z for Rs. 2,999 that sounds a little better than Buds Q2 but again misses out on ANC and has rather limited customization. Lastly, you have in-house competition from Realme Buds Air 2. For Rs. 500 to 800 more than the Q2, you get slightly cleaner sound, better in-ear fit, much better call quality and wear detection sensors, in addition to all the features available here. I personally prefer the Buds Air 2, but the Realme Buds Q2 do not lag far behind either. If you can find it under Rs. 2,000, it's an absolute steal.
Realme Buds Q2 review synopsis
Review:
Realme Buds Q2 offers excellent value for money, thanks to features like active noise cancellation and customizable controls at a great price. More importantly, these TWS earbuds sound good too.
Good Stuff:
Clean sound output for the segment
Functional ANC at this price
Programmable touch controls and sound profiles
Good battery life; USB-C charging port
Bad Stuff:
Sounds a bit too bright above 80% loudness
No volume control on the buds