Ultraviolette F77 v/s Ather 450: Which e-vehicle is better?
Ultraviolette F77 v/s Ather 450: Which e-vehicle is better?
Nov 26, 2019, 12:12 pm
3 min read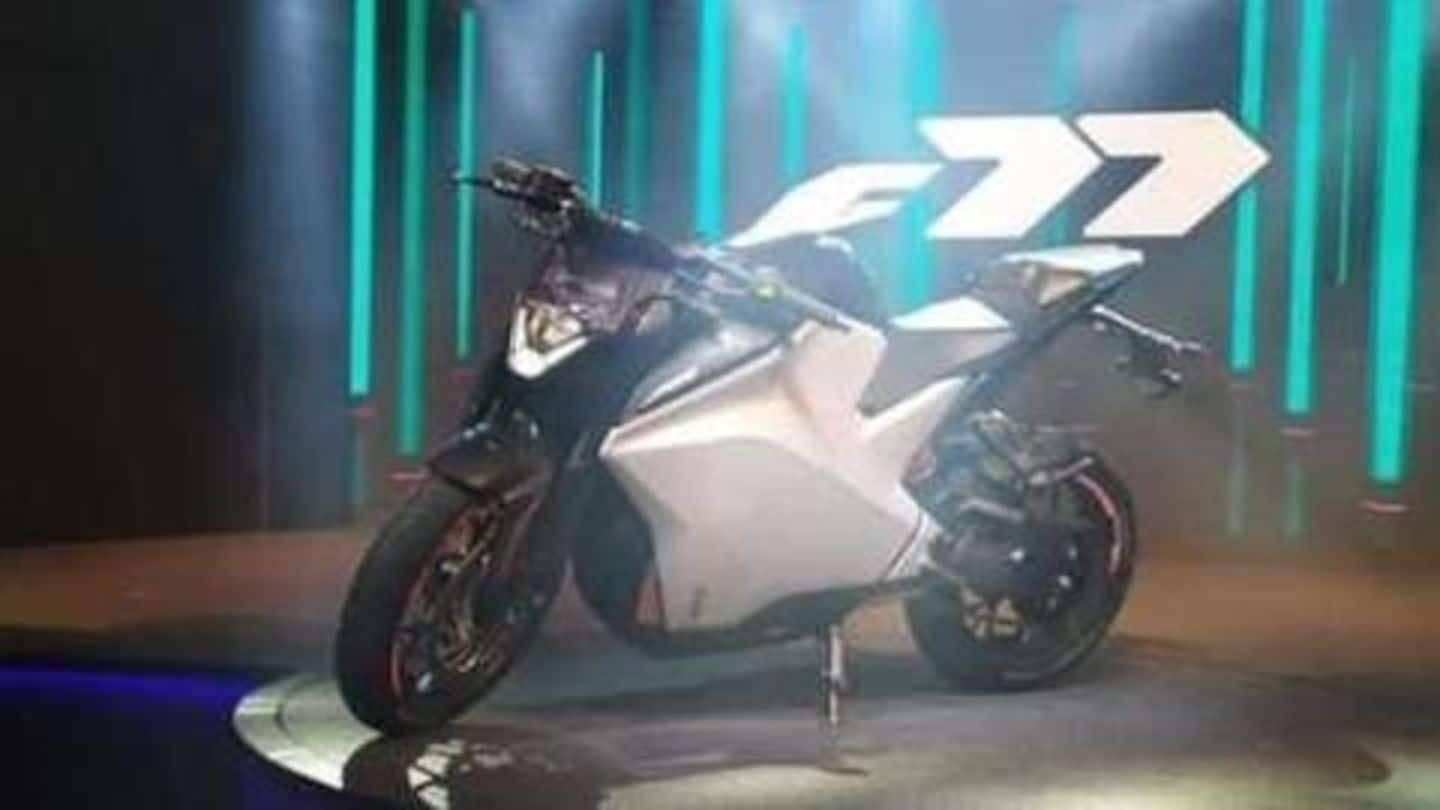 Bengaluru-based Ultraviolette Automotive has recently announced its F77 all-electric performing bike in India. The premium two-wheeler comes with a superbike-like design, a range of 130-150km, and a claimed top speed of 147 km/hour. But how does it compare to the popular Ather 450 e-scooter which promises great city mileage and costs half the price of Ultraviolette F77? Here's our specifications-wise comparison.
Ultraviolette F77 v/s Ather 450: Design
The Ultraviolette F77 looks like a sports bike with a fully-faired design, low set clip-on handlebars, blacked-out alloy wheels, and a stepped-up seat. On the other hand, the Ather 450 offers an easy-to-ride scooter stance with a single-type seat. Further, the contrast between the white front mudguards and blacked-out mirrors and alloy wheels does add some sportiness. Winner: Your call.
Ultraviolette F77 v/s Ather 450: Power and performance
The F77 is powered by a 25kW motor that churns out 33.5hp at 2,250rpm and a peak torque of 90Nm. As for the speed, the motorcycle can accelerate from 0-60km/hour in just 2.5 seconds. In comparison, the Ather 450 is powered by a 5.4kW motor which makes 20.5Nm of peak torque; offers 80km/hour of top speed and reaches 0-40km/hour in 3.9 seconds. Winner: F77.
Ultraviolette F77 v/s Ather 450: Battery and Range
The Ather 450 packs a 2.4kWh battery which offers a range of upto 75km. Moreover, Ather claims 80% of the battery can be charged in 50 minutes via public charging points. The F77, in comparison, is backed by a bigger 4.2kWh removable battery that provides a range of upto 150km and can be charged in 1.5 hours using a fast charger. Winner: Ultraviolette F77.
Ultraviolette F77 v/s Ather 450: On the Road
The Ather 450 gets 200mm front disc brakes, 190mm rear disc brakes, and a combined braking system (CBS). For handling suspension duties, it sports telescopic forks on the front and a mono-shock unit on the rear. The Ultraviolette F77 also gets similar offerings but with an additional 9-axis IMU for ride analysis, impact sensors, and an emergency contact alert feature. Winner: Ultraviolette F77.
Ultraviolette F77 v/s Ather 450: Smart features
The Ather 450 comes with a bunch of smart features including an IP65-rated 7.0-inch touchscreen, built-in GPS with on-screen navigation, charging station's location tracking, and parking assist function, among others. The F77 also features a lot of connected technologies including a 5.0-inch non-touch screen, function buttons, automatic battery compartment ejection, remote start-stop, and so on. Winner: Ather 450 for its intuitive touchscreen controls.
With the recent revision of GST on electric vehicles from 12% to 5%, the Ather 450 is currently priced at Rs. 1.13 lakh in Bengaluru. In comparison, the Ultraviolette F77 starts at Rs. 3 lakh and goes upto Rs. 3.25 lakh (both on-road prices).
Clearly, both the F77 and Ather 450 are great products - they offer superb mileage, smart connectivity features, enhanced driving pleasure, and the ability to charge your vehicle even at home. Hence, the choice comes down to deciding between an e-scooter and an e-bike and the kind of money you want to invest in an electric vehicle. Winner: Ultraviolette F77 for results' sake.