After Yamraj, Lord Ganesha now prods Bengalureans to wear helmets
After Yamraj, Lord Ganesha now prods Bengalureans to wear helmets
Written by
Pallabi C Samal
Jul 30, 2018, 03:51 pm
2 min read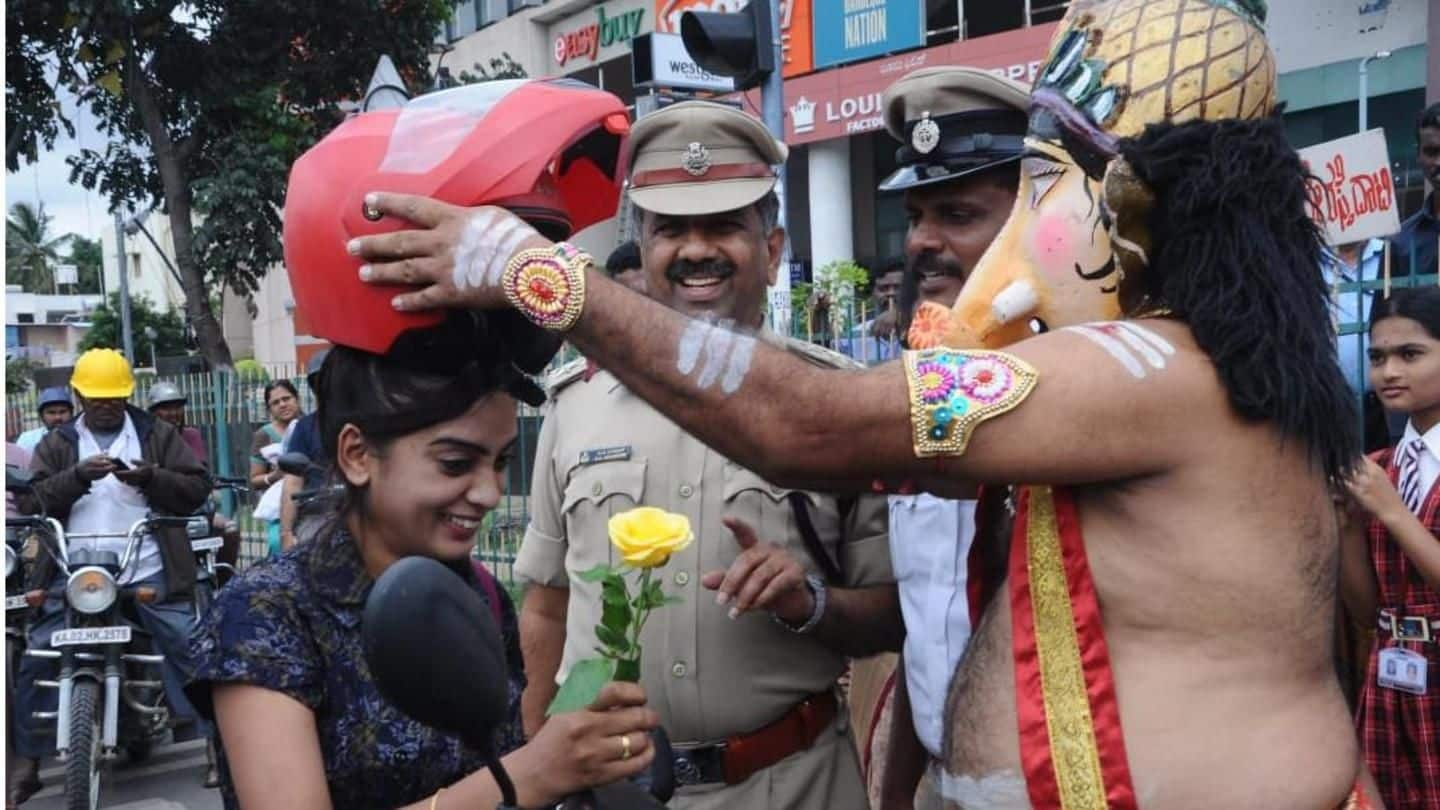 Last week a pot-bellied Lord Ganesha was seen roaming on Bengaluru streets, a fortnight after Yamraj's visit to the city. While Yamraj welcomed people to his land, if they didn't have their helmets on, Ganesha instead distributed roses and helmets to defaulters. Now this is of course no divine intervention, but another act directed by Bengaluru Traffic Police, as part of safety awareness drive.
Bengaluru police tweets: OUR AIM - NO ACCIDENTS
ರಾಜಾಜಿನಗರ ಸಂಚಾರ ಠಾಣಾ ವತಿಯಿಂದ
ಸಂಚಾರ ಜಾಗೃತಿ ಮೂಡಿಸಲು ವಿನಾಯಕನ
ಮೂಲಕ ಅರಿವು ಮೂಡಿಸುವ ನಮ್ಮ ಪುಟ್ಟ ಪ್ರಯತ್ನದ ಏಕೈಕ ಸದುದ್ದೇಶ -"ಸಂಚಾರ ನಿಯಮ ಉಲ್ಲಂಘನೆ ತಡೆ" ಆಗಿದೆ.ಗಣೇಶನ ವೇಷಧಾರಿ ನಮ್ಮ ಠಾಣೆಯ ಪಿಸಿ, ಶ್ರೀ ಬಸವ ರಾಜ ಕಲಗಟ್ಟಿ ಆಗಿರುವುದೇ ವಿಶೇಷವಾಗಿದೆ.@AddlCPTraffic @DcptrNorth

"OUR AIM - NO ACCIDENTS" pic.twitter.com/t6nVpSexRR

— ACP Traffic North (G.A.JAGADEESH,KSPS.) (@Acpnorthtrdvn) July 25, 2018
Lord Ganesha was helped by school children, cops
The God of success, wearing violet dhoti and a crown, didn't carry his mace but held a stick-banner, which had 'protect your head or end of dead' written on it. He also interacted with defaulters and gave them roses and helmets as parting gifts. A group of school children accompanied him, holding banners and half a dozen of cops were seen guiding him.
The Rajajinagar traffic control-directed act is part of safety drive
While the Yamraj act was from Halasuru Gate traffic police, this was by the Rajajinagar traffic control. Both these acts are part of a road safety drive to be carried out throughout this month, said DCP (Traffic) Anupam Agrawal. The city police are trying every possible option to make people aware of road safety and importance of helmets, including themselves acting in street plays.
Remember Bengaluru's Yamraj? He was felicitated for his wonderful act
Earlier this month, they asked theater artist Veeresh Muttinamath to dress up as Yamraj (Hindu God of death) for an awareness drive. "If you disobey traffic rules, I'll come to your home," was his simple message. He gave red roses to all traffic violators as well. Since the initiative was a roaring success, Muttinamath was felicitated on Friday and rewarded with Rs. 10,000.