Amazon boss Jeff Bezos visits India as traders plan protest
Amazon boss Jeff Bezos visits India as traders plan protest
Jan 15, 2020, 07:44 pm
3 min read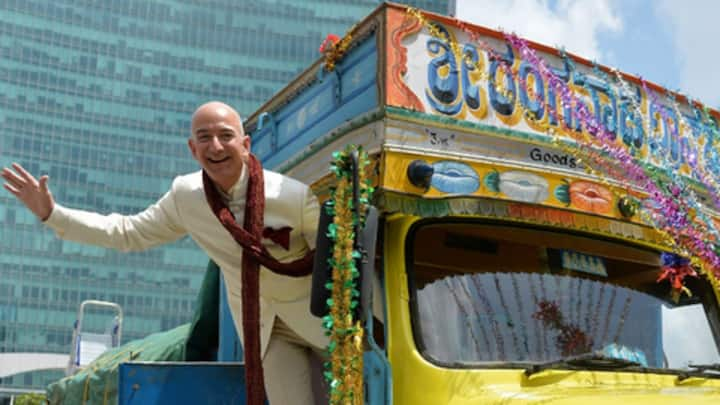 The world's richest man and Amazon Inc. boss, Jeff Bezos is in India for a three-day visit. One of the first things which he did was pay respects at Mahatma Gandhi's Memorial in New Delhi and then flaunted his kite-flying skills with children. But Bezos's trip might be unpleasant as thousands of small traders have planned a massive protest. Let's tell you why.
Visit to Rajghat was followed by kite-flying exercise
As his social media posts show, Bezos is quite excited to be in India. This morning, he paid his respects to "someone who truly changed the world". Along with a short video of his visit to Raj Ghat, Bezos shared Mahatma Gandhi's quote: "Live as if you were to die tomorrow. Learn as if you were to live forever." Then, he flew kites.
Thank you, India, posted the billionaire on Instagram
Headlining Amazon India's event, meeting government officials on Bezos's agenda
The billionaire is set to headline an inaugural session of Amazon India's event Smbhav in New Delhi, and have a fireside chat with Amit Agarwal, the chief of Amazon India. The event will also be attended by Infosys co-founder Narayana Murthy and retail billionaire Kishore Biyani. Later, Bezos is expected to have a conversation with senior officials in the government.
CAIT has planned a protest against Bezos
But Bezos's short trip won't be all about sweet welcomes, as Confederation of All India Traders (CAIT), an umbrella body which speaks for 70 million traders and 40,000 associations, has planned a "National Protest Day" today. The body claims Amazon is hurting small businesses by giving heavy discounts to buyers. Protests could take place in 300 cities across India.
Amazon is the worst enemy of traders: CAIT
"If they could not empower existing retailers on their portal, why they are looking for more retailers? Amazon is trying to create false propaganda that it is the true friend of traders, though it is the worst enemy," a statement by CAIT read.
Government is probing Amazon and Flipkart
The protest is hardly the only thing Bezos has to concern himself with. On Monday, the Competition Commission of India launched an investigation against Amazon and Flipkart after allegations surfaced that the e-commerce companies preferred some sellers over others. The complaint alleges that Amazon and Flipkart tweak prices as per convenience, hurting small businesses while giving an edge to favored brands.
Amazon also faces challenge from Mukesh Ambani's pet project
In 2018, the Indian government changed rules for e-commerce giants, stopping them from selling their own inventory. They then followed the eBay model where local traders were given a chance to list their products. And now, Mukesh Ambani's JioMart is jumping in the fray to connect traders with buyers. If the idea takes off, Amazon will have to rethink ways to sustain its market.
After setting foot in India, Bezos pulled a Justin Trudeau
Bezos's choice of extravagant attire for visiting Raj Ghat and flying kites, served a reminder of Justin Trudeau's much-talked-about 2018 trip to India. The Canadian Prime Minister and his family "overdid" it with their traditional costumes. For most of their events, they chose Bollywood-styled outfits, something even Indians found hard to digest. The over the top approach was duly criticized in Canada.