Apple, Samsung fined for slowing down old phones: Details here
Apple, Samsung fined for slowing down old phones: Details here
Written by
Shubham Sharma
Feb 08, 2020, 04:39 pm
2 min read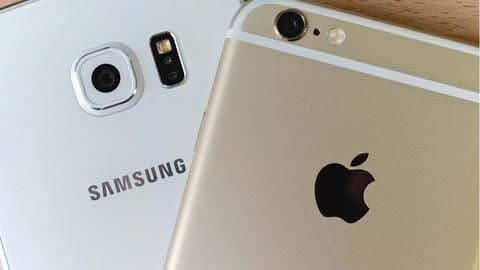 Apple and Samsung are being fined for slowing down their old smartphones. The companies, according to an investigation from Italian Competition Authority, "planned obsolescence" of their phones via software upgrades, ultimately pushing customers to go for paid repairs or newer models. They violated several consumer codes doing this and are now obliged to pay fines up to $10.14 million. Here are more details.
Upgrades reduced performance, caused serious malfunctions
The Authority revealed Apple and Samsung's "unfair commercial practices" after launching two separate investigations earlier this year. It found the companies forced customers to download firmware updates, even when their devices lacked the hardware for it. This - without any way to roll back - not just degraded the performance of the phones but also caused serious malfunctions, prompting owners to replace them.
How Samsung's updates affected its smartphones?
Samsung is being hit with a fine worth $5.7m for compromising the performance of Note 4 and not informing customers about it. According to the organization, the device launched in 2014 but received Android Marshmallow two years later. The update was designed for Note 7 and proved too demanding for the older model, leading to its malfunction in certain cases and extra repair costs.
Response from Samsung's spokesperson
"Samsung did not issue any software update that reduced the Galaxy Note 4's performance. In contrast, Samsung has always released software updates enabling our customers to have the best experience possible." The company has expressed its intent to appeal against the fine.
Separately, Apple slowed down iPhones with iOS 10.2.1, without informing
The case of Apple revolves around iPhone 6 models and their unexpected shutdown. The phones, launched in 2014 and 2015, received iOS 10 developed for the newer iPhone 7 and started shutting down unexpectedly - due to high energy demand of the iOS. Apple resolved the issue with iOS 10.2.1, but it didn't inform that the update would also slow down the old iPhones.
Apple is being fined $5.7m for the throttling issue, but in addition to that, it also has to pay $5.7m for failing to inform customers about iPhone batteries, such as their average life as well as steps to replace them. Last year, the company apologized for slowing down iPhones. Also, it reduced the cost of battery replacements and added battery health information to iOS.