NITI Aayog: Report claiming 45-year high unemployment unverified
NITI Aayog: Report claiming 45-year high unemployment unverified
Jan 31, 2019, 08:38 pm
2 min read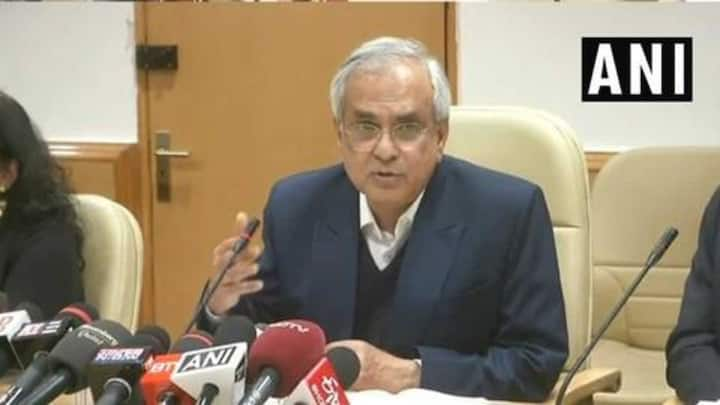 Following reports that India's unemployment rate had hit a 45-year high, NITI Aayog Vice-Chairman Rajiv Kumar, on Thursday, clarified that the data was "not verified" and was still being processed. The clarification came just hours after the Opposition mounted an attack on the government, citing an as yet unreleased NSSO report on employment. Here are the details.
What the NSSO report had to say
Earlier in the day, Business Standard had reported that an NSSO report on employment had revealed India's unemployment rate to be 6.1% in 2017-18 - India's highest since 1972-73. The report also revealed alarming levels of unemployment among India's youth. Reportedly, the NSSO report was slated to be released in December, but the government chose to defer it, resulting in the resignation of two National Statistical Commission (NSC) members.
Details about what Kumar had to say
Issuing the clarification, Kumar not only said that the aforementioned data had not been verified, but also added that it would be wrong to compare 2017-18 employment data with that of 2011-12. He explained that the comparison would be unfair as the data collection methods from the two periods were different.
Prior to Kumar's clarification, Amitabh Kant had also spoken
Just prior to Kumar's clarification, NITI Aayog CEO Amitabh Kant also pointed out that comparing 2017-18 data with 2011-12 data would be wrong. He had also said that NITI Aayog's analysis had revealed that seven to eight million jobs were being created every year. However, Kant also said that there was a lack of quality jobs in India.
What Kant said about comparing datasets
"We are doing it quarter by quarter. We are capturing incremental change. You need to have four quarters to see if there is an increase or decrease. You'll need data from fifth quarter to be able to compare the data," said Kant.
A war of words has erupted between BJP and Congress
Prior to Kant and Kumar's clarifications, the Opposition, citing the NSSO report, had launched a scathing attack on the Center and Prime Minister Narendra Modi's promise of creating two crore jobs annually. Responding to the Opposition, particularly Rahul Gandhi's attack, the BJP said that the Congress chief had a "myopic understanding" of issues. The saffron party also labelled the Business Standard report as "fake news".
READ: RaGa's tweet attacking PM Modi and the Center
NoMo Jobs!

The Fuhrer promised us 2 Cr jobs a year. 5 years later, his leaked job creation report card reveals a National Disaster.

Unemployment is at its highest in 45 yrs.

6.5 Cr youth are jobless in 2017-18 alone.

Time for NoMo2Go. #HowsTheJobs pic.twitter.com/nbX4iYmsiZ

— Rahul Gandhi (@RahulGandhi) January 31, 2019