Reliance Jio GigaFiber launch unlikely in March: Report
Reliance Jio GigaFiber launch unlikely in March: Report
Feb 12, 2019, 12:20 am
2 min read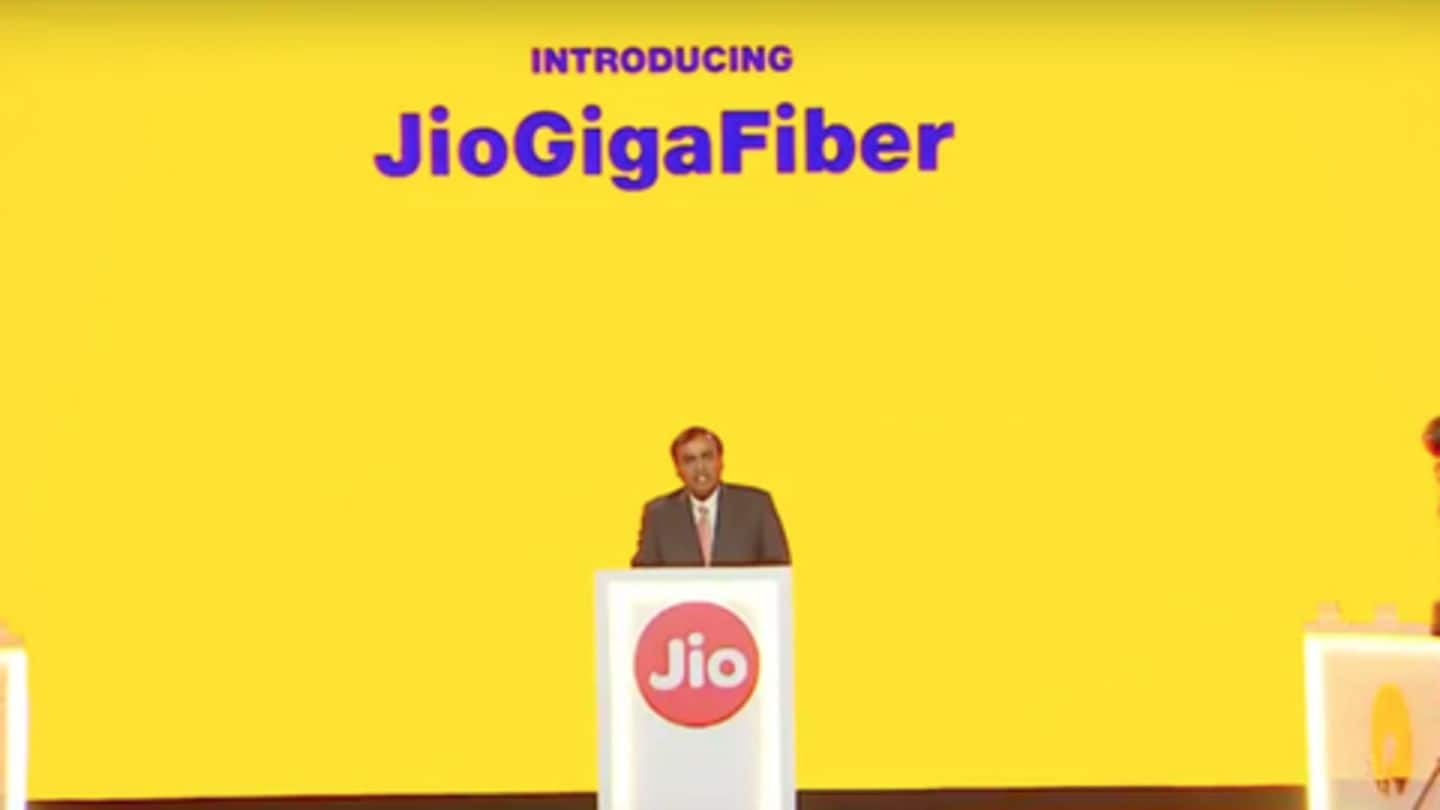 Jio GigaFiber, Reliance's much-awaited FTTH service, may not launch in the first quarter of 2019. Now, India Today, which previously claimed that Jio GigaFiber will launch in March, reported that the rollout has been delayed owing to last mile connectivity issues. Notably, the service was announced in August last year and has been in testing phase since then. Here's more on the development.
The company is currently conducting Ready for Sale area survey
According to reports, Jio is currently conducting Ready for Sale (RFS) surveys to identify suitable areas to install its GigaFiber service. The company officials are reaching out to the authorities of Multiple Dwelling Units (MDU) like the high-rise societies and Single Dwelling Units (SDU) such as private homes for the deployment of the service.
Jio is offering free services in select locations
If Jio executives select your location, the company will offer a free Jio connection as part of the previous offer. Under this offer, you will get 100GB of data at upto 100Mbps for 90 days. Further, if you consume the data, you can get a free top-up of 40GB via MyJio App or Jio.com. You'll also have to deposit Rs. 4,500 towards security deposit
Further, we know GigaFiber will launch in 1,100 cities
Notably, Jio had previously confirmed that GigaFiber will be launched in 1,100 odd cities. In the first phase, the roll-out is expected to happen in 29 tier 1 and tier 2 cities. These cities include Agra, Bengaluru, Chennai, Chandigarh, Ranchi, Patna, Allahabad, Raipur, Nagpur, Ghaziabad, Pune, Indore, Thane, Bhopal, Lucknow, Ludhiana, Madurai, Nashik, and Guwahati among others.
Meanwhile, here are the expected Jio GigaFiber plans
While Jio is yet to announce the official plans for GigaFiber, reports suggest they will start from Rs. 500. According to Trak, Rs. 500 and Rs. 750 base level plans will offer 300GB and 450GB of monthly data at 50Mbps, respectively. The mid-level Rs. 999 and Rs. 1,299 plans would offer 600GB and 750GB of data at 100Mbps, respectively.
Trak has allegedly leaked the top GigaFiber plan as well
According to Trak, the most expensive GigaFiber plan will start at Rs. 1,500 and it will offer 900GB of monthly data at a download speed of up to 150Mbps. However, we believe the download speed for this plan should be up to 100Mbps.