Kylie Jenner's California mansion is classy, artistic and glamorous
Kylie Jenner's California mansion is classy, artistic and glamorous
Dec 11, 2019, 05:09 pm
3 min read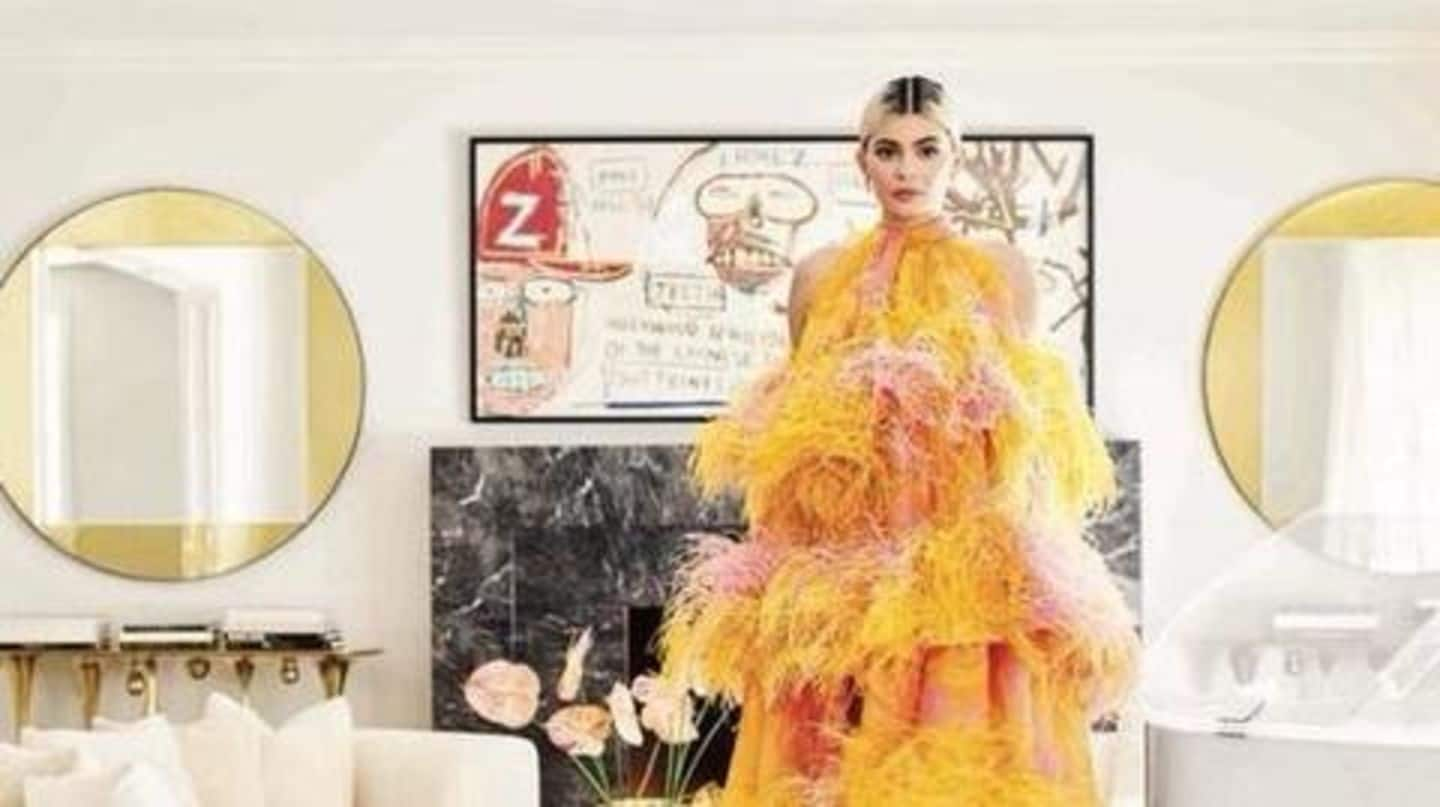 While Kylie Jenner's personal life is pretty much an open book, courtesy the show Keeping Up with the Kardashians, and her social media profiles, she has managed to keep some things, like her home designs under wraps, until now. An issue of Architectural Digest revealed the beautiful house Kylie lives in, for which she had teamed up with elite designer Martyn Lawrence Bullard.
Mom Kris Jenner gives a sneak peek
Dining table chairs are custom dyed with shades of pink
Let's start with the dining room, which has various shades of pink printed neatly all over the room. The leather chairs of the dining table were custom dyed from blush to fuchsia, matching the exact hues of Kylie cosmetics lip kits. "I told Martyn that color was essential. I love pink, and I wanted a lot of it!" Kylie, 21, told Architectural Digest.
Dining room has silk screens of butterflies, gold-leaf ceiling
Kylie not only wanted 'pink-ish' chairs for the dining table in her Hidden Hills, California mansion, she also made sure the room looks artistic. As both she and her one-year-old daughter, Stormi, love butterflies, the room is adorned with British designer Damien Hirst's 'I Love You' series, displaying silk-screens of the insect. Also, the room has a gold-leaf ceiling and must say it's magical!
Family room has sofa hanging from the ceiling
Coming to the living room, which comprises a gold console table near the fireplace filled with metallic confetti inside the glass, once again mimics the design on Kylie Cosmetics packaging. Oh, and it costs $30,000 or Rs. 21.4 lakh. Meanwhile, in the family room, there is a grey colored sofa, a Jim Zivic-designed hammock from Ralph Pucci, which is literally hanging from the ceiling.
Walls around the house adorned with Marilyn Monroe pictures
Kylie's home also gives references to Hollywood-centered artwork such as the paintings of Marilyn Monroe. "Kylie feels a deep connection to Marilyn Monroe, so we placed a series of Warhol screen prints of Marilyn along the main stairway," Bullard told Architectural Digest. "In general, we selected artworks that felt appropriate for a young collector with feminine tastes. Everything reflects Kylie's personality," he added.
Kylie's glam-room speaks of her affair with the color pink
For Kylie, her closets and glam room are very personal to her and she spends a lot of time in those rooms. The model's glam room is another pinkish affair with pink chairs, pictures of Barbie dolls on the wall and a furry peach rug. Do not miss the "Plastic" sign on top of the mirror created by artist Beau Dunn.
Kylie admits getting pregnant during the home designing process
Also, the guest bedroom contains glamorous black and white portraits of Kylie's mother, Kris Jenner, photographed in the 80s. Did you know that Kylie was not even old enough to drink when she began the project with Bullard? In fact, she confirmed that she became pregnant with Stormi in the middle of the designing process. Nonetheless, the designs are undoubtedly rare, classy and eye-popping.