Watch: Dancing Uncle pays an epic tribute to Hrithik Roshan
Watch: Dancing Uncle pays an epic tribute to Hrithik Roshan
Written by
Mudit Bhatnagar
Jul 06, 2018, 01:23 pm
2 min read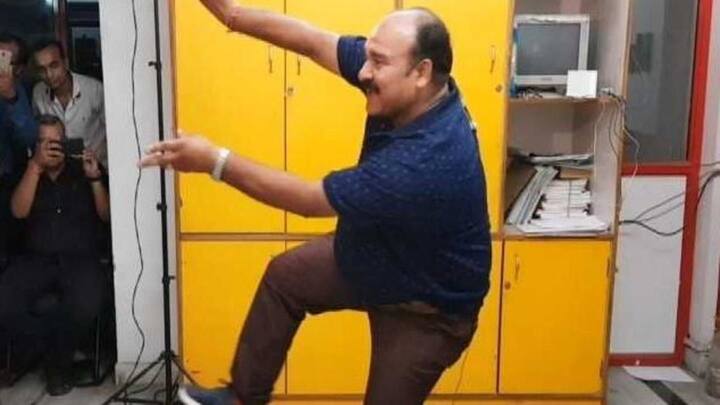 Dancing Uncle Sanjeev Shrivastava left us wanting for more after the video of his performance on Govinda's popular track 'Aap Ke Aa Jaane Se' went viral on the Internet. Now, as a treat for his newly-found fan base, he uploaded a new dancing video on his Twitter account which he dedicated to "dance ke mahadev" Hrithik Roshan.
And he is trending once again
His moves caught everybody's fancy and how
Social media made him an overnight celebrity as the netizens could not stop gushing over his dance moves. Several Bollywood stars also took to their respective social media accounts to encourage Shrivastava, who is an assistant professor at a private engineering college in Bhopal. He even went on to appear on Salman Khan's reality game show 'Dus Ka Dum'.
When he finally met his idol Govinda
Shrivastava's long-pending dream of shaking a leg with his idol Govinda finally came true on the sets of 'Dance Deewane'. The two had a ball as they danced the night away. Impressed with the 46-year-old, Govinda said, "What's special about him is that he didn't do the steps consciously. I watched him and realized he was copying me well."
The video that started the frenzy
हमारे विदिशा के भोपाल में कार्यरत प्रोफ़ेसर श्री संजीव श्रीवास्तव जी की ज़िंदादिली ने पूरे भारत में इंटरनेट पर तहलका मचा दिया है। मानो या ना मानो मध्यप्रदेश के पानी में कुछ तो ख़ास बात है... pic.twitter.com/8qM15uZVXF

— ShivrajSingh Chouhan (@ChouhanShivraj) June 1, 2018