These 9 iconic roles were rejected by Leonardo DiCaprio
These 9 iconic roles were rejected by Leonardo DiCaprio
Written by
Pallabi C Samal
Aug 02, 2019, 07:54 pm
4 min read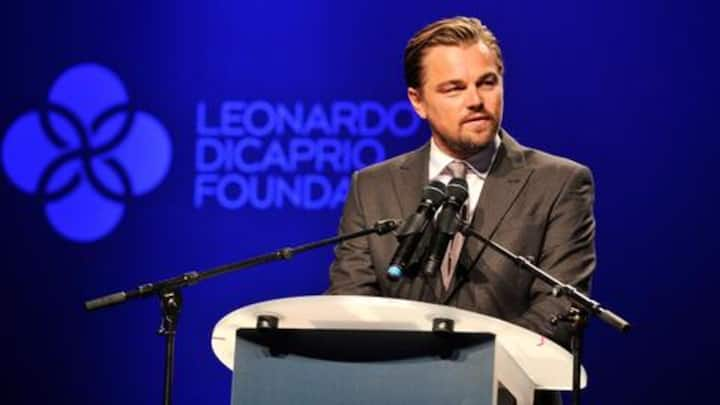 Leonardo DiCaprio is undoubtedly one of the most renowned faces of Hollywood, who has become a reputable name absolutely on his own. Today he sits atop a $245mn net worth, and has won an Academy Award and three Golden Globe Awards. However, he probably could have collected a lot more accolades and awards had he not rejected some iconic movie roles. Let's explore further.
Ashton Kutcher has a lot to thank Leo for
Jobs, the 2013 biographical drama film based on Apple co-founder Steve Jobs, was first offered to Leo, but he turned it down since he wanted to take a break from acting. He had actually been the favorite for the role, and had told Sony that he would take it up after he wraps up The Revenant, but he bowed out. Ashton Kutcher stepped in.
When Leo rejected Tom Hanks' request for 'Angels and Demons'
Having worked in Catch Me If You Can (2002), Tom Hanks wanted to collaborate with Leo again, and had personally asked him to come aboard for the villainous role of Camerlengo Patrick McKenna in Angels and Demons (2009). However, he rejected Hanks' request, and started working on Revolutionary Road (2008) with his bestie and Titanic co-star Kate Winslet. Ewan McGregor finally played Camerlengo.
Leo was to play Col. Hans Landa in 'Inglorious Basterds'
Actually this wasn't a rejection, but more of a preference from the director's side. For his 2009 revisionist war film, Inglorious Basterds, legendary director Quentin Tarantino wanted Leo to play Col. Hans Landa, the main antagonist, but later preferred a German actor. Christoph Waltz was selected, who eventually delivered a superlative performance as Landa. Even Tarantino admitted that Waltz "gave me my movie."
In 2002, he rejected two superhero films, but why Leo!
He could have been a jedi knight and a Marvel superhero in 2002, but... Star Wars creator George Lucas asked Leo to play the young Anakin Skywalker in Star Wars prequels, but he "didn't feel ready to take that dive." He was also offered Peter Parker's role in Spider-Man, but again he "didn't feel ready," and passed on the opportunity to Tobey Maguire.
Was Leo a better choice for 'American Psycho' than Bale?
The film that established the phenomenon called Christian Bale was supposed to be headlined by Leo. While director and co-writer Mary Harron wanted Bale for American Psycho, Lionsgate wanted Leo. Harron however disagreed, as Leo was a romantic hero. Eventually, she was replaced by Oliver Stone, while Bale's part went to Leo. Stone and Leo clashed, with the latter choosing Danny Boyle's The Beach.
Leo thought 'The Matrix' visual effects could overshadow his work
Whatever recognition Keanu Reeves receives today, must admit, is mostly due to The Matrix. Did you know this could have been Leo's achievement instead? That's right! Not just Will Smith or Brad Pitt, even Leo was offered the role of Neo, but he was worried that the heavy visual effects in the film would overshadow his work. Perhaps he couldn't have been more wrong!
Leo chose 'Titanic,' okay, but missed out 'Boogie Nights' too
1997 was the year when Leo became "the king of the world," by playing Jack Dawson in James Cameron's epic romance-disaster film, Titanic. But did you know he was also asked for the lead role of Dirk Diggler in Boogie Nights, one of Mark Wahlberg's commendable performances? Leo instead opted for Titanic, which was one of the smartest moves on his part, clearly.
He was also approached for Robin's role in 'Batman Forever'
It seems the 44-year-old has something against portraying a superhero onscreen. In 1995, director Joel Schumacher had approached him for the role of Robin in Batman Forever. Reports said that he also screen-tested, which wasn't true. "I never screen-tested. I had just one meeting with Joel Schumacher. He's very talented but I don't think I was ready for anything like that," he said once.