Oh God No! Hotstar is remaking 'The Office' in Hindi!
Oh God No! Hotstar is remaking 'The Office' in Hindi!
Written by
Siddharth Tyagi
Jun 06, 2019, 11:15 pm
2 min read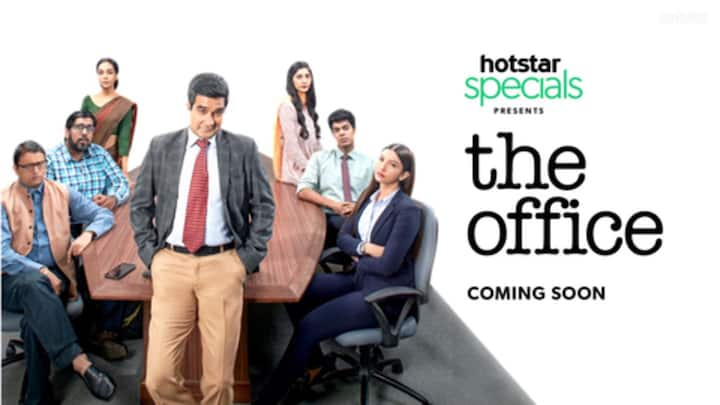 Hotstar is remaking The Office in Hindi. Adapted for Indian audiences, its recently released trailer showed a glimpse of how the series would look like. It seems to be a shot-by-shot remake of the US version with the jokes, costumes, and punchlines modified in the Indian context. The 1-minute long trailer seems largely unimpressive but let's not jump to any conclusions just yet.
The US Office boasts of talented cast and crew
The series was conceptualized by Ricky Gervais in the UK where it ran for a few episodes. It was later remade for the American audience by Greg Daniels where it ran for 9 seasons and attained a cult status. Its cast and crew constituted of some phenomenally talented people like Steve Carell, Rainn Wilson, John Krasinski, Jenna Fischer, BJ Novak, and Mindy Kaling.
The best comedy series ever created
The mockumentary trails the everyday lives of people working in a fictional Dunder Mifflin Paper Company. The wholesome show has generated memes, jokes, and references for years to come and is one of the most intelligent comedies ever created. What makes it a cult favorite are its relatable, flawed characters, exceptional storytelling, and the way everything culminates. The Office is comedy's gold standard.
Hotstar is remaking The Office with an Indian cast
Hotstar recently released the first trailer of the series. It shows a company named Wilkins Chawla and a 'Funjabi' boss Jagdeep Chadda (Mukul Chadda) interacting with his employees. Jagdeep is an Indianised version of Michael Scott (Steve Carell/Ricky Gervais). The trailer doesn't make other roles very clear but Dwight Schrute's character is definitely being played by Gopal Dutt in this official adaptation.
The Indianised trailer features comedy sound effects and lame jokes
This trailer has all the tried and tested Indian comedy tropes like the 'crickets chirping' sound effect one can often hear in Kapil Sharma's show. While we don't know how the Indian Office will fare, the trailer surely looks charmless, bland, and cringey. Fun fact, one of the show's creators is Vivek Bhushan who's made films like Bank Chor and Luv Ka the End.
People have already started rejecting it!
This one guy had something to say
how do I get this minute of cringe called the office's hindi remake trailer out of my head?

— dr. universe 🌈 (@UniverseDoc) June 4, 2019
But there are some voices of reason as well
Give our desi The office a chance, the trailer looked promising, even the british were unhappy when the US version was announced but look how great it became.

Just because it is made in Hindi doesn't mean it will be bad. #TheOffice

— Liberal Ninja (@ninja_liberal) June 4, 2019