Rajasthan: 15 hours after gang frees criminal, police register FIR
Rajasthan: 15 hours after gang frees criminal, police register FIR
Sep 09, 2019, 06:01 pm
3 min read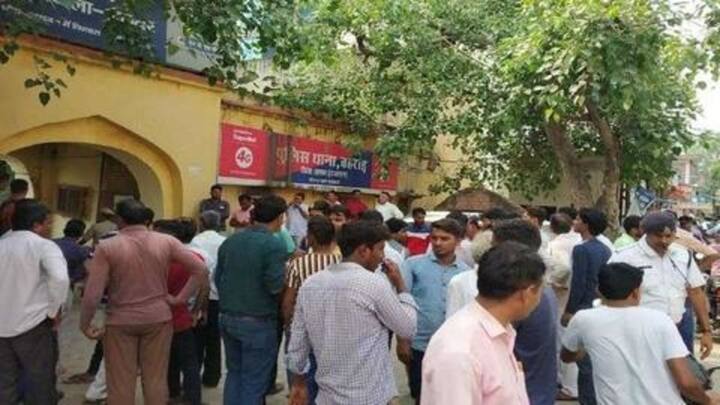 It took Rajasthan police more than 15 hours to register an FIR against a gang, which barged into a police station to free one of Haryana's most-dreaded criminals on Friday. Officials of Behror police station showed laxity despite receiving an earful from a court earlier for delaying FIR registration in the Pehlu Khan lynching case. How serious are these officers about law and order?
In Bollywood-style, gangsters fired bullets, took criminal away
In an incident which looks straight out of a Bollywood movie, a bunch of criminals (reportedly 15-20) stormed into Behror police station to scoop Vikram alias Papla Gurjar away. The gang members were armed with AK-47s and fired nearly 40 rounds of bullets, while cops rushed for cover. Police believe the gang did a recce of the station before the attack.
Gang hijacked Scorpio, police couldn't stop them despite barricades
The attack wasn't the end of the drama. Reportedly, the vehicle in which the criminals were traveling broke down, so they took a parked van and drove away. After this van also broke down, they hijacked a Scorpio at gunpoint and went towards Haryana, said SP Amandeep Kapoor. The gang managed to drive away despite the police putting up barricades.
Vikram escaped on Friday morning, FIR was registered on Saturday
After the incident, police claimed it's doing everything in its capacity to nab Vikram, who carries a reward of Rs. 5 lakh. But facts show otherwise. Vikram escaped from custody at 9 am on Friday but the FIR was registered at 12:45 am on Saturday, reports HT. In fact, a history-sheeter named Vinod Swami, was at the station before the gang stormed in.
Ten minutes after Swami left, gang barged in
"Head constable Ramavtar told me that before Vikram was freed, Swami, the sarpanch of Jakhrana village, came to the police station and inquired about Vikram for 20-25 minutes. Ten minutes after he left, 10-15 men raided the police station and opened fire," SHO Sugan Singh said in FIR.
In fact, police also lied about Vikram's identity
On police laxity, Baljeet Singh Yadav, an independent MLA from Behror, said Swami had visited the station to "broker" a deal with police. Swami was arrested on Saturday. As it turns out, police officials lied about Vikram's identity too. After initially claiming they didn't know the man in lock-up was Vikram, the officials said the criminal had given his real identity to them.
Police conducted raids, but Vikram is still absconding
Left red-faced after the incident, Rajasthan's Director General of police (DGP) Bhupendra Singh, said, "There are some loopholes and IG Jaipur Range is conducting an inquiry into those." Meanwhile, officials of Special Operations Group and Anti-Terror Squad are camping in Behror to track Vikram and his aides. Raids have been conducted in western Uttar Pradesh, Delhi, Haryana, Punjab, and Rajasthan, but in vain.