Anna to return Padma Bhushan if Lokpal demands aren't met
Anna to return Padma Bhushan if Lokpal demands aren't met
Feb 04, 2019, 03:13 pm
3 min read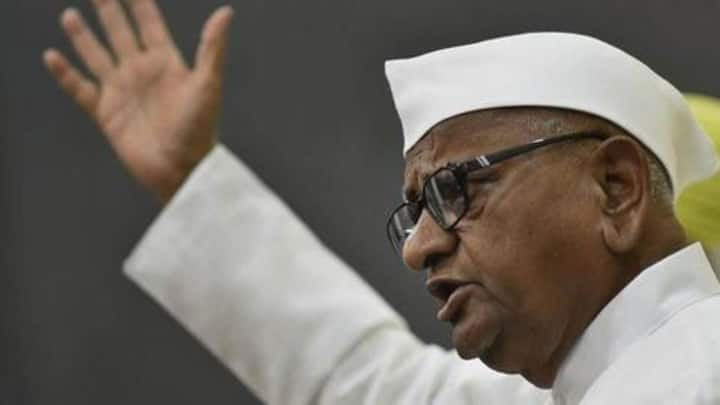 Days after he launched a hunger strike demanding implementation of the The Lokpal and Lokayuktas Act, social crusader Anna Hazare has now said that he will return his Padma Bhushan if his demands aren't met by February 8. He also slammed the Narendra Modi-led NDA government for failing to solve farmers issues and giving leeway to large corporations and businessmen. Here are the details.
What Hazare had to say about Lokpal
In an exclusive interview to TOI on Sunday, the 81-year-old activist harshly criticized the Modi government for "deceiving the people of the country" by not implementing the Lokpal bill which had received the President's assent in 2014. Meanwhile, Hazare's personal secretary Datta Awari told the publication that the activist would return his Padma Bhushan if his demands weren't met by February 8.
Hazare slammed the Center for recent announcement for farmers
The activist further slammed the Center's recent announcement to provide Rs. 6,000 per annum to small and marginal farmers. He said that the Center had failed to resolve farmers' issues, and the provision was a move to woo the farming community ahead of the Lok Sabha elections. Hazare went as far as calling the scheme a "bribe" to secure farmers' votes.
The activist also accused the government of favoring corporates
Adding to his criticism of the Modi government, Hazare further said that the government had exempted lakhs of crores worth of taxes and loans for businessmen, while doing little for farmers. He added that the Modi government's concerns lay with businessmen, and not with distressed farmers who continue to commit suicide in the thousands owing to financial troubles.
Hazare had begun an indefinite hunger strike on January 30
Earlier on January 30, Hazare began an indefinite hunger strike demanding the creation of a Lokpal at the Center and Lokayuktas at the state level. Hazare had long been demanding the formation of a Lokpal and Lokayuktas, and in October 2018, had threatened to go on a hunger strike over the same. However, Maharashtra minister Girish Mahajan had convinced him to back down then.
The Shiv Sena has extended support for Hazare
Commenting on Hazare's ongoing hunger strike, Shiv Sena chief Uddhav Thackeray, on Sunday, appealed to the Maharashtra state government to take cognizance of the fast, and "not play" with the 81-year-old activist's life. Thackeray also criticized a letter from the Prime Minister's Office (PMO) that had conveyed good wishes to Hazare for his fast. Thackeray called the letter "condemnable" and "laughable".