Anna Hazare begins hunger strike demanding Lokpal formation
Anna Hazare begins hunger strike demanding Lokpal formation
Jan 30, 2019, 04:24 pm
2 min read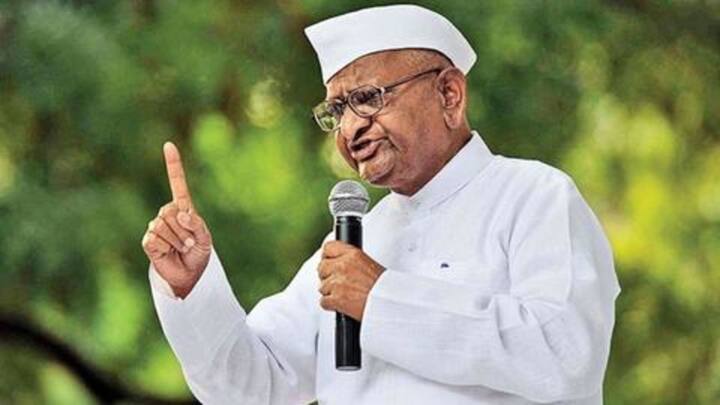 On Wednesday, social activist Anna Hazare began a fast at his village of Ralegan Siddhi, demanding the formation of a Lokpal at the Central level and Lokayuktas at the state level. Hazare had announced the start date of his agitation in December last year, and a couple of days back, had also written to PM Modi about the same. Here are the details.
Hazare had initially planned to launch an agitation in October
Hazare has long been demanding the formation of a Lokpal, and in October 2018, had threatened to go on a hunger strike over the issue. However, he backed down after Maharashtra minister Girish Mahajan, on behalf of the BJP government and the Center, met with him to discuss the issue, and assured him that steps were being taken to address his demands.
Hazare saw through the BJP government's "lies" in December
Although Hazare was temporarily mollified by Mahajan's assurances, the social activist, on December 22, announced that he would begin an agitation from January 30. While announcing the agitation, Hazare said that he had been misled by the BJP government's "lies", and had been tricked into backing down from the agitation he had planned for October.
Agitation won't end till Lokpal is constituted: Hazare
Interestingly, even this time, Mahajan tried placating the activist, but Hazare would not have any of it. He has said that his hunger strike and the agitation for the formation of a Lokpal will continue till such time the Center gives into his demands. "The agitation will go on until the Act is in place," Hazare was quoted as saying by news agency PTI.
Hazare blames the Modi government for not constituting a Lokpal
"It has been five years since the Lokpal Act was passed. Yet the Narendra Modi government has not appointed Lokpal. Lokayukta Act has not been passed in Maharashtra for four years," said Hazare.
A brief introduction to the Lokpal and Lokayuktas Act, 2013
To refresh your memory, the Parliament, in 2013, passed the historic Lokpal and Lokayuktas Act to allow for the establishment of a Lokpal to combat corruption in public offices and ensure accountability on the part of public officials. Under the Act, the Center is required to set up a Lokpal, and states are required to follow suit by setting up Lokayuktas.