Nritya Gopal Das, who shared stage with PM, contracts coronavirus
Nritya Gopal Das, who shared stage with PM, contracts coronavirus
Aug 13, 2020, 01:08 pm
3 min read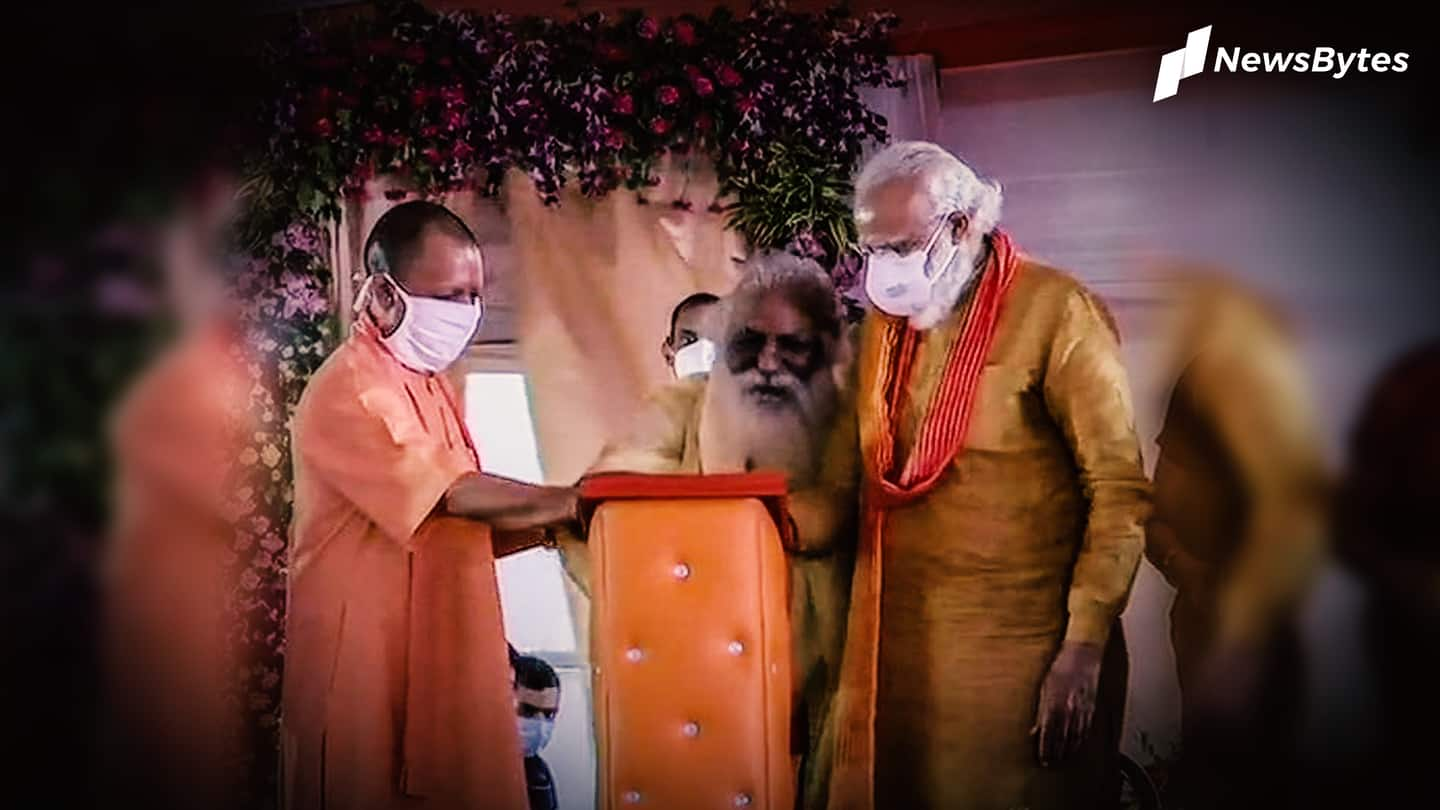 In a new development, Nritya Gopal Das, the head of Ram Temple Trust in Ayodhya, tested coronavirus positive, reports said on Thursday. Mahant Das had shared the stage with Prime Minister Narendra Modi last week when he visited the temple town of Uttar Pradesh for the ground-breaking ceremony of the Ram Temple. Before the grand ceremony as well, a priest had contracted the infection.
Only four people were on stage with PM Modi
After PM Modi laid a silver brick to kickstart the temple's construction, he came on stage to deliver a speech. Besides him, only four people were present on stage, including Uttar Pradesh Chief Minister Yogi Adityanath, RSS Chief Mohan Bhagwat, and Mahant Das. Mahant Das also spoke on the auspicious occasion, saying he was thrilled to witness the historic day.
Mathura District Magistrate confirmed Mahant Das tested positive
Informing about the diagnosis, Sarvagya Ram Mishra, District Magistrate of Mathura, said Mahant Das had a fever and soon doctors were sent. "The fever is normal. He has mild breathlessness and we checked his oxygen level. It is saturated. There is nothing serious. We checked for coronavirus, did antigen test and there is positivity," Mishra added. Reportedly, Mahant Das came to Mathura on Tuesday.
He will be treated at Medanta Hospital
"The Chief Minister (Yogi Adityanath) has directed that Maharaj ji be shifted to the Medanta Hospital and we are getting that done as soon as possible. Maharaj Ji is stable," Mishra added.
Mahant Das said he wants early construction of temple
When asked about his emotions after the ground-breaking ceremony, Mahant Das said he just wants the temple to be constructed soon. "It is my dream to see the Ram Mandir come up. I have requested everyone, including Prime Minister to ensure early completion of Ram Mandir," he said, according to HT. He also revealed that the ground-breaking ceremony was delayed due to pandemic.
Mahant Das has been leading Ram Temple's fight for decades
It's pertinent to note that Mahant Das, one of the most revered figures in Ayodhya, has been leading the fight for the Ram Temple since 1992 when the Babri Masjid was demolished by fringe elements. Soon after the mosque was razed, the Vishwa Hindu Parishad (VHP), which galvanized the movement, formed the Ram Janmabhoomi Nyas, which Mahant Das headed.
In 2001, Mahant Das suffered minor injuries after being attacked
Mahant Das is also credited for constructing many temples in Ayodhya, including popular ones like Ramayan Bhavan, the Shri Rangnath Temple and the Shri Char Dham Temple. He is guarded by two policemen since 2001 after he and his disciples came under attack. As they were returning from Sarayu River after morning bath, country-made bombs were hurled at them. He had suffered minor injuries.
Recently, his statement on Mathura and Kashi stoked controversy
Mahant Das is also the chief of Shri Krishna Janmasthan Temple. In fact, after the ground-breaking ceremony, he demanded full ownership of Krishna Janmabhoomi site in Mathura and Varanasi's Kashi Vishwanath Temple. "Ayodhya, Mathura, and Kashi are holy sites of Hinduism and the temple construction in Ayodhya has already started," he underlined. His comments sparked a row prompting the administration to remain on alert.