36-hour blackout in Chandigarh as power employees go on strike
36-hour blackout in Chandigarh as power employees go on strike
Feb 23, 2022, 01:18 pm
2 min read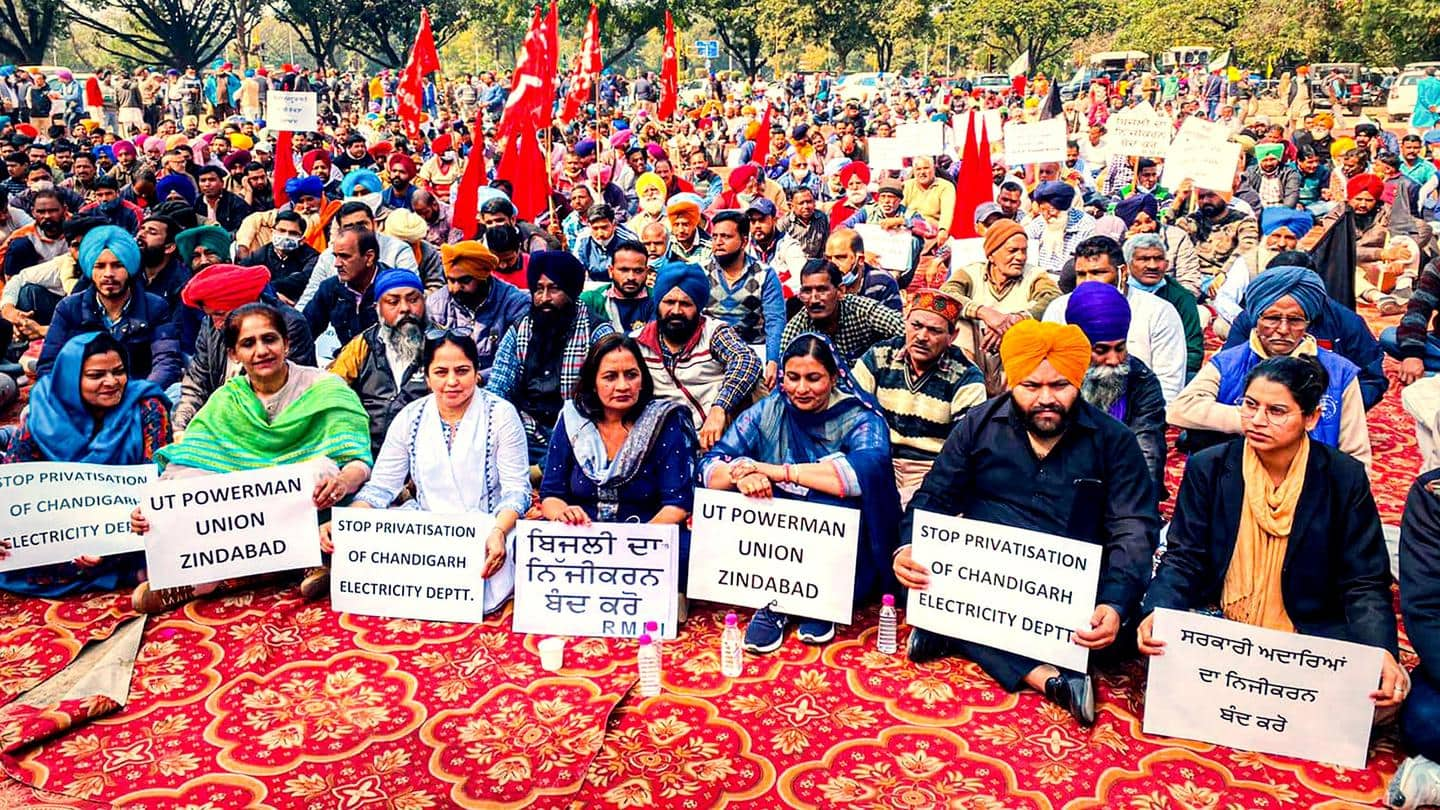 Most residential and industrial areas in Chandigarh have been facing a power outage for more than 36 hours, disrupting household life and work at hospitals and offices. This happened after electricity employees went on a three-day strike to protest the privatization of the city's power department, starting from Monday. Many residents of the union territory have also been left without water supply.
Why does this story matter?
Nearly 1,000 power employees have been protesting across Chandigarh as they fear the sector's privatization will change their work terms and also lead to a surge in power tariffs.
The city is expected to hand over power utility to private owners by March-end.
In December last year, a similar protest by power employees had hit the union territory of Jammu and Kashmir.
Hospital operations and surgeries hit
The power outage has affected planned surgeries and other operations at the Government Medical College Hospital (Sector-32) and other hospitals across the city. "I have not faced such a situation in my long career with GMCH-32. It is unexpected. The administration has failed to tackle the situation. We postponed all the elective surgeries," a senior doctor at GMCH-32 said, according to The Indian Express.
Water supply, traffic lights affected
Meanwhile, water supply to various sectors has been hit due to the electricity outage. Reportedly, in Sector 44, residents had to call in water tankers. Traffic lights also stopped working in a number of areas, leading to dangerous driving conditions and traffic jams. Furthermore, some of the schools have postponed exams while some are facing issues in conducting online classes.
UT administration blames union for disruption
The Chandigarh administration has accused electricity department employees of deliberately sabotaging the power supply before going on strike. "At several places, wires were found broken. There were issues with transformers at some places and key components were missing at a few places," an official said, according to HT. However, the employees deny the charge, saying that they never disrupted the supply deliberately.
Punjab & Haryana High Court intervenes
On Tuesday evening, the Chandigarh administration enforced the Essential Services Maintenance Act, effectively banning strikes by electricity department staffers for six months. The administration, meanwhile, has asked power workers from neighboring Punjab and Haryana states to help the UT overcome the crisis. The Punjab and Haryana High Court has also intervened and summoned the union territory's chief engineer on Wednesday.