Coronavirus: 300 Indian students remain stuck in Kazakhstan
Coronavirus: 300 Indian students remain stuck in Kazakhstan
Written by
Siddhant Pandey
Mar 23, 2020, 11:48 pm
3 min read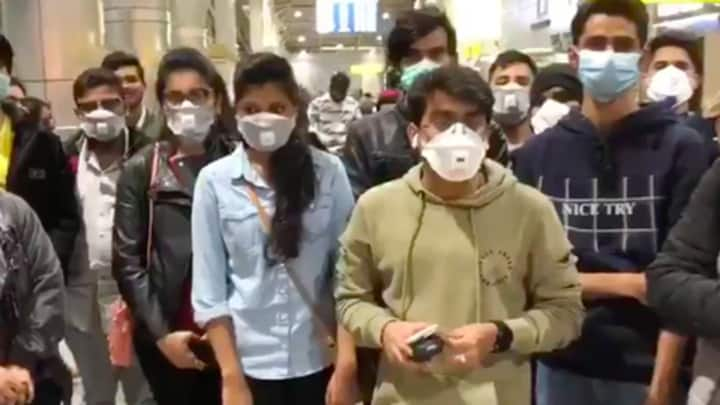 Even as India repatriated hundreds of Indians amid the coronavirus pandemic, over 300 Indian students remain stuck in Kazakhstan. The students are currently stranded at the Almaty airport, where they have remained for at least the past three days. They have also alleged that they face discrimination against foreigners in Kazakhstan, which has reported 62 coronavirus cases thus far. Here are more details.
Students traveled 15 hours to Almaty airport; now stuck
According to The Indian Express, some of the students had traveled 15 hours to the Almaty airport from their hostels, however, now remain stuck there due to a transportation shutdown. Meanwhile, with international arrivals banned in India till March 29, the students cannot fly to India. Many other students could not even leave their hostels with transport suspended.
'Stuck without proper food, sleep, and sanitation'
A student from Rajasthan, Deepak Dhaka, told TIE, "After reaching the airport, we were apprised about India's travel ban...Students are stuck without proper food, sleep, and sanitation." Dhaka added, "We failed to find any accommodation near the airport as people said foreigners will bring the virus." Sonypriya Phanjoubam—a student from Manipur—said, "Shopkeepers have supplies but they don't want to sell to foreigners."
'If virus reaches here, locals will get treatment preference'
A student at Semey Medical University, Kegson Singh, said "The virus' spread has escalated here in the last few days. Which is why we feel unsafe and want to return to India. If the virus reaches here, the locals will be given treatment preference."
'Why can't they just accept one flight from here?'
The Indian embassy in Kazakhstan has asked the students to return to their hostels. However, Dhaka told TIE, "How are we supposed to do a 15-hour journey back to our hostel amid the transport lockdown?" Hostels have also warned them of a 14-day quarantine, he said, adding, "Why can't they just accept one flight from here? We're ready to accept quarantine in India."
Video of students' plea recently went viral
Nearly 300 Medical Students from India are stuck in Almaty Airport, Kazakhstan for the last 3 days

Indian Embassy isn't responding to their request of permission to land in Delhi@DrSJaishankar are we not evacuating all Indians who are stuck?pic.twitter.com/c5Ikbs9UZ9

— Srivatsa (@srivatsayb) March 21, 2020
Students appealed for evacuation; Indian embassy said 'not possible'
On March 21, a video of the students had gone viral wherein they appealed to the Indian authorities to evacuate them from Kazakhstan. The Indian embassy later tweeted, "Due to heavy pressure on air traffic, it has not been possible to accept requests for the operation of additional flights from Almaty," urging the students at the airport to return to their hostels.
You can view the embassy's tweet here