Cyclone Fani batters Odisha, 3 dead, villages submerged: Details here
Cyclone Fani batters Odisha, 3 dead, villages submerged: Details here
May 03, 2019, 03:43 pm
3 min read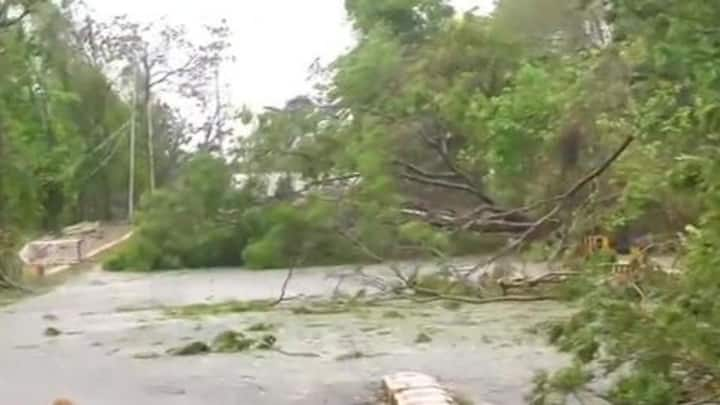 The most severe cyclonic storm since 1999's Super Cyclone, Cyclone Fani, made landfall in Odisha on Friday killing three people. Cyclone Fani (pronounced as Foni) brought with it heavy rainfall and high-speed winds in Puri, the home of Lord Jagannath, and neighboring areas. As many as 11 lakh evacuees have been taken to safe places. Here's what we know so far.
Everything's flying in air, tweeted BJP's Sambit Patra
Everything is flying in Air ..have literally turned deaf because of wind sound ..All window panes broken ..difficult indeed ..if this is my condition in a concrete building ..I pray for the lives of millions 🙏

— Chowkidar Sambit Patra (@sambitswaraj) May 3, 2019
Roof of a hostel blew off in storm
Visuals which emerged on social media showed the havoc Fani wreaked on the eastern coast. In Odisha's capital Bhubaneswar, several trees were uprooted. The roof of one of the hostels in AIIMS Bhubaneswar also blew off. Similarly, in Kalingapatnam beach of Srikakulam of Andhra Pradesh, tortoises were washed ashore due to turbulence in the sea. Ganjam, Puri, and Jagatsingpur districts would reportedly witness heavy rainfall.
Heavy damage caused to AIIMS Bhubaneshwar
"Extensive damage to structure of AIIMS Bhubaneswar reported due to #CycloneFani . All patients,staff, students safe.Many water tanks have blown off,lighting poles are down, airconditioners damaged. We have enough supplies, ready to support the state" - Health Secy Preeti Sudan pic.twitter.com/Me1WHqZimY

— Sitanshu Kar (@DG_PIB) May 3, 2019
Amid the devastation, a baby was born
Out of the 11 lakh people taken to safe places, 542 were pregnant women. As the heavy storms and rainfall stung Odisha, a girl child was born at the Mancheswar Railway Hospital. Her mother is a railway employee. Both the woman and child are fine.
A ray of hope during trying times
Bhubaneswar: A 32-year-old woman gave birth to a baby girl in Railway Hospital today at 11:03 AM. Baby has been named after the cyclonic storm, Fani. The woman is a railway employee, working as a helper at Coach Repair Workshop, Mancheswar. Both the motherchild are fine. #Odisha pic.twitter.com/xHGTkFPlAe

— ANI (@ANI) May 3, 2019
Cyclone is moving ahead of its schedule
Fani was expected to make landfall in Odisha by Friday evening but it hit the state early. As a result, West Bengal will also be visited by the storm soon. It could hit Bengal before midnight with a wind speed of 80-100kmph. Districts of East and West Midnapore, Jhargram, Purulia, Birbhum, Bankura and North, and South 24 Parganas were kept on high alert.
Mamata Banerjee, Amit Shah canceled their election programs
West Bengal Chief Minister Mamata Banerjee has canceled all her rallies for the next 48 hours. She will be at the coastal belt of Kharagpur to personally "monitor the situation". BJP President Amit Shah, who was due to visit Jharkhand for three rallies, tweeted that the events have been canceled. Notably, the Election Commission has relaxed Model Code of Conduct in some areas.
Election Commission relaxed rules
Fani has become 'very severe' from 'extremely severe'
IMD said that Fani has turned into 'very severe' cyclonic storm from 'extremely severe' one. In the next six hours, it is expected to turn into a 'severe' storm. However, authorities aren't willing to take any chances. People have been advised to remain indoors. Bhubaneshwar and Kolkata Airports have been shut down. Carries like IndiGo and GoAir have asked passengers to check flight statuses.