PM Modi seeks votes for #PulwamaMartyrs, #BalakotAirstrikes; Opposition moves EC
PM Modi seeks votes for #PulwamaMartyrs, #BalakotAirstrikes; Opposition moves EC
Written by
Ramya Patelkhana
Apr 10, 2019, 10:06 am
3 min read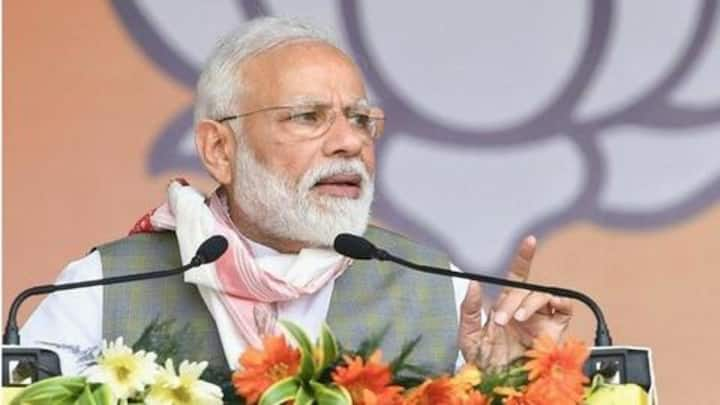 PM Narendra Modi urged first-time voters to "dedicate" their vote to the CRPF jawans who lost their lives in the Pulwama attack and those soldiers who conducted the Balakot airstrikes. He was addressing a rally at Maharashtra's Latur on Tuesday. However, opposition parties complained to the Election Commission over his references to Pulwama martyrs and Balakot airstrikes at the political rally. Here's more.
PM Modi's appeal to voters citing Pulwama martys, Balakot airstrikes
"I want to ask the first-time voter, can your vote be dedicated to those soldiers who conducted air strikes on Balakot in Pakistan? Can your first vote be dedicated to those soldiers who were killed in the Pulwama attack?" asked PM Modi at the rally.
Speaking at rally, PM Modi reaches out to first-time voters
PM Modi said, "When you earn your first salary, usually you don't keep it for yourself. You want to dedicate it to your mother or sister." "Similarly, can you dedicate your vote for the Balakot strike, for the Pulwama attack victims, for pucca houses, for drinking water and to ensure that health-services reach the poorest of the poor?" he asked, appealing to first-time voters.
Press 'lotus' button, be proud of your choice: PM Modi
PM Modi said first-time voters will be proud of their choice. "Aap garv se keh sakenge...aap agar 'kamal' par button dabayenge, ya 'dhanush' par dabayenge, toh aapka vote seedha...Modi ke khate mein janewala hai (You can say with pride...if you press the button on BJP's lotus symbol or Shiv Sena's 'bow and arrow', then your vote will directly go into Modi's account)," he said.
EC seeks report from Chief Election Officer of Maharashtra
After receiving the opposition parties' complaints, the EC took cognizance of PM Modi's remarks at the Latur rally. The EC sought a report on the same from Maharashtra's Chief Election Officer. PM Modi's remarks came amid the opposition's charge that the BJP was politicizing the death of CRPF jawans in Pulwama and the Indian Air Force's retaliatory strikes on Jaish-e-Mohammed's Balakot camp in Pakistan.
Unfortunate that EC is not taking any action: Kapil Sibal
Opposition parties criticized PM Modi for politicizing the Pulwama attack and Balakot airstrikes, urging the EC to take action. "Everybody knows why the PM is doing this. It is unfortunate that the EC is not taking any action," Congress leader Kapil Sibal said. Other opposition leaders like CPM politburo member Nilotpal Basu and PDP leader Mehbooba Mufti also asked EC to take action.