Delhi: Over 20K call for doorstep-services, documents of 7 collected
Delhi: Over 20K call for doorstep-services, documents of 7 collected
Sep 11, 2018, 09:24 am
3 min read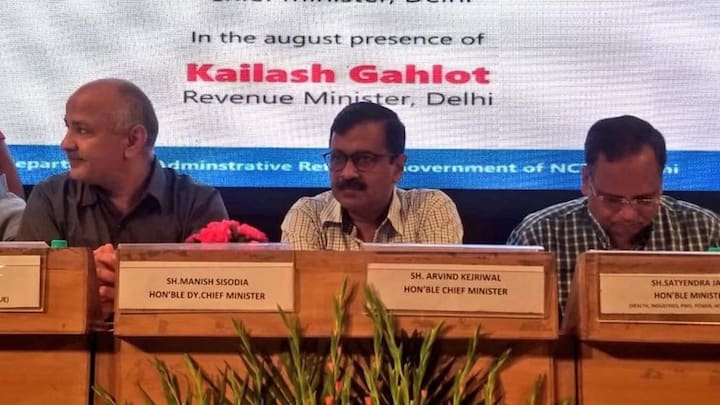 On the first day of Delhi government's ambitious doorstep delivery of services project, operators received more than 20K calls, owing to which Chief Minister Arvind Kejriwal has ordered operators will be doubled on the second day, Tuesday. Of the thousands of calls which were received, only 1,200 were able to get through, 369 appointments were fixed and documents of 7 Delhi residents were collected.
This programme intends to make Delhiites' lives easier
In a bid to save time and increase the convenience of Delhi residents, the governing AAP began doorstep delivery of services like driving license, marriage certificates, ration card, etc. In the first phase, 40 services will be delivered to people for a nominal charge of Rs. 50. A private organization, VFS Global Services Pvt Ltd, has been hired for the same by the government.
How does the programme work?
A person needs to call 1076 (available 24X7) to fix an appointment, which will be available from 8 AM to 10 PM. The person can then fix a time with the 'mobile sahayak', for them to collect necessary documents from their residences. These 'sahayaks' have devices like cameras with them. On verification, the documents will be sent via speed post.
After hectic first day, government increases operators, lines
On Monday, hundreds of callers wanted to know more details about the scheme. Authorities are confident these queries will drop in the subsequent days, and the teething problems will be solved too. From Tuesday, 80 operators will be employed and the lines will be increased from 50 to 120. By 2018 end, around 100 services are expected to be delivered at homes.
Services under revenue department most sought after
Reportedly, services under the revenue department got maximum takers on the first day. This department covers caste, domicile, marriage registration etc. Transport and food supplies followed the revenue department in terms of popularity.
CM Kejriwal is happy with the services, calls it revolutionary
CM Kejriwal called the programme 'revolutionary' and said it will save Delhi residents the trouble of standing in queues. He added, "Some are criticizing that the AAP government is spending Rs. 1,000 crore on this project. If even 2.5 million people avail of this service, it will cost just Rs. 12 crore to the exchequer." He said he monitored data every hour on Monday.
Meanwhile, Manoj Tiwari of BJP feels scheme will fail
"I dialed the number in the presence of media but there was no reply to the call. This scheme seems to be an attempt to mislead the people of Delhi. The service will give rise to touts," Manoj Tiwari, BJP's Delhi unit head, said.