DMK supremo Karunanidhi dies at 94
DMK supremo Karunanidhi dies at 94
Aug 07, 2018, 07:05 pm
3 min read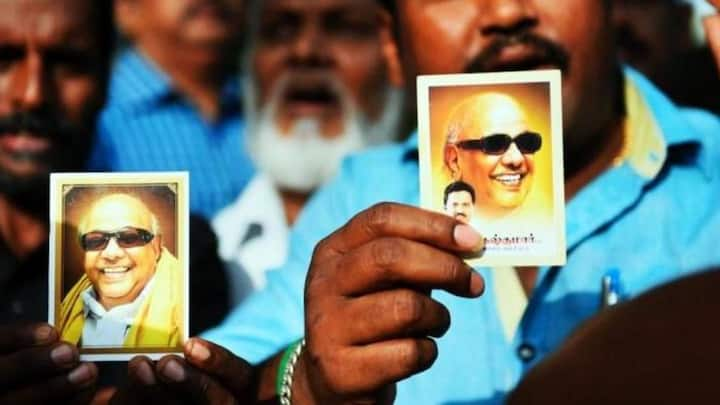 M Karunanidhi, DMK supremo, has succumbed to old-age related ailments after nearly 10 days in hospital. He was 94. Scenes outside Chennai's Kauvery Hospital were heartbreaking: hundreds of supporters wailed and shouted for their 'Kalaignar' to return. Security has been upped across the city to check violence. Police are on alert. Karunanidhi had a major role to play in shaping the Dravidian movement in TN.
Here's the statement by the hospital
Karunanidhi entered politics when he was just 14
Karunanidhi, born as 'Dakshinamurthy,' entered politics when he was 14. He eventually formed the Tamil Nadu Tamil Manavar Mandram- the Dravidian movement's first student wing. In 1957, he entered the state assembly, and in 1962, became the deputy leader of opposition. His rise in DMK was swift too, becoming the treasurer in 1961 and the first chief in 1969. Karunanidhi became CM for the first time in 1969.
He has penned over a 100 stories and poems
Karunanidhi was involved in films and literature too. As screenwriter, he wrote historical and reformist stories like 'Parasakthi,' 'Panam' and 'Thangarathnam,' propagating the ideals of the Dravidian movement. Many were censored for their then anti-majoritarian views. He also penned poems, novels, biographies, plays and songs. Noteworthy books included 'Sanga Thamizh,' 'Thenpandi Singam,' 'Vellikizhamai' and 'Kuraloviam.' Among plays, 'Manimagudam,' 'Palaniappan,' 'Kagithapoo,' 'Udhayasooriyan' and others left a mark.
Corruption, nepotism and the LTTE
Karunanidhi's political-life has been marred by controversies. His government was dismissed in the 1980s for corruption and secession; he was even arrested for corruption. He was indicted for abetting the LTTE and Rajiv Gandhi's murderers, though these charges didn't make it to the investigation panel's final report. He's also been accused of nepotism, with some questioning his son MK Stalin's rise in the DMK.
21 supporters died of shock over Karunanidhi's failing health
The five-time CM has been unwell for over a year and is rarely seen in public. Recently, he started getting treatment at home for urinary tract infection and related symptoms. He was rushed to hospital on July 28 following a sudden drop in blood pressure. As the news spread, hundreds of Karunanidhi's followers started gathering. Stalin, his son, later said that 21 DMK cadres died of shock.
Security upped across Chennai fearing violence
Several high-profile visitors including President Ram Nath Kovind, Vice-President Venkaiah Naidu, Congress Chief Rahul Gandhi, former PM HD Deve Gowda, and actors-turned-politicians Rajinikanth and Kamal Haasan have been visiting Karunanidhi these days. Security is at a high outside the Kauvery Hospital and across Chennai. According to HT, 6,500 police personnel have been deployed. Traffic diversions have also been imposed in parts.