Goans skip beaches, hit the hinterland to beat summer heat
Goans skip beaches, hit the hinterland to beat summer heat
Apr 25, 2018, 04:47 pm
3 min read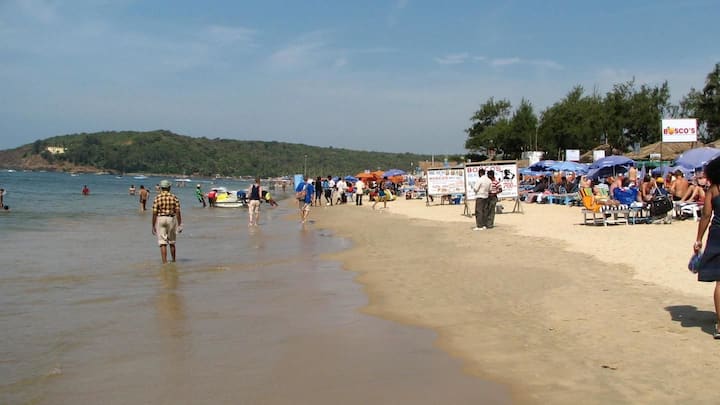 While tourists from across the world come to Goa to enjoy on its picturesque beaches, the locals have of late been holidaying in the state's hinterland to get respite from the summer heat and humidity. Several Goans have been rushing these days to the riverfronts in the rural talukas of Sanguem in South Goa district and Sattari in North Goa district. Here's more.
New trend of 'agro-tourism' in Goa
This has encouraged a new trend of "agro-tourism" in the state of Goa. There are at least 100 farms in Goa, which operate seasonally, mostly in summer, away from the beaches, a senior state tourism official said.
State govt to help boost this agro-tourism
"While foreign and domestic tourists enjoy on the beaches, the locals in the beach belt try to search for something else. The agro-tourism has, thus, come as a good alternative," Goa's tourism minister Manohar Ajgaonkar said. The state government plans to provide all possible help to boost this hinterland tourism. "We aim to provide a diverse experience to the visitors," he said.
Visitors should know all facets of Goa: Ajgaonkar
"The visitors should know all facets of Goa, right from beaches to our green hinterland," Ajgaonkar said. Prashant Desai, the son of former Panchayat minister Venkatesh Desai, has turned a bushy patch at Advai village in Sattari into an agro-tourism destination.
Initial concept was to have modern farming
"The initial concept was to have modern farming with the cross plantation of banana, areca nut, coconut, papaya, lemon and other trees. But, a few of my well-wishers suggested that I should develop this place into a farm to attract tourists," Prashant Desai said. Now, the locals in large numbers throng the place, famous as the "peacock farm".
90% of the people coming to Desai's farm were locals
"My weekends since last four months have been full and now with the vacations on, we have advanced bookings even on weekdays," Desai said. He claimed that about 90% of the people coming to his farm were locals, while 10% were visitors from other places, including Mumbai, who got to know about it through the social media.
Hinterland also has inspirational stories of aspiring tourism entrepreneurs
In the hinterland, one can also find inspirational stories of aspiring tourism entrepreneurs. Ramchandra Salgaoncar, who manages a papaya farm at Bhironda village in Sattari, left his cushy corporate job to venture into "agro-tourism". "I left my job in October last year and since then have been associated with this project of agro-tourism. It is a satisfying experience," Salgaoncar said.